Emmi Roth Sweeps Smear Ripened Hard Cheese Category at 2017 U.S. Championship Cheese Contest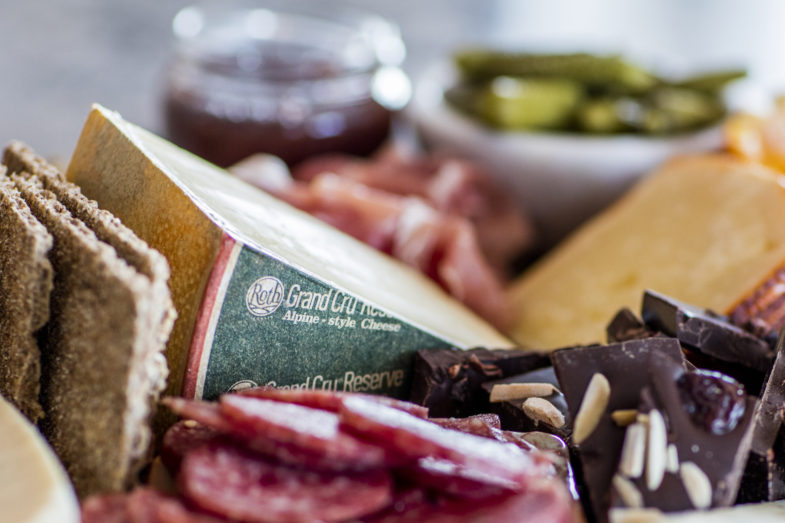 MONROE, Wisconsin — Emmi Roth officially produces the best alpine-style cheese made in the United States. The company's Roth brand of signature alpine-style cheeses took home all three awards in the Smear Ripened Hard Cheese category at the 2017 United States Championship Cheese Contest on Thursday, March 9 in Green Bay, Wisconsin.
The award for Best of Class in the category went to Roth Grand Cru® Reserve with a score of 99.35, Second Place to Roth's Private Reserve with a score of 99.30 and Third Place to Roth Grand Cru® Original with a score of 99.20. Each of the cheeses are handcrafted using copper vats in Monroe, Wisconsin, and aged for different lengths of time on spruce boards in their on-site cellar.
The judging kicked off Tuesday, March 7 with a record 2,303 entries from 33 states across the country. Forty-eight judges evaluated cheese in 101 categories, with the most coming from Wisconsin.
"We've been making alpine-style cheeses in the United States for many, many years, and to have an achievement at this level is the greatest honor," said Tim Omer, President and Managing Director for Emmi Roth.
Emmi Roth's flagship line of Grand Cru® washed – rind Alpine – style cheeses includes Grand Cru® Original, Grand Cru® Reserve and Grand Cru® Surchoix. Original is aged 4-6 months, Reserve 6-9 and Surchoix a minimum of 9 months to create a firm texture and complex flavors of caramel, fruit and mushroom. The most aged cheese in the line, Roth Grand Cru® Surchoix, is the current World Champion from the 2016 World Cheese Championship held last March.
"Our entire line of Grand Cru® is currently best in class," said Omer. "To produce a product of the standard at every age is a testament to the skill of our cheesemakers and cellarmasters."
Grand Cru® is available at most large grocery retailers and specialty cheese shops across the country.
"When Roth Grand Cru® Surchoix won the World Championship last year, it was produced in smaller qualities and difficult to find," said Omer. "Now, you can buy Grand Cru® at any age and know that it's award-winning cheese."
Roth's Private Reserve, this year's second place winner, is also an alpine-style cheese, but made using raw milk and cellar-aged for at least 6 months. Its flavor starts with a medium tanginess, then becomes sweet with honey and butterscotch notes
At the World Championship Cheese Contest this year, the company also took home Best of Class for their Roth Havarti with a score of 99.15 and a third place award in the Blue Veined Cheeses category for its Roth Buttermilk Blue with a score of 98.45.
Media Contact: Abby Despins, 608-293-1003, abby.despins@emmirothusa.com
About Emmi Roth: Emmi Roth, a subsidiary of Switzerland-based Emmi Group, is a leading producer of specialty cheeses. Our expansive portfolio displays a unique marriage of cheeses from two different worlds with very similar traditions and local values – from handcrafted award-winning Roth cheeses from Wisconsin to Emmi's full range of traditional varieties imported from Switzerland. Wisconsin brands include Roth and Kindred Creamery. Artisan cheeses imported from Switzerland feature Emmi, Kaltbach, Der Scharfe Maxx, and more. Learn more at emmirothusa.com.