Three Spinach Artichoke Gouda Appetizer Recipes
By: Bree Hester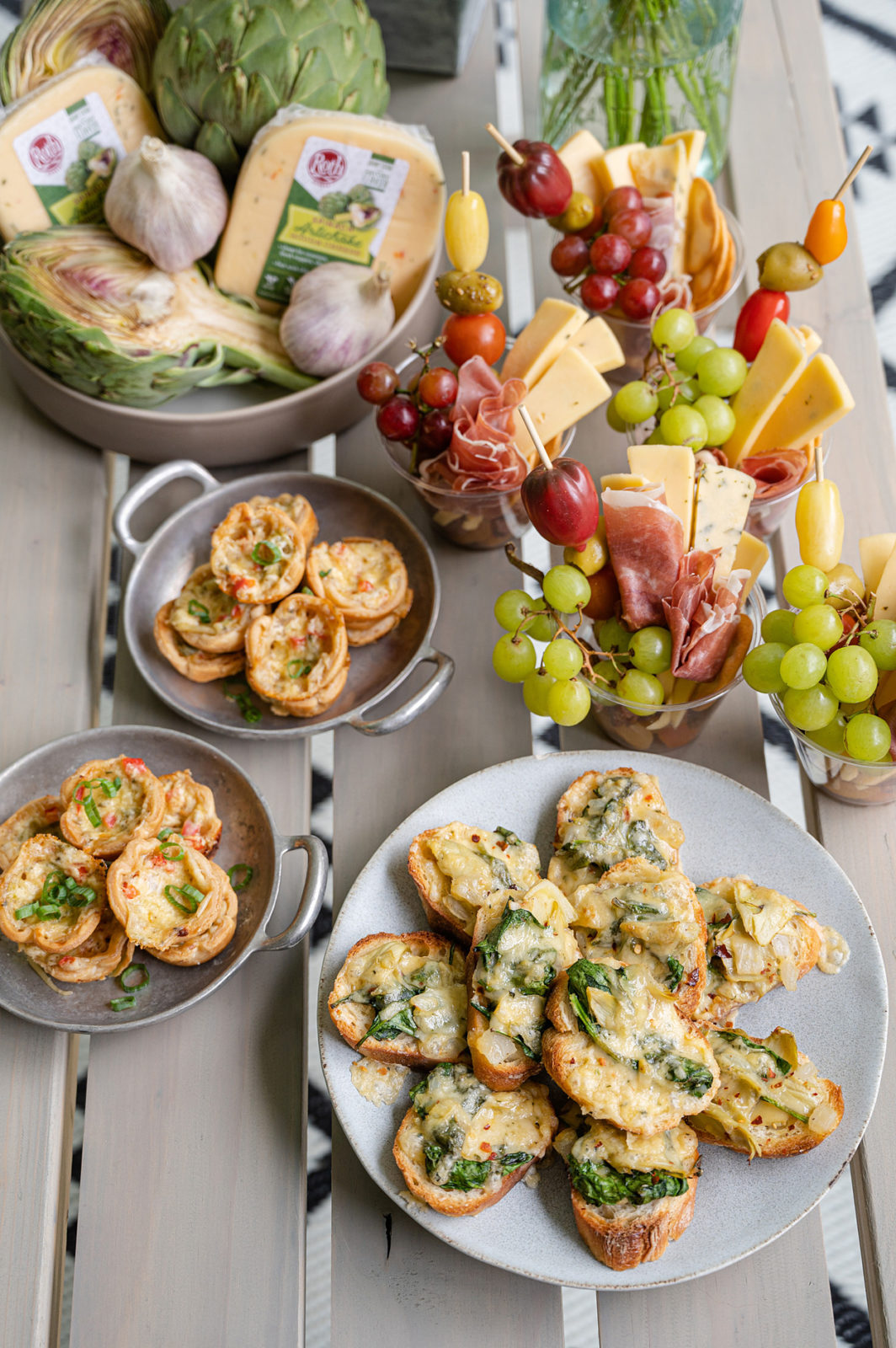 Now that the world is starting to reopen, I am tip-toeing into entertaining again. I have so missed having people over and being able to cook for them. Feeding people is my love language.
While I don't think that I am ready for an inside gathering just yet, my backyard is ready to party.
This spring, we turned our patio into an outdoor living space that is made for enjoying summer nights with friends and family. We added new outdoor games, upgraded our fire pit and garden, and made a living room set complete with hanging chairs that are perfect for cuddling up in.
Now more than ever, I want to focus on my guests. And not on being in the kitchen cooking while they are catching up and enjoying themselves. I want to be out there having a good time too. I've missed my friends and can't wait to spend time with them again. So that means I need some snacks that are easy to prepare and easy to eat.
My friends at Roth Cheese have a new Spinach Artichoke Gouda cheese that is so good and was the inspiration for this spread. Its creation was inspired by the classic dip that we all know and love: lots of spinach, artichoke, red pepper flake, and garlic flavor in creamy Gouda.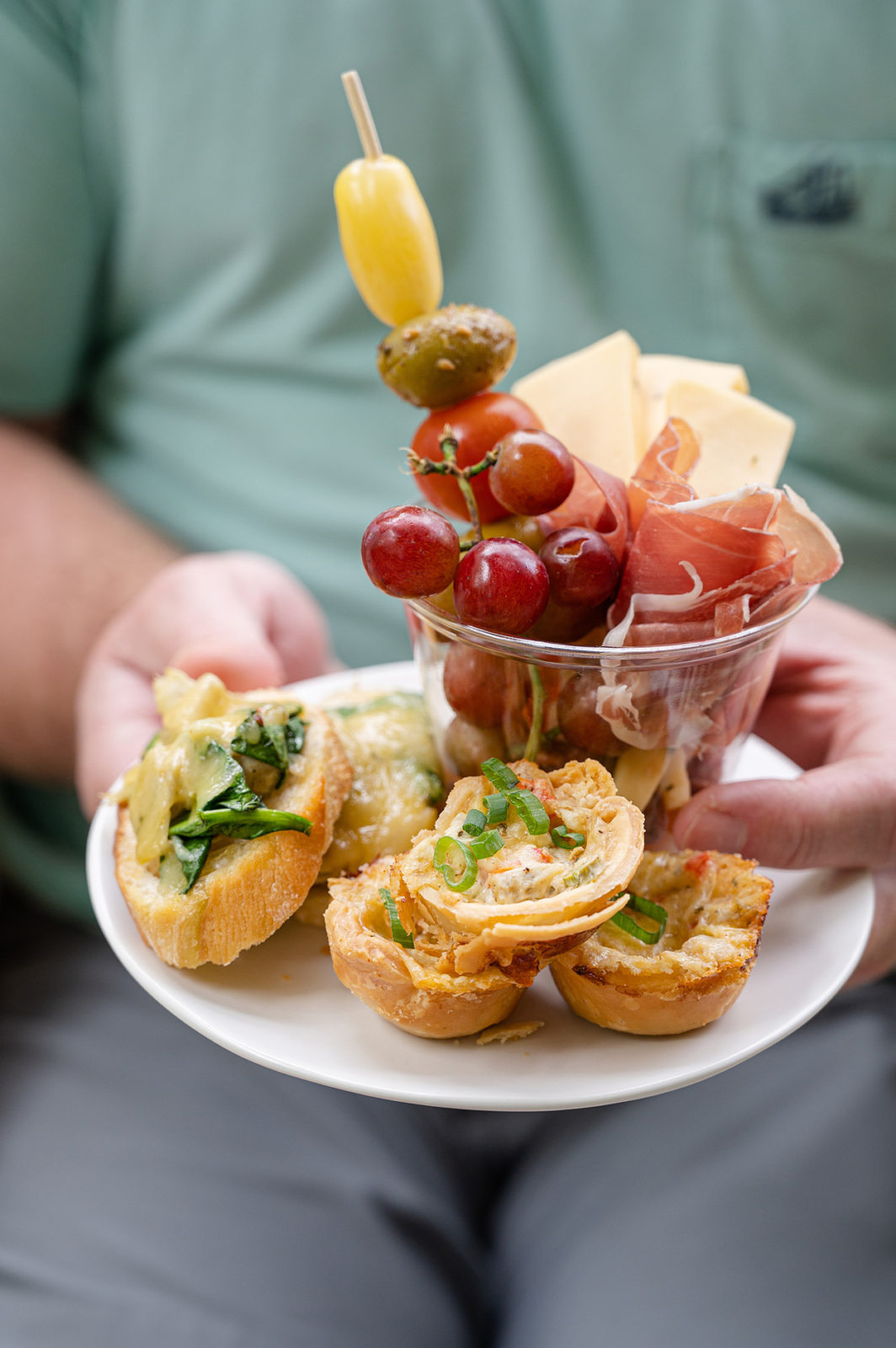 I created three appetizer recipes featuring the new Spinach Artichoke Gouda: Spinach and Artichoke Crostini, Mini Spinach Artichoke Gouda Tarts, and Charcuterie Cups. 
I love that each thing is bite-sized or personal. You don't need to worry about utensils or double-dipping. (Please tell me that we said goodbye to that in 2020.) This creamy flavored Gouda is so versatile. It melts like a dream in and on everything and is delicious all on its own. It works perfectly in each recipe.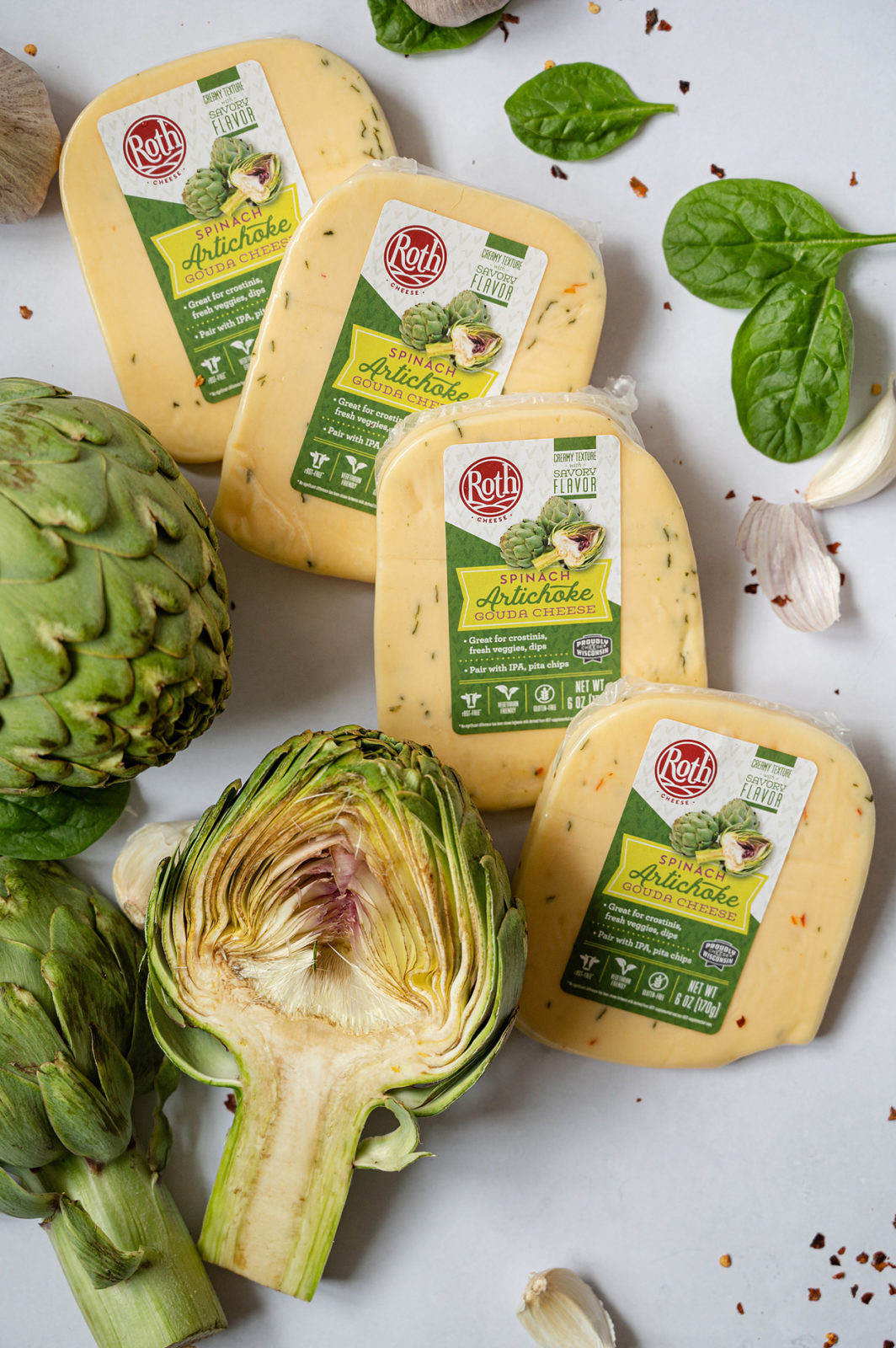 Roth Spinach Artichoke Gouda cheese is available through Amazon Fresh, you can have it delivered right to your door. If you don't receive Amazon Fresh, you can also find it online via the Alp & Dell Cheese Store.
Now that it is finally feeling like summer, I'm going to break out the corn hole, get the pollen off the furniture, and fire up the fire pit, because I am ready to have some fun.
---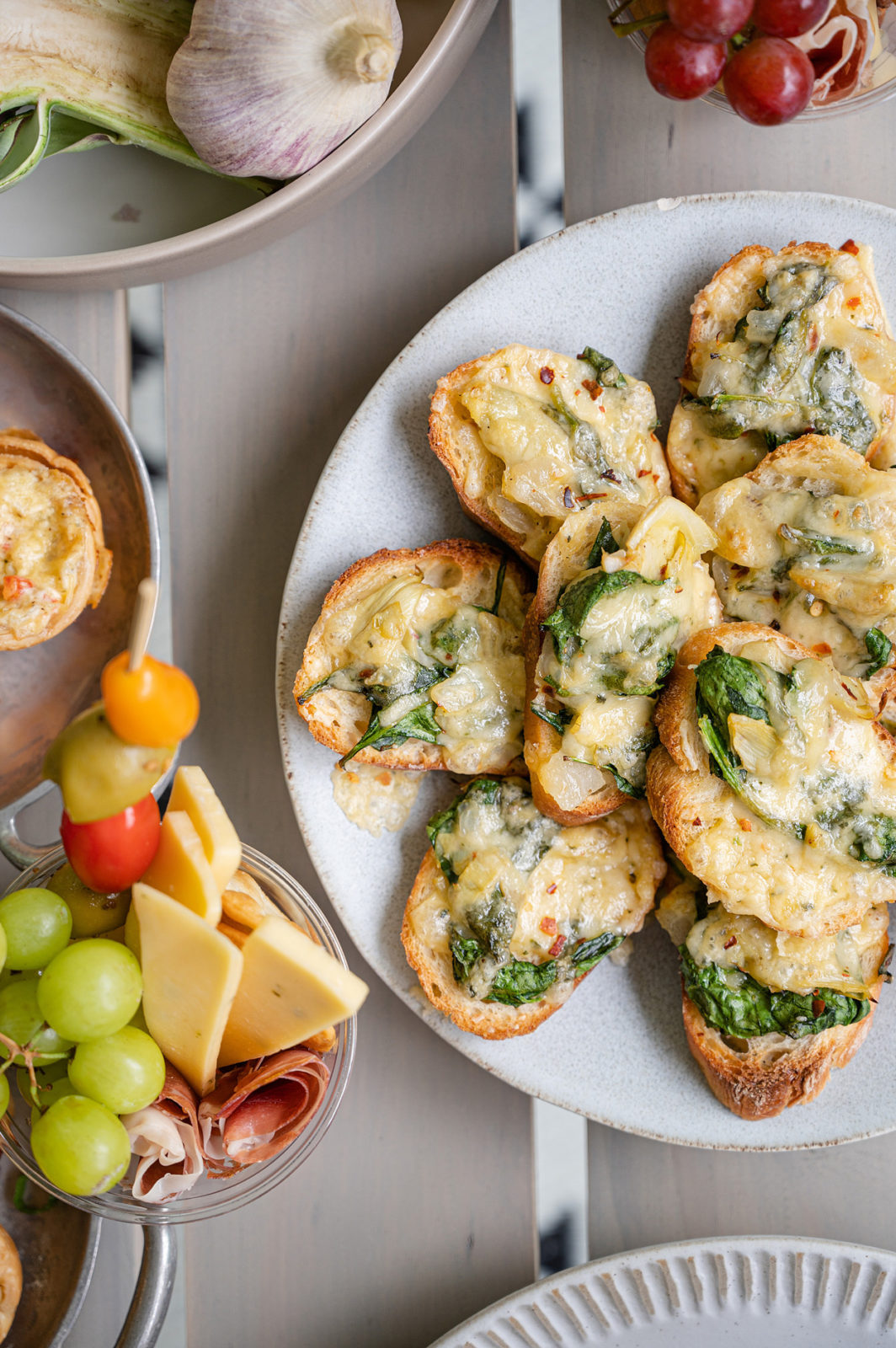 Spinach Artichoke Crostini //
Crispy toast topped with sautéed spinach and artichokes, and covered in melted Roth Spinach and Artichoke Gouda cheese. 
24 pieces sliced baguette
½ cup olive oil
½ sweet onion, finely chopped
1 can artichoke hearts, drained and finely chopped
4 cloves garlic, minced
¼ teaspoon red pepper flakes
1 (8-oz) bag baby spinach
Salt and pepper, to taste
1 (6-oz) package Roth Spinach Artichoke Gouda cheese, shredded
Preheat the oven to 350 degrees F. Arrange bread slices on a baking sheet. Brush bread with ¼ cup olive oil. Toast until golden brown, about 5 minutes. Set aside. 
Add oil to a medium sauté pan over medium heat. Add onions and artichokes, cook for about 5 minutes or until the onions soften. Add garlic, red pepper flakes, and cook for one minute. Add spinach to the pan, and cook until it wilts, about 2 minutes. Season with salt and pepper. 
Flip the bread over and top the untoasted side with the spinach mixture. Sprinkle generously with cheese. Put the pan back into the oven and cook until the cheese melts. If you like things a little extra spicy, sprinkle the tops with more red pepper flake.
---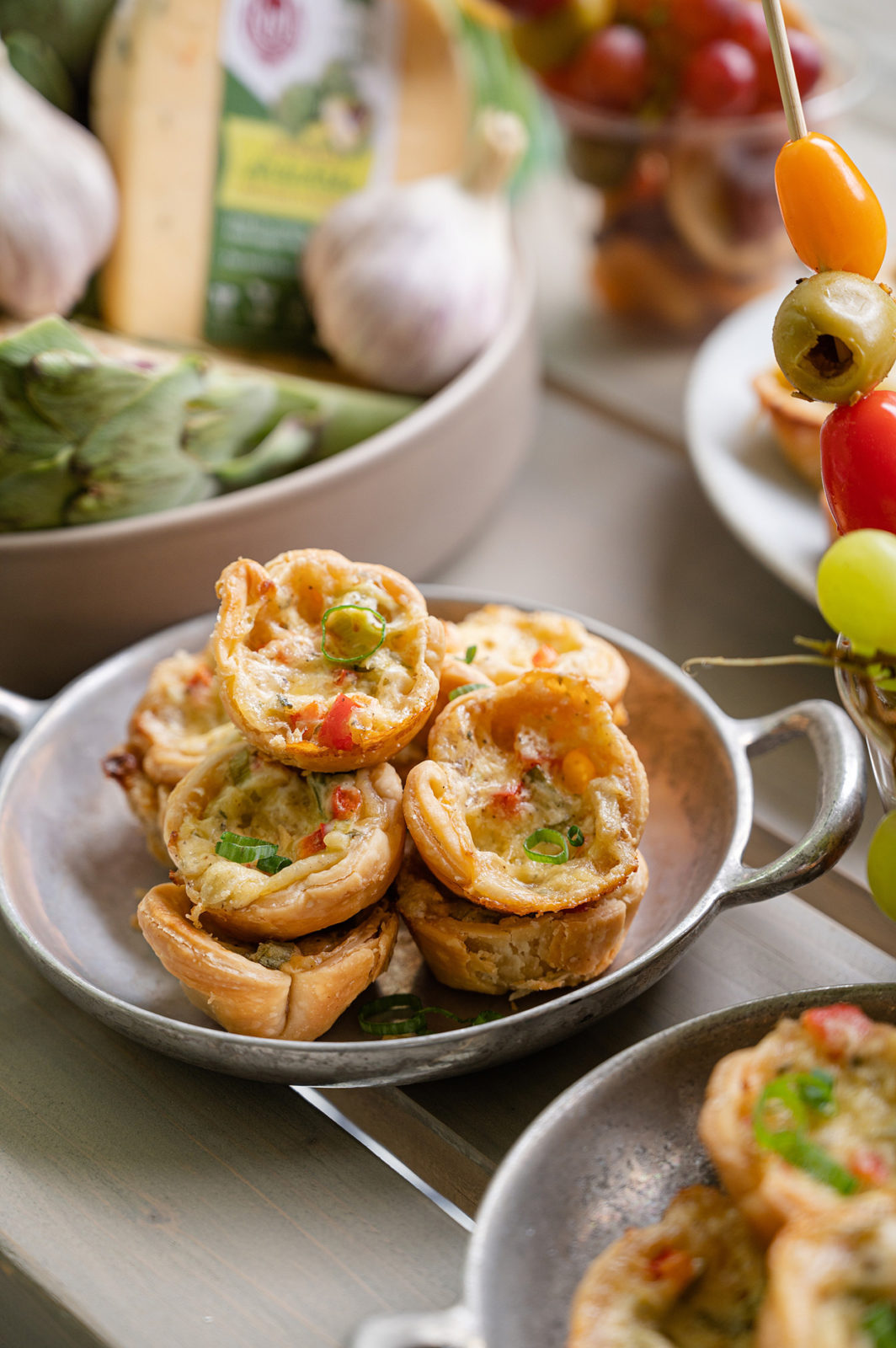 Mini Spinach Artichoke Gouda Tarts //
A one-bite cheese tart full of spinach and artichoke flavor. These are delicious served warm, but equally delicious at room temperature.
1 box ready made pie crust (there should be 2 crusts in the box)
⅔ cup sour cream
⅓ cup green onions, finely chopped
⅓ cup red pepper, finely chopped
⅓ cup artichoke bruschetta topping
2 cups Roth Spinach Artichoke Gouda cheese, shredded
Salt and pepper
Preheat oven to 375 degrees F. Cut pie crust into about 2 ¾-inch rounds. Gently press into a mini muffin tin. Bake for 10 minutes. If the crusts puff up, use a spoon or tart shaper to press them back into shape. 
Mix sour cream, green onions, red pepper, artichoke bruschetta topping in a medium bowl. Fold in shredded cheese and season with salt and pepper. 
Add a tablespoon of the mixture into each pie crust. Put back into the oven and bake for an additional 10 minutes.
---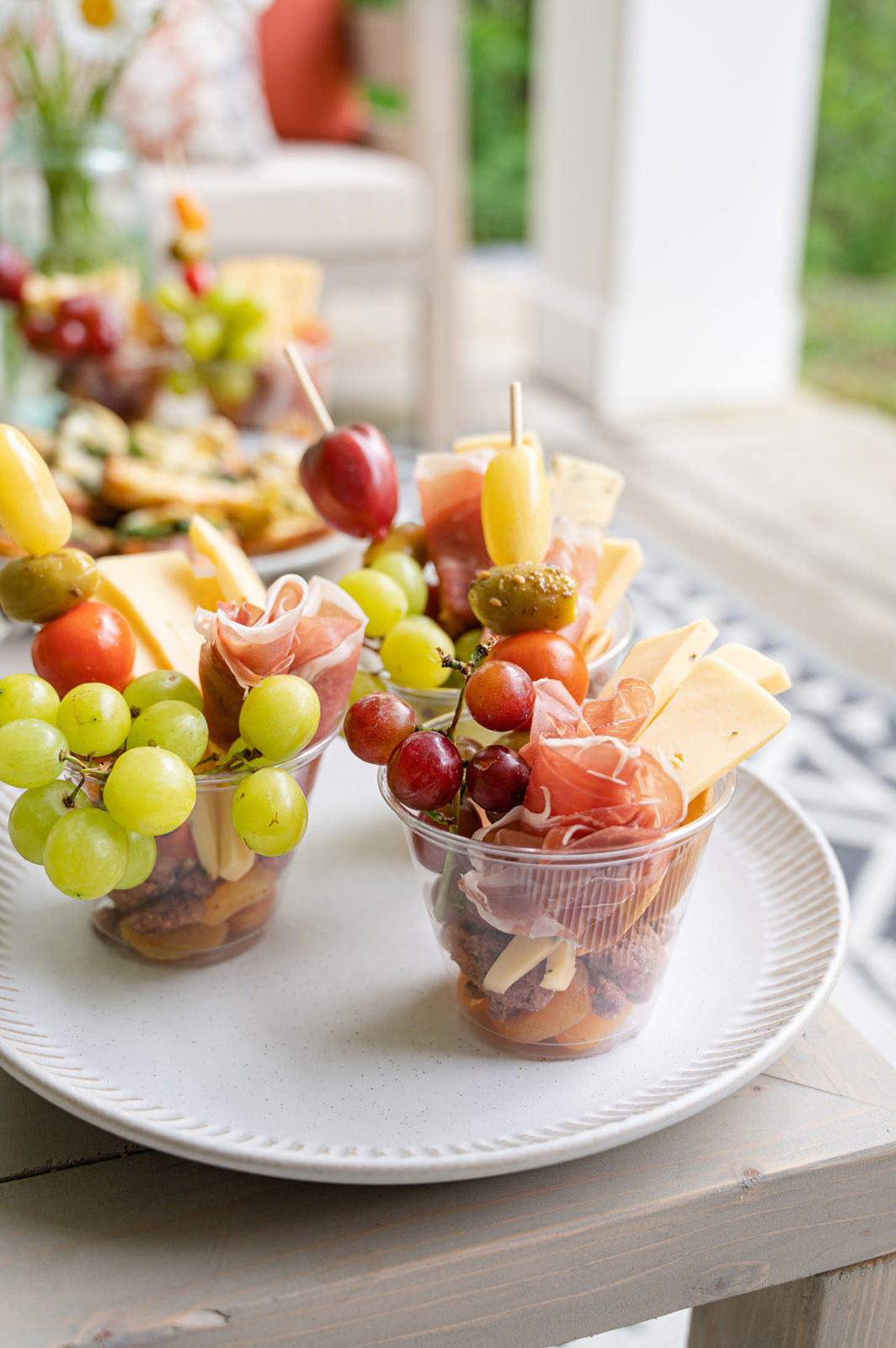 Charcuterie Cups //
Personal cheese boards or grazing cups full of delicious meats, cheeses, nuts, fruit, and crackers. 
Add the smaller items to the bottom of a clear plastic cocktail glass, jar, or any container you like. Skewer olives and tomatoes on cocktail sticks.
Arrange crackers in the back, then add Roth Spinach Artichoke Gouda cheese and prosciutto.
---