How to Make Hot Honey and Gouda Grilled Chicken Sandwiches
By: Bree Hester
Hot Honey and Gouda Grilled Chicken Sandwiches topped with melty Gouda and Smoked Gouda cheeses, then drizzled with homemade hot honey. Add lettuce, tomato, and onion and you have an INCREDIBLE sandwich.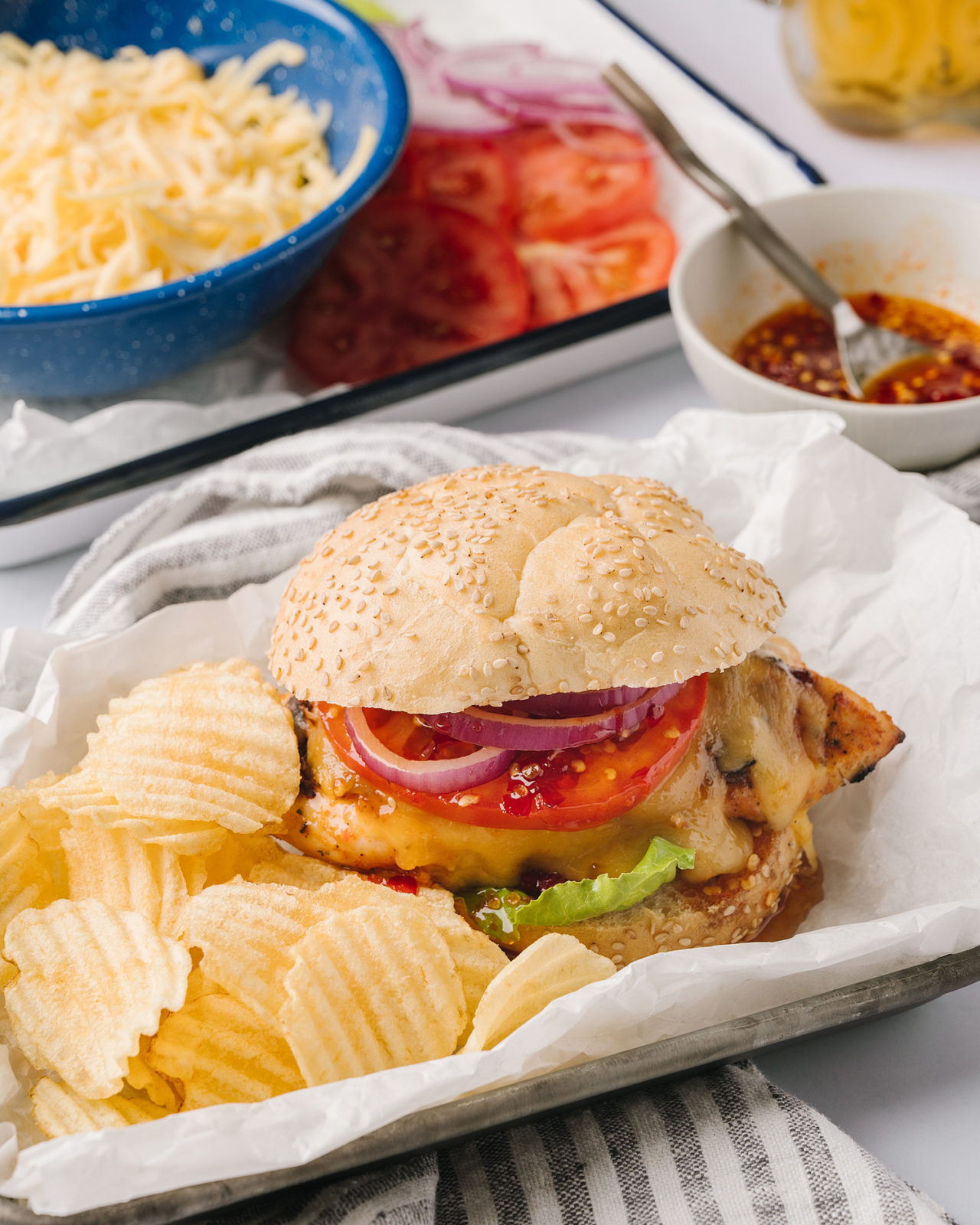 My family loves to give me a hard time about how often I make chicken for dinner. "Ugh, seriously. Chicken again? Ew. Mom, that's sooooo boring." It's "gross" but not in the good way.
(Guess what? Keeping up with teen slang is almost a full-time job. One minute gross is well, gross, and the next it means really good.)
But put a piece of chicken between bread and it's a totally different situation, and very welcome at dinner time. Melt two kinds of Roth Gouda cheese on it and all of the sudden, I'm a hero. (I'll take what I can get.)
This is the perfect summer dinner when you don't really feel like cooking, but also don't want to go anywhere or get takeout. A grilled chicken burger at home is always a good idea, even when you don't feel like cooking a single thing.
This recipe is so simple and takes very little time. Serve with some chips and fruit, and you have a pretty well-rounded meal that is gross, but in the good way.
This has been the summer of hot honey for me. I can't find enough things to put it on. I put it on pizza (sounds weird but trust me), mix it into salad dressings, and drizzle on just about any sandwich to give it a sweet/hot kick. It's so simple to make, you just mix together two ingredients, but it changes. the. game. in terms of flavor.
Put it on a grilled chicken sandwich and be prepared to be blown away.
Also, my beloved Roth Gouda got a new look. Same delicious cheese inside, but updated packaging on the outside.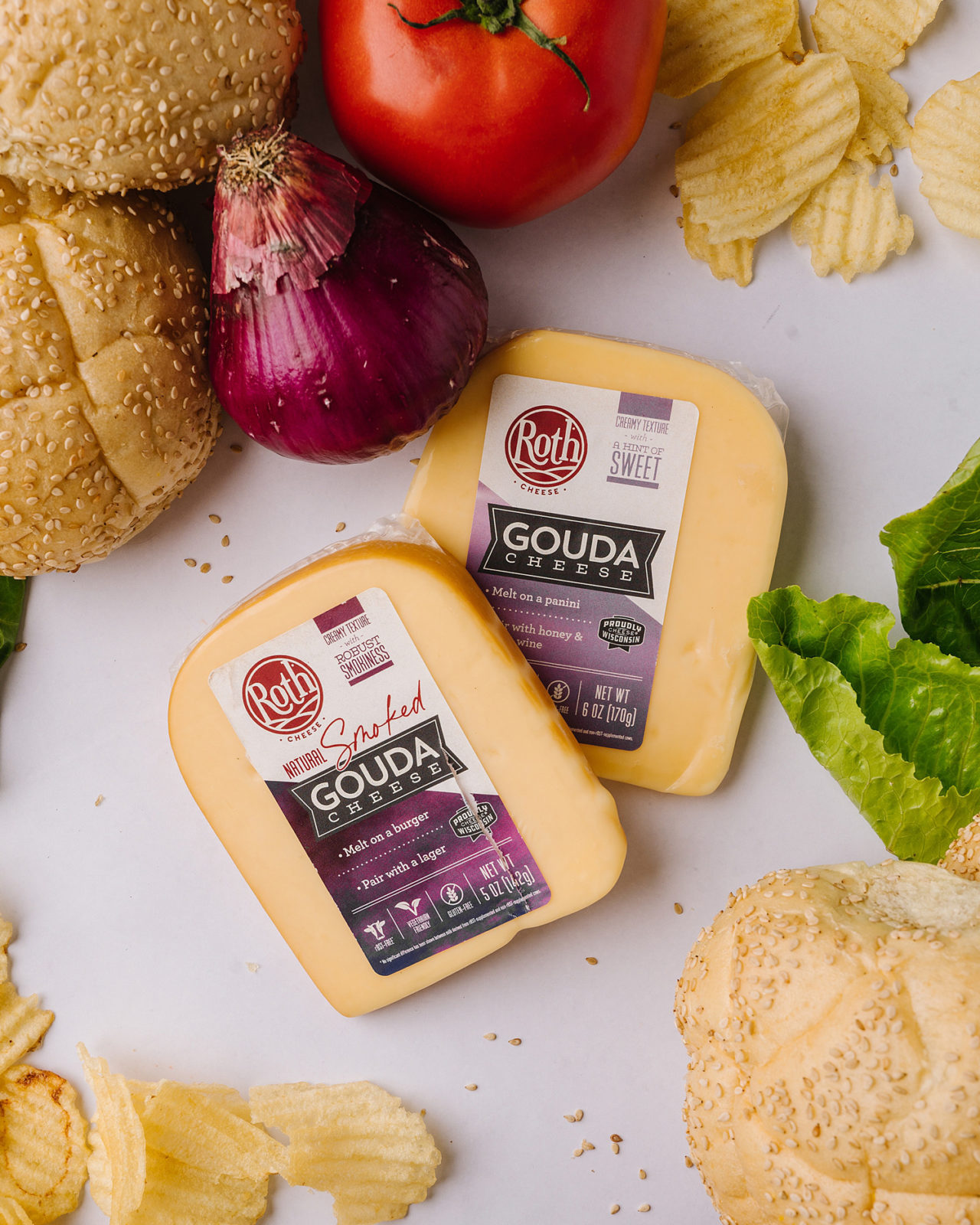 Ingredients to Make Hot Honey and Gouda Chicken Sandwiches //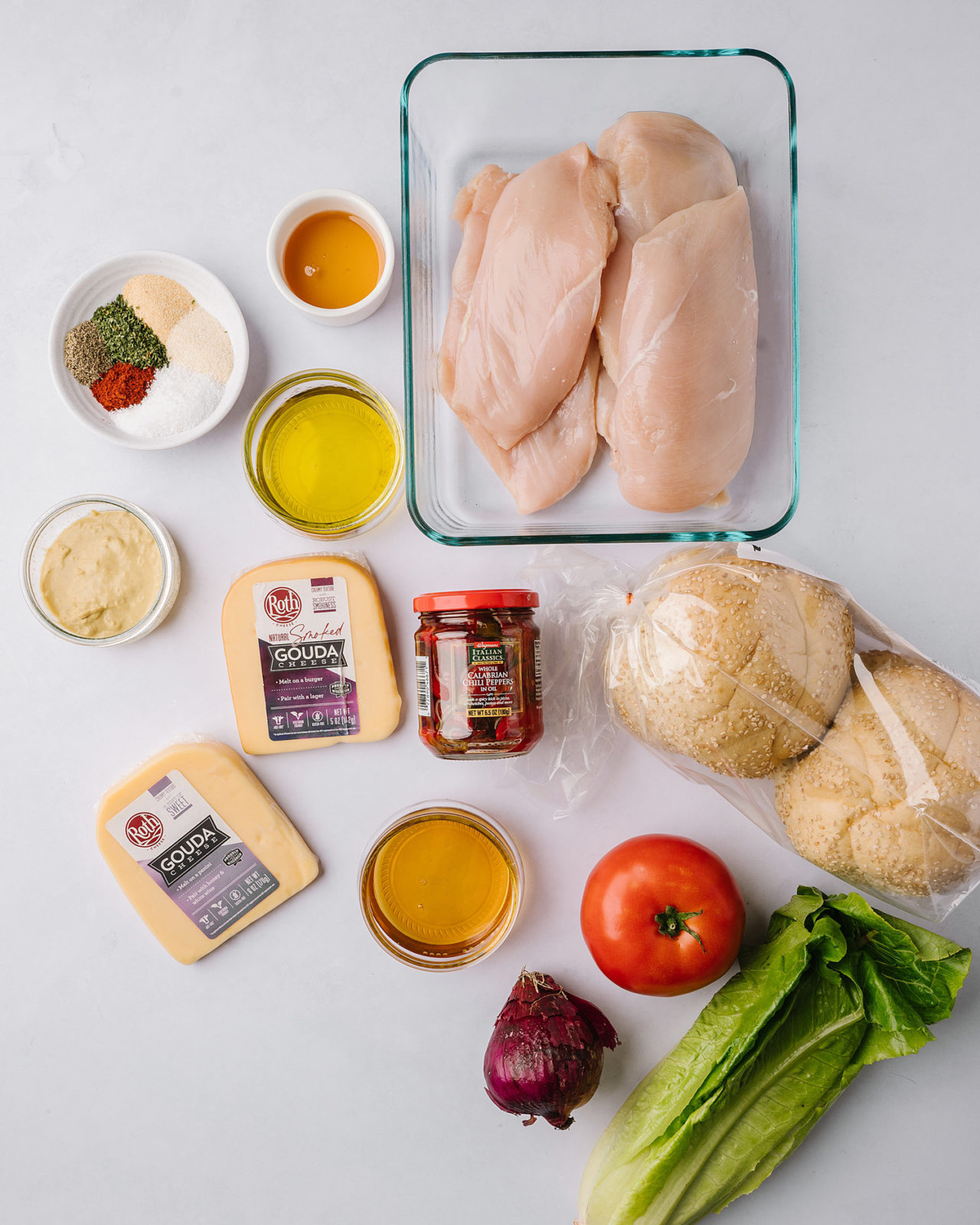 Chicken. I use organic chicken cutlets if I am short on time. They are thinner and I think better on a sandwich. If I don't have cutlets, I pound the breasts a little for even cooking. Taking the time to even out the breasts results in more even cooking and being easier to eat on a roll.
Roth Gouda. Sweet and creamy Gouda is the perfect melting cheese for these sandwiches. The creaminess is an amazing foil to the hot honey and melts like a dream. I keep Gouda in my fridge 100% of the time — for eating — but it's also become one of my favorites to cook with. I like to shred and melt it on everything.
Roth Smoked Gouda. I love to combine Smoked Gouda with regular Gouda to add more smoky flavor to the sandwiches. I have to be honest though, I will put Smoked Gouda on just about anything and it's my favorite cheese on a cheeseboard.
Calabrian chili. Calabrian chilies are grown in the Calabrian region of Italy and are spicy, floral, smoky, and even a little sweet. This has replaced sriracha as my go-to heat source when I am looking to spice up a recipe. You can find this in the tomato aisle or in the Italian section of the grocery store. Or you can always order it online. I have also bought these chilies ground into a paste.
Honey. You can't make hot honey without honey. I like to use mild orange blossom honey, but use any honey you have on hand.
Buns. I think that a good bun/bread situation is the key to an excellent sandwich. Everything inside the sandwich can be stellar, but if you are putting your delicious sandwich ingredients in an inferior carb situation, then you are just selling yourself (and your sandwich) short. I used a sesame seed bun from a local bakery. I like the added flavor and texture of the seeds.
How to Make Hot Honey and Gouda Chicken Sandwiches // The Steps
This is really a simple recipe, but it's so, so, so good, and perfect for a busy summer night. I like to get ahead of the game and get my chicken soaking in the marinade in the morning, but I've also made it with just a few minutes of marinating time and they are still amazing.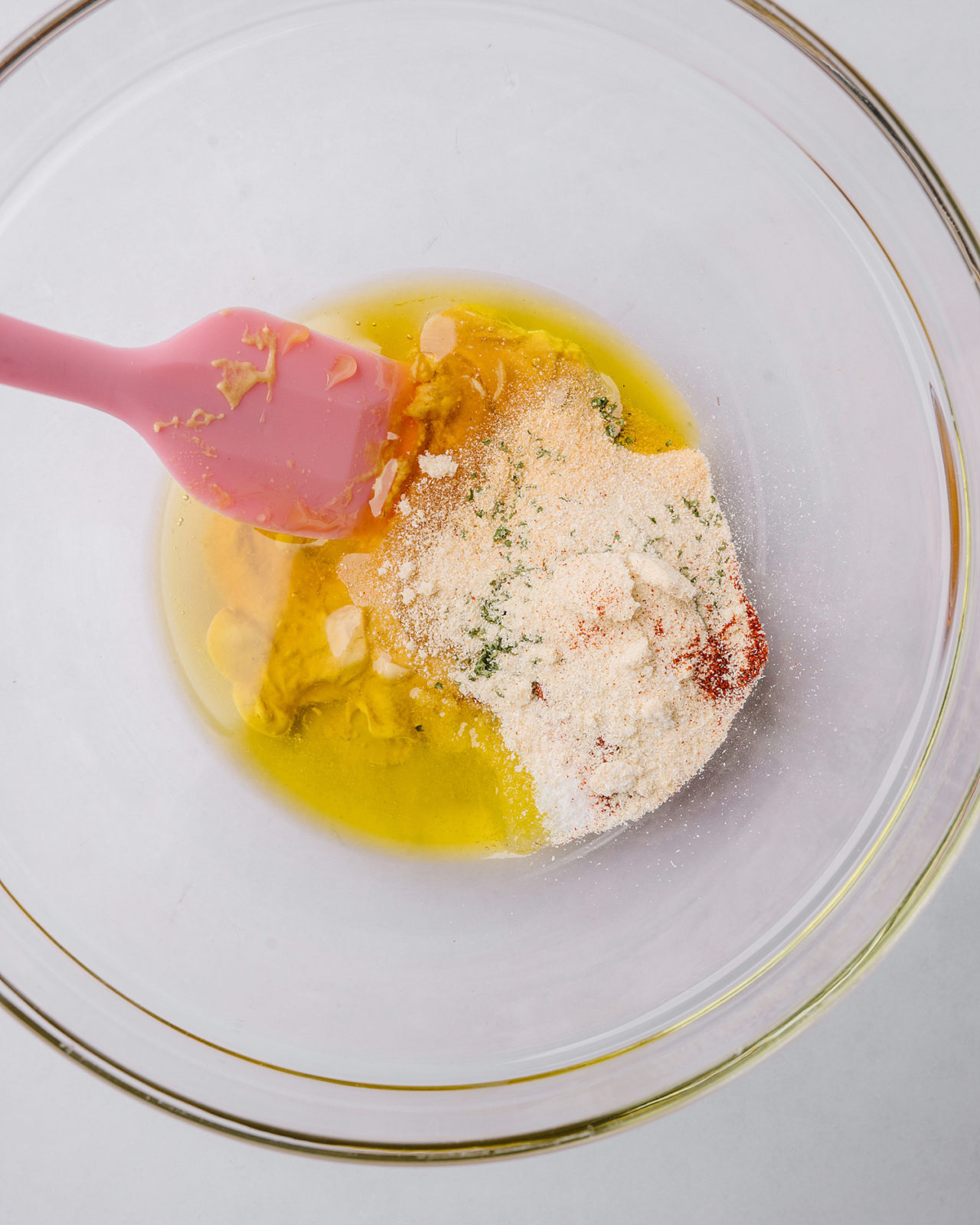 Add olive oil, lemon juice, Dijon mustard, honey, garlic powder, onion powder, parsley, smoked paprika, salt, and pepper to a bowl.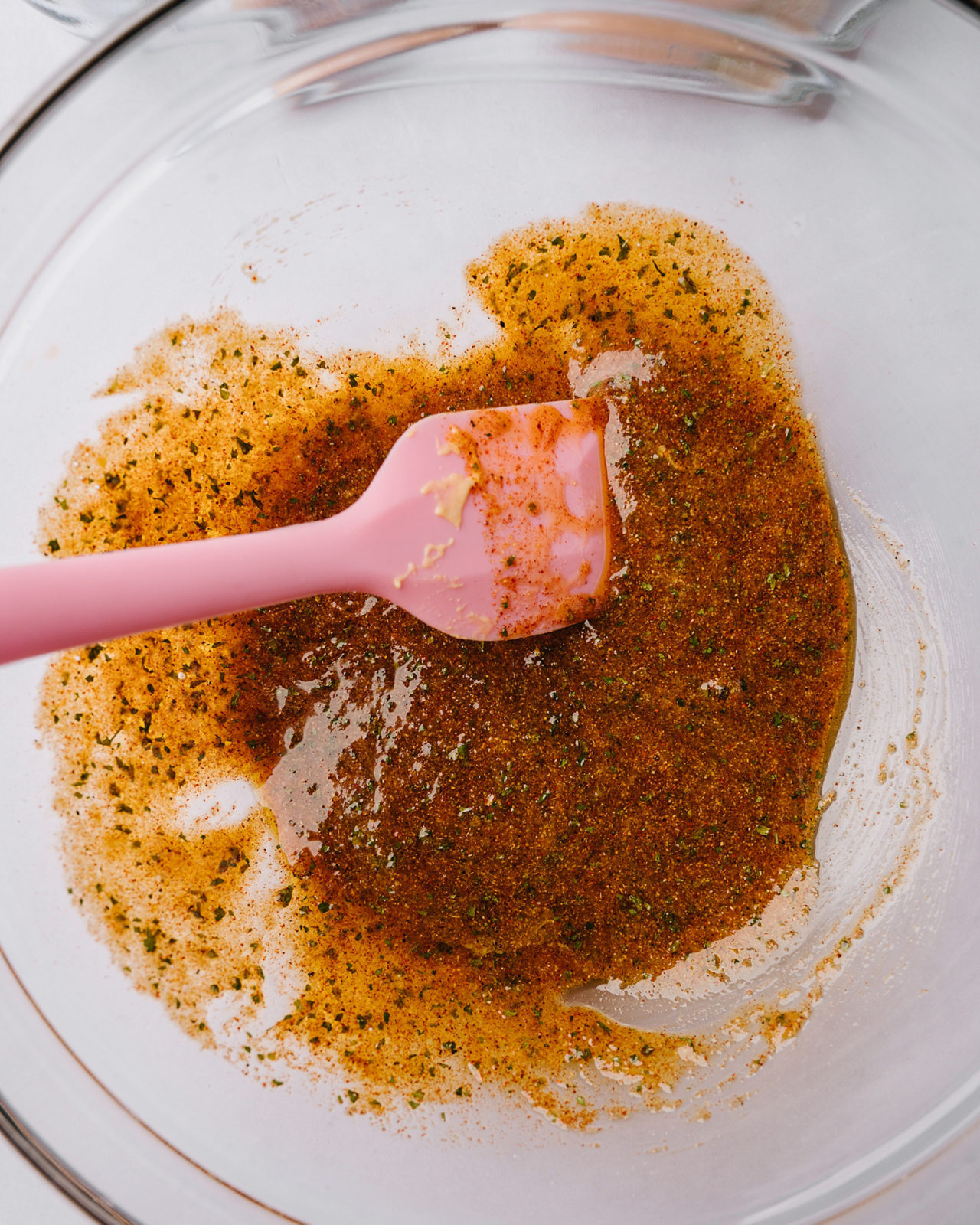 Mix until well combined.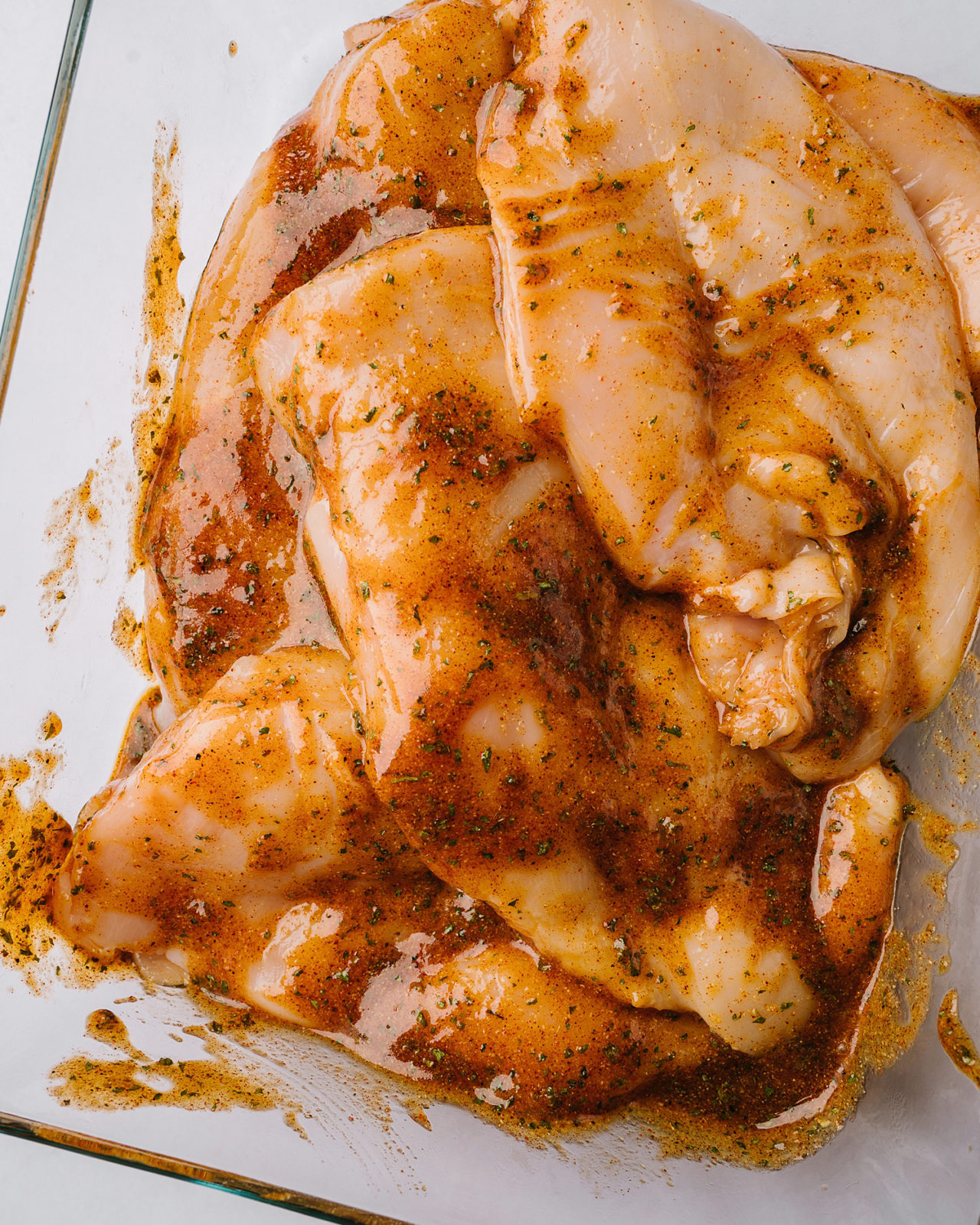 Add the chicken to a plastic bag or glass container and pour the marinade over the chicken. Keep in the fridge until ready to grill.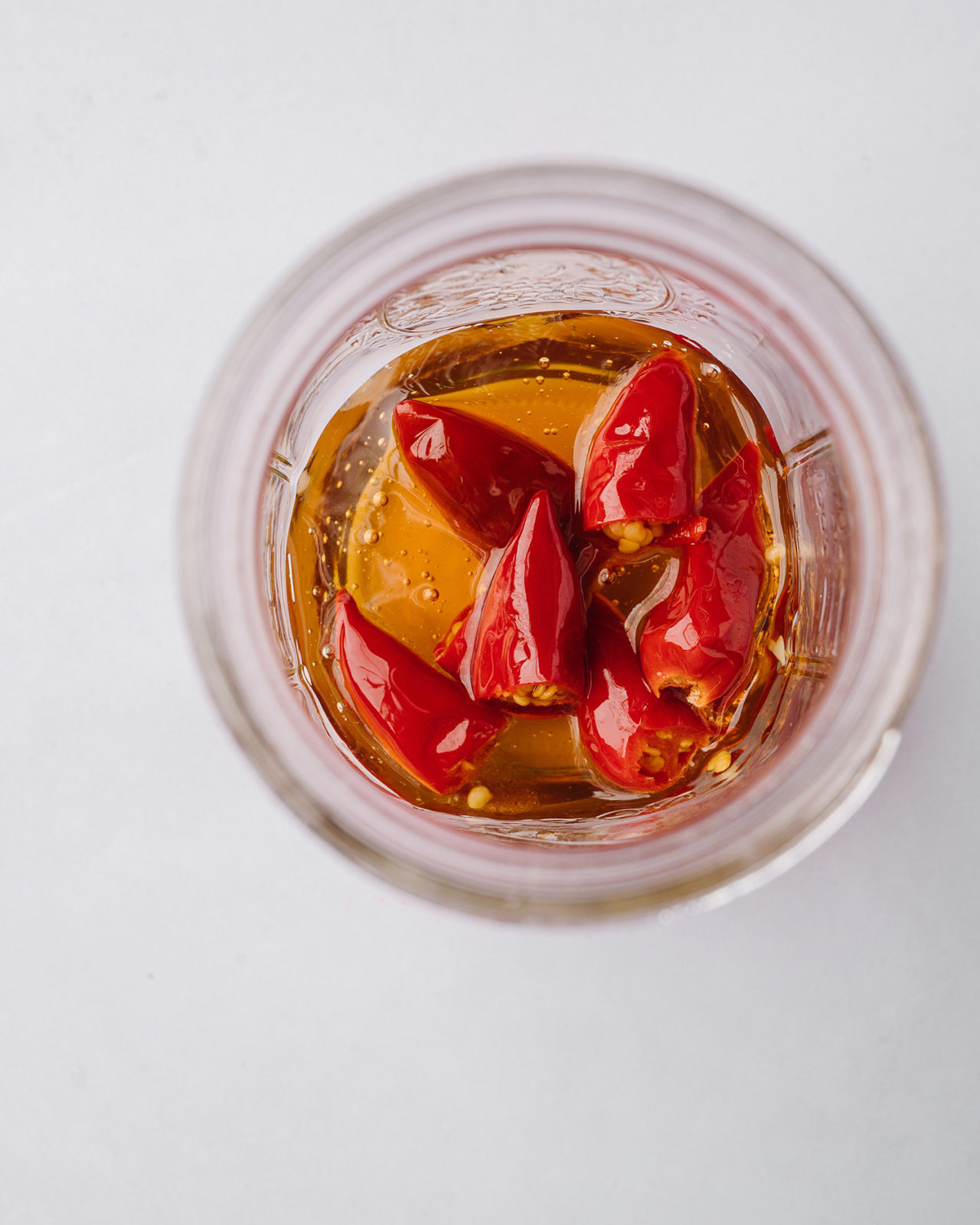 To make the hot honey, add honey and Calabrian chili to a jar. I use an immersion blender to purée, but you could also just finely dice the chili and stir it through or blend in the blender. Set aside until ready to use.
When ready to cook, preheat the grill to 400 degrees F. Use a grill brush to clean off the grates and lightly oil the grill.
Add the chicken and cook for 4-5 minutes a side (if using cutlets, they don't take as long) with the lid closed.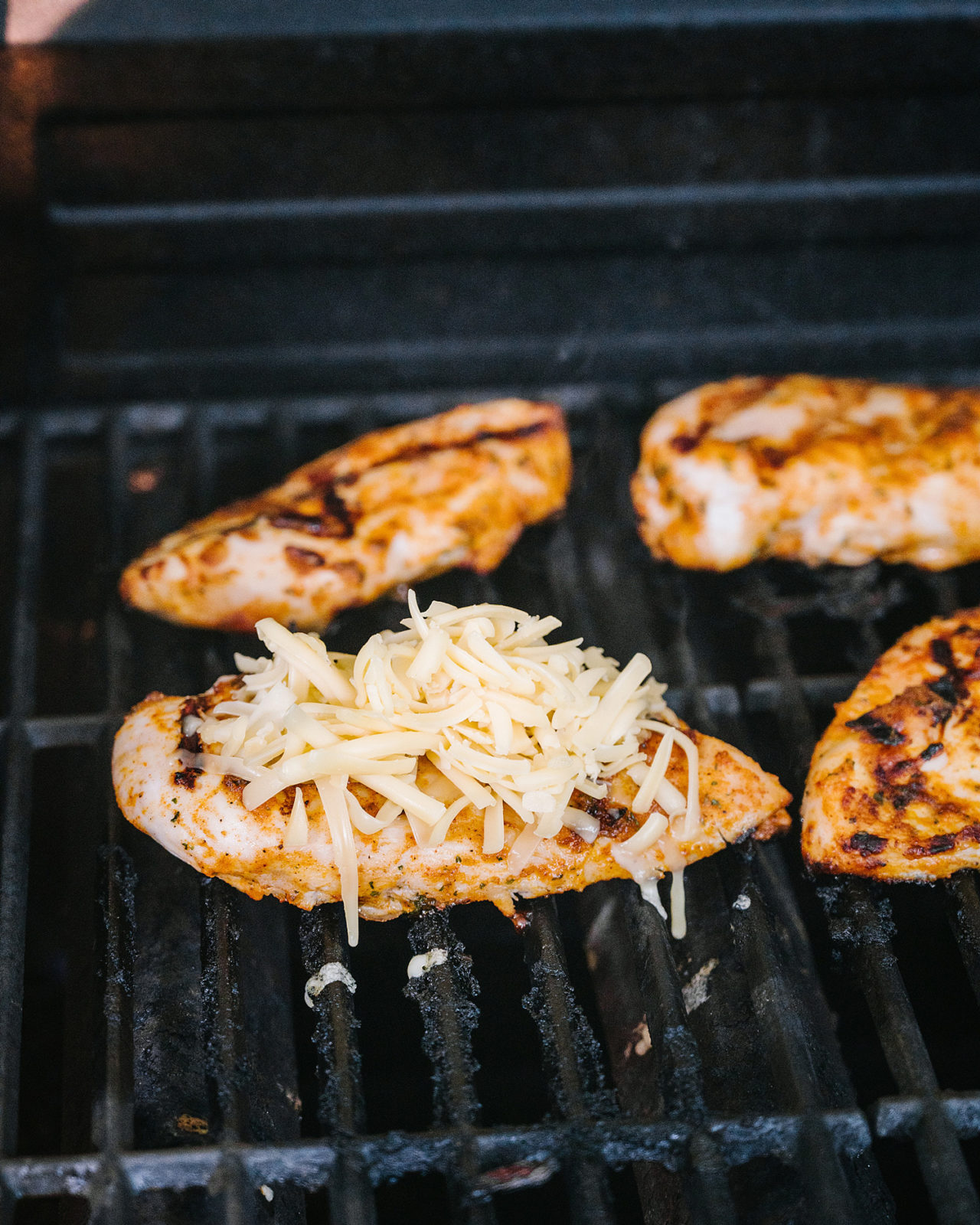 Add grated Roth Gouda and Smoked Gouda to the top of the chicken for the last minute of cooking. Close the lid to let the cheese melt.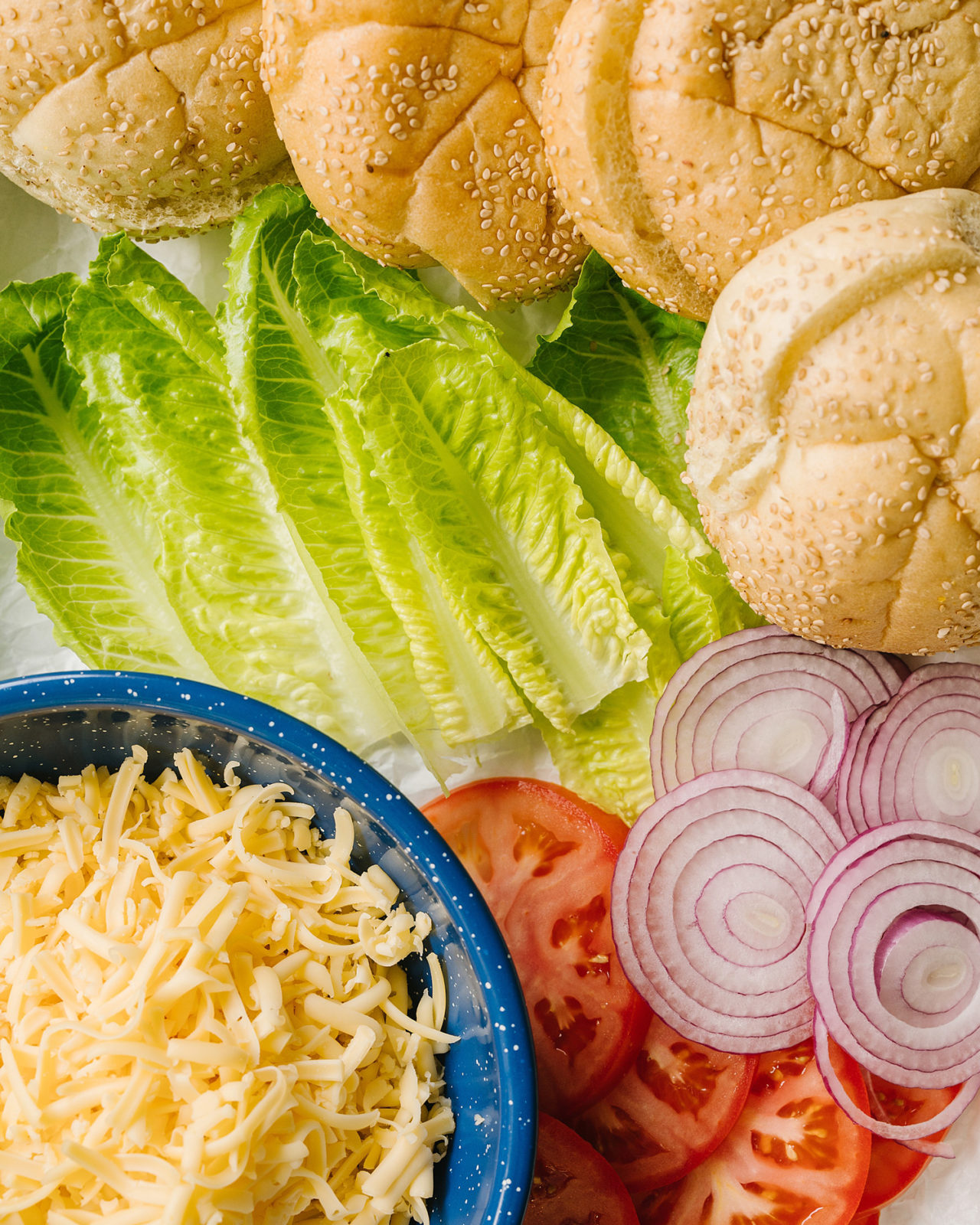 Place on a bun with lettuce, tomato, onion and a generous drizzle of hot honey.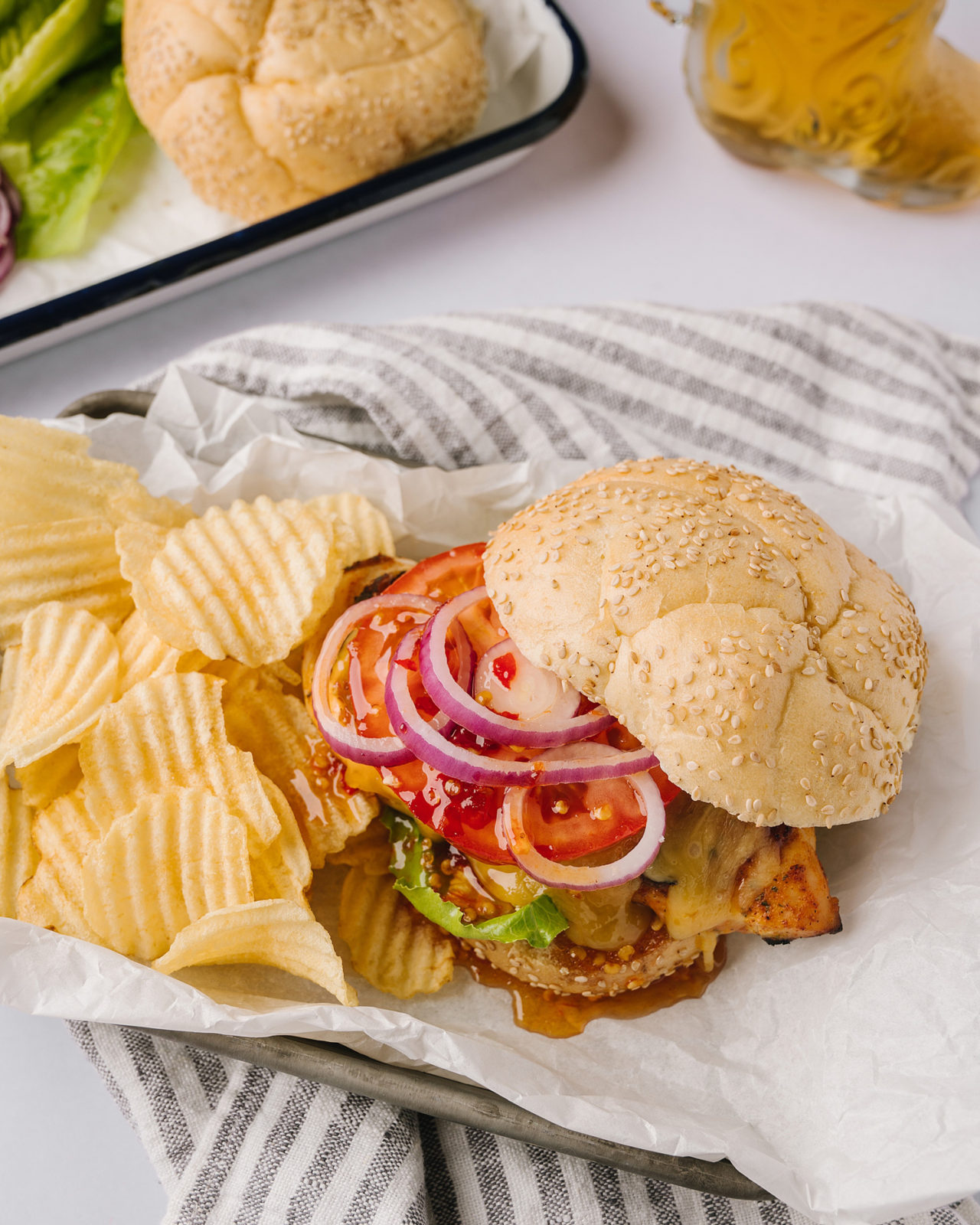 FAQ's //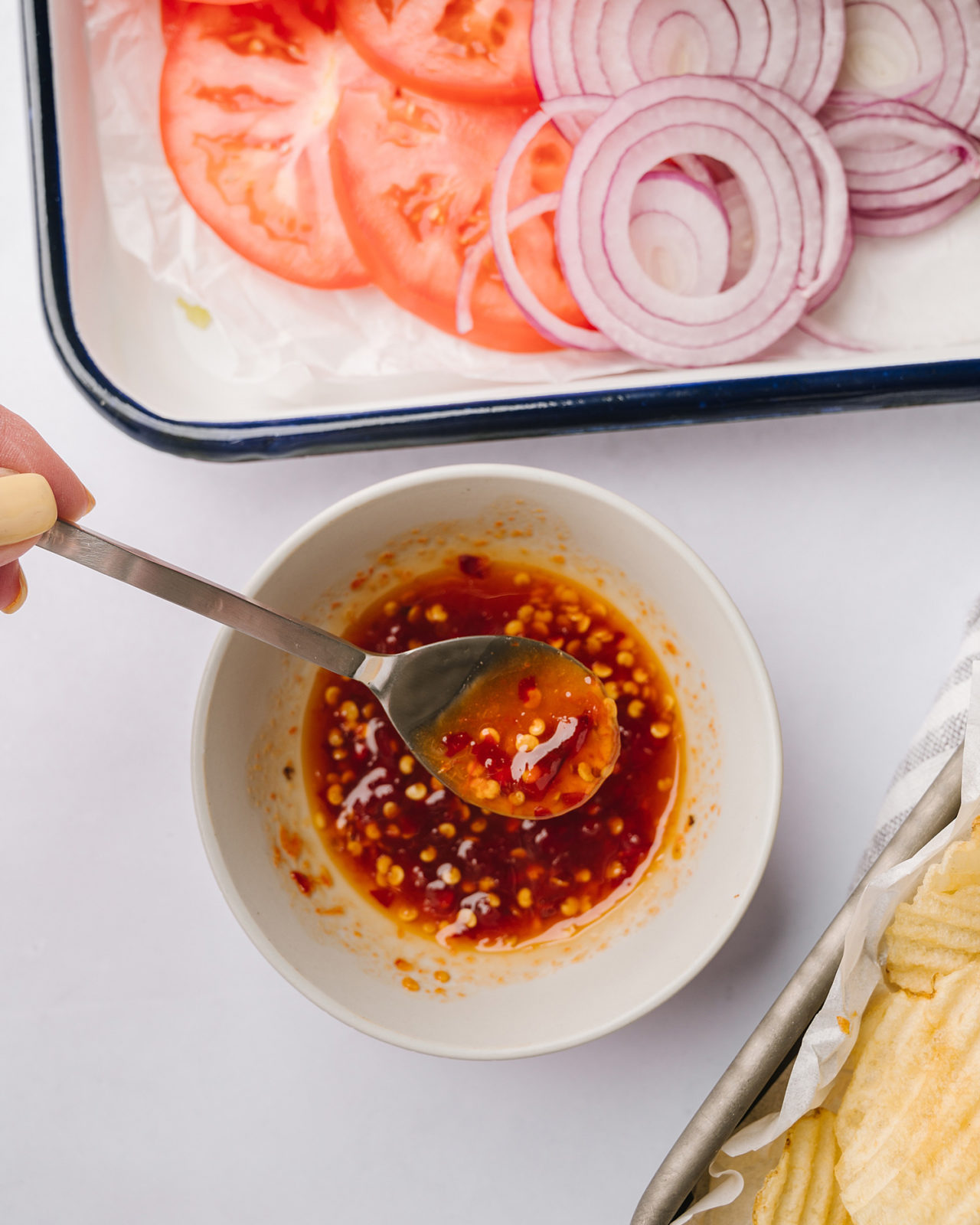 Can I make hot honey with another kind of chili or pepper?
Of course! You can use jalapeño or habanero peppers, or really any hot chili pepper you like. You can cut the peppers in half, remove the seeds if you don't like it really spicy, and steep the pepper in a saucepan with the honey over medium-low heat for five minutes. Let cool, and keep in a jar with an airtight lid.
How do I keep my chicken moist and not dried out?
Make sure to marinate your chicken in something with oil and acid. The oil adds moisture while the acid helps keep the chicken tender. Also, be careful to not overcook the chicken. Use an internal thermometer and take the chicken off the grill at 160 degrees F. It will continue to cook once it comes off. Put the chicken on a plate and cover with foil and let rest for 5 minutes before cutting. It will help keep the chicken juicy and tender.
How do you get cheese to melt evenly on burgers and sandwiches?
Shred it! Cheese melts faster and more evenly when it's shredded. I like that you can mix different types of cheese to make an even more complex cheese flavor. Grand Cru® mixed with Gouda is *chefs kiss*. Ever since I discovered the cheese grater attachment for my Kitchen-Aid, I almost always grate my cheese no matter what I am using it for. (I love that attachment so much that I don't even mind that it can't go in the dishwasher — that's LOVE.) It's changed my pizza game!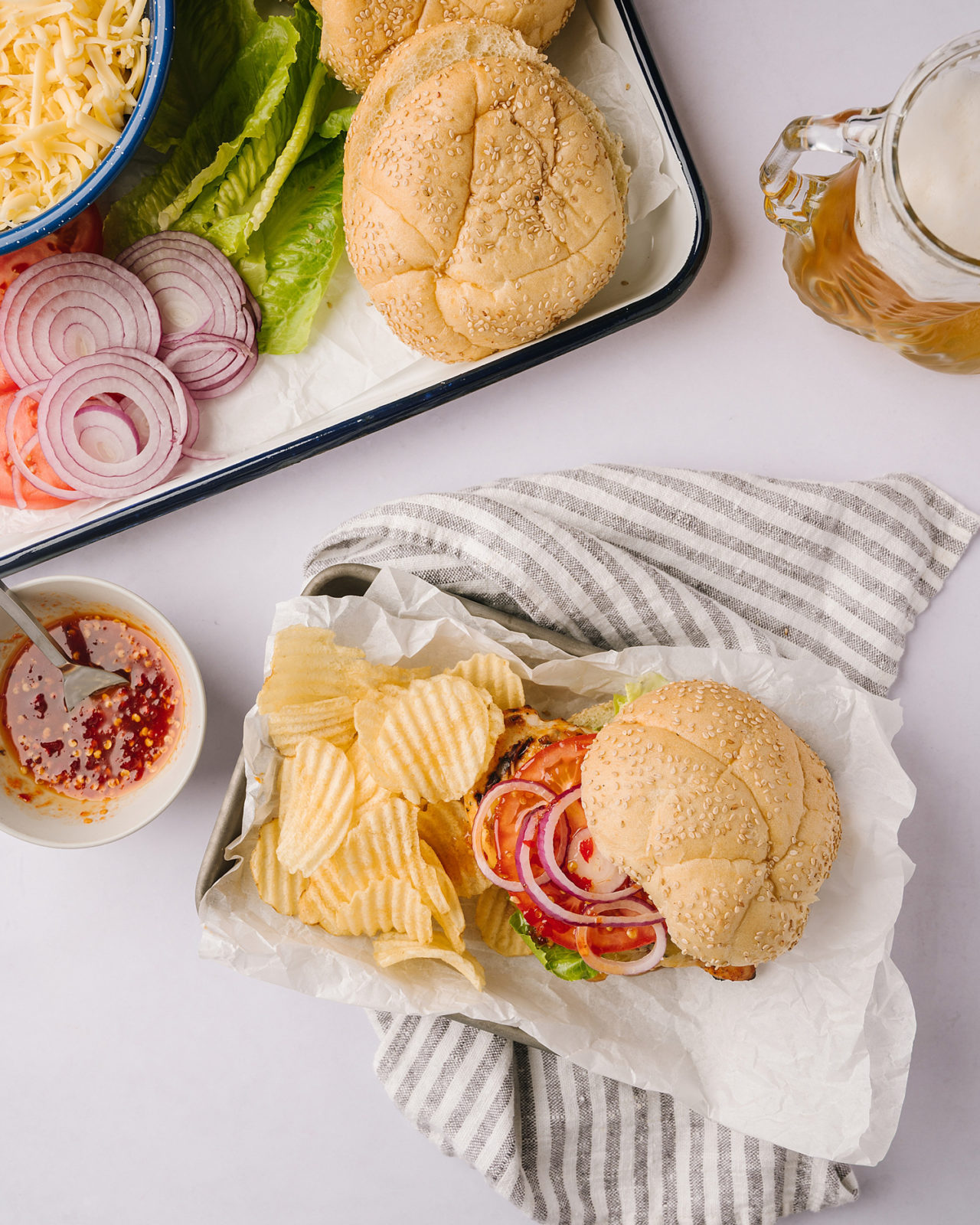 Recipe Tips //
You can marinate your chicken for up to 24 hours. When there is acid in the marinade, I don't like to do it any longer than 24 since it can start to break down. This a great get-ahead tip for serving a crowd.
I like to put my toppings on a large tray and let everyone dress their sandwiches themselves. You can prep your toppings earlier in the day. Dampen a paper towel and lay it on top of the vegetables and keep crisp in the fridge until dinnertime.
Hot honey can be a little messy, so a squirt bottle is a good way to store it. Less sticky mess on your table.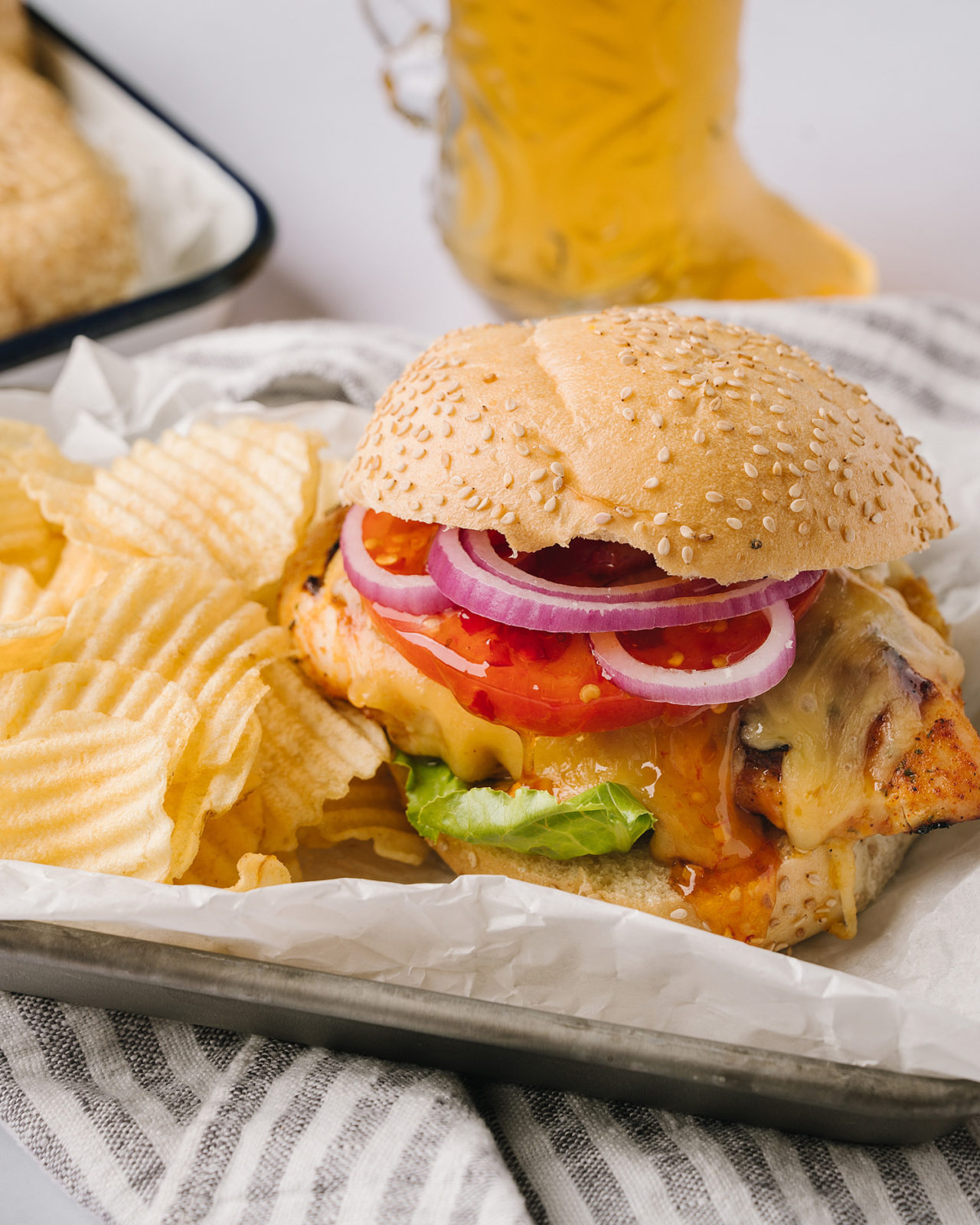 Variations //
Caramelized onion and garlic jam is especially delicious on this sandwich. I love it with melted Gouda, lettuce, onion jam and a thinly-sliced crispy apple. The drizzle of hot honey sends it over the edge.
Barbecue sauce as a marinade is really good too. The sweet and smoky sauce goes so well with all of the other flavors of the smoked cheese and the sweet/hot honey.
If you want to skip the bun, this makes a great salad. Alternatively, serve in lettuce cups. Slice the chicken, top with shredded Gouda, and drizzle with hot honey. Serve on a bed of crispy lettuce.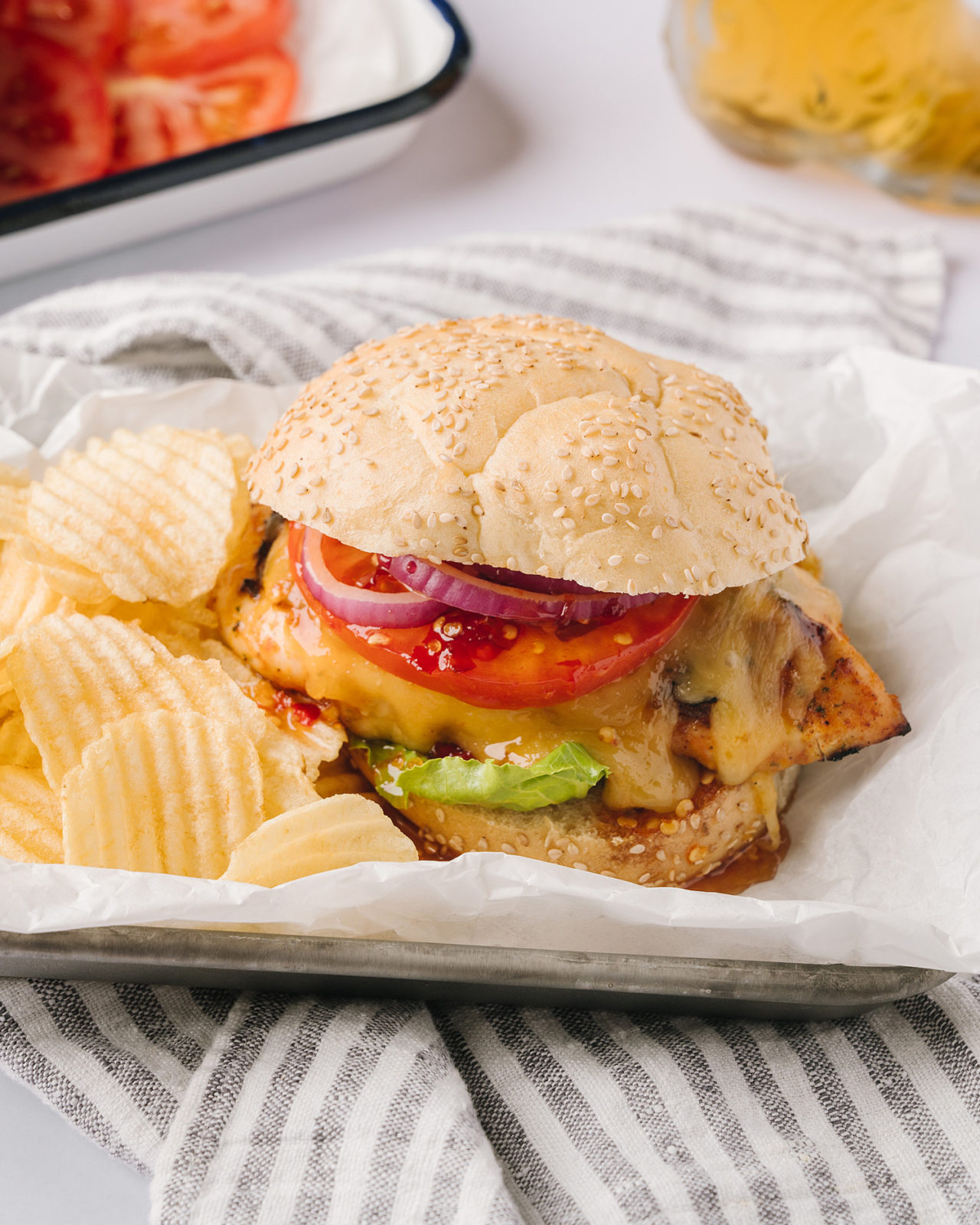 Get the full recipe here!