Whipped Goat Cheese with Roasted Tomatoes and Homemade Flatbreads
Whipped Herbed Goat Cheese with Roasted Tomatoes and Shallots with Homemade Flatbreads is an easy and elegant appetizer for any occasion.
By: Bree Hester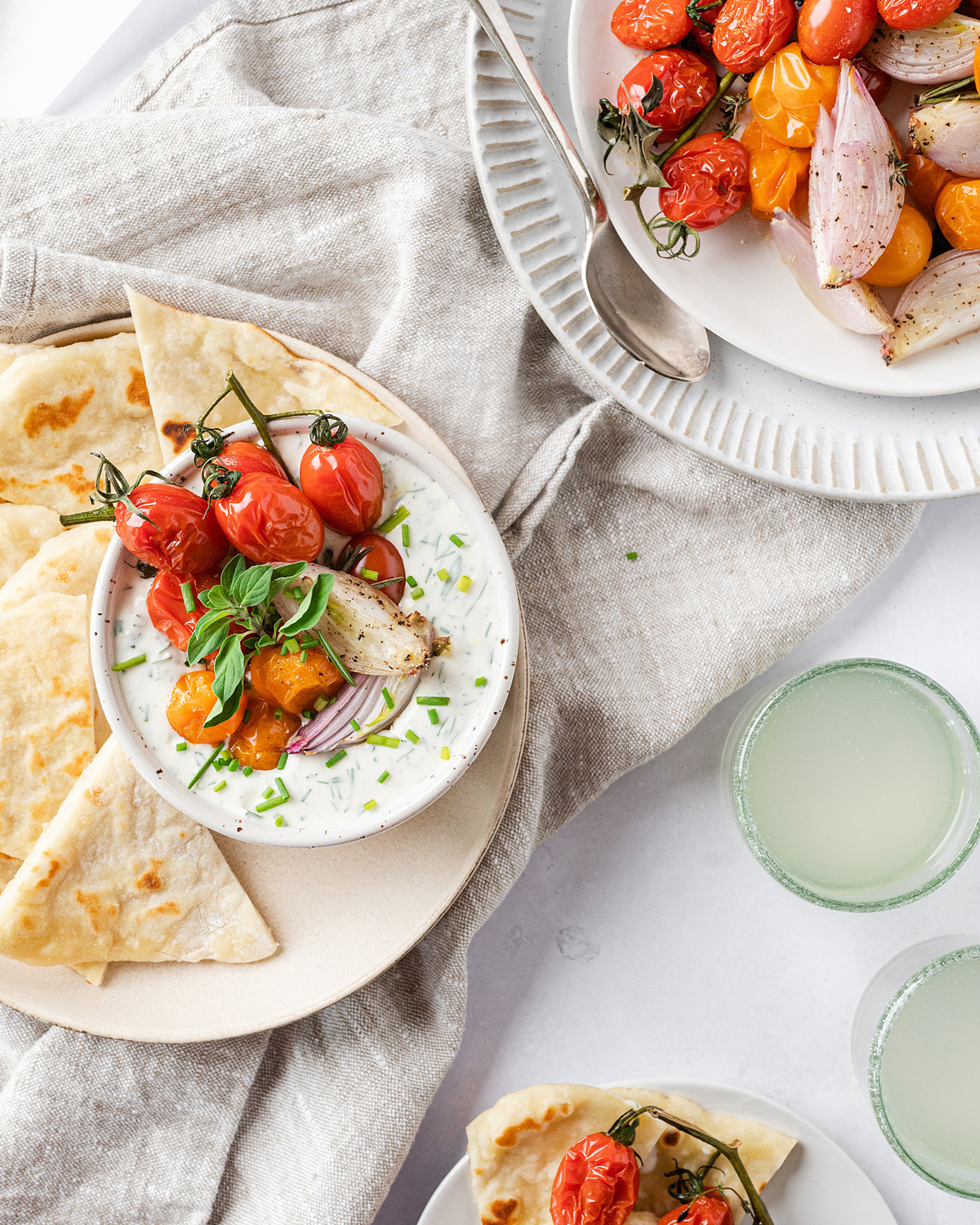 I have a confession. I don't like goat cheese. I don't like yogurt either. It's always been too tangy for me. Yet I sometimes need to use ingredients that I don't necessarily love and I have to try them. (The perils of being a recipe developer, some days are much better than others.)
So you can imagine my surprise when I dipped my flatbread into this herbed goat cheese dip and I actually loved it. No one was more shocked than me. Roth Chèvre might be my gateway into the world of goat cheese. It's mild, fresh tasting, and not overly goat-y.
So why would I make a recipe with an ingredient that I don't like? Well, because my husband likes it, and he loves a dip. I also had a ton of fresh herbs to use before they wilted in my crisper drawer.
Lastly, every month I get shipped a box of delicious cheeses from my friends at Roth Cheese and I wanted to expand my culinary horizons. I love their cheeses and can't decide which one to eat first, but I always give the goat cheeses to my neighbors. (They also make a Wild Blueberry and Garlic Herb version.)  
So I made a really delicious whipped herbed goat cheese dip and now I won't avoid things with goat cheese on restaurant menus. Here's to more beet salads in my future!
Ingredients to Make Whipped Chèvre, Roasted Tomatoes, and Homemade Flatbread //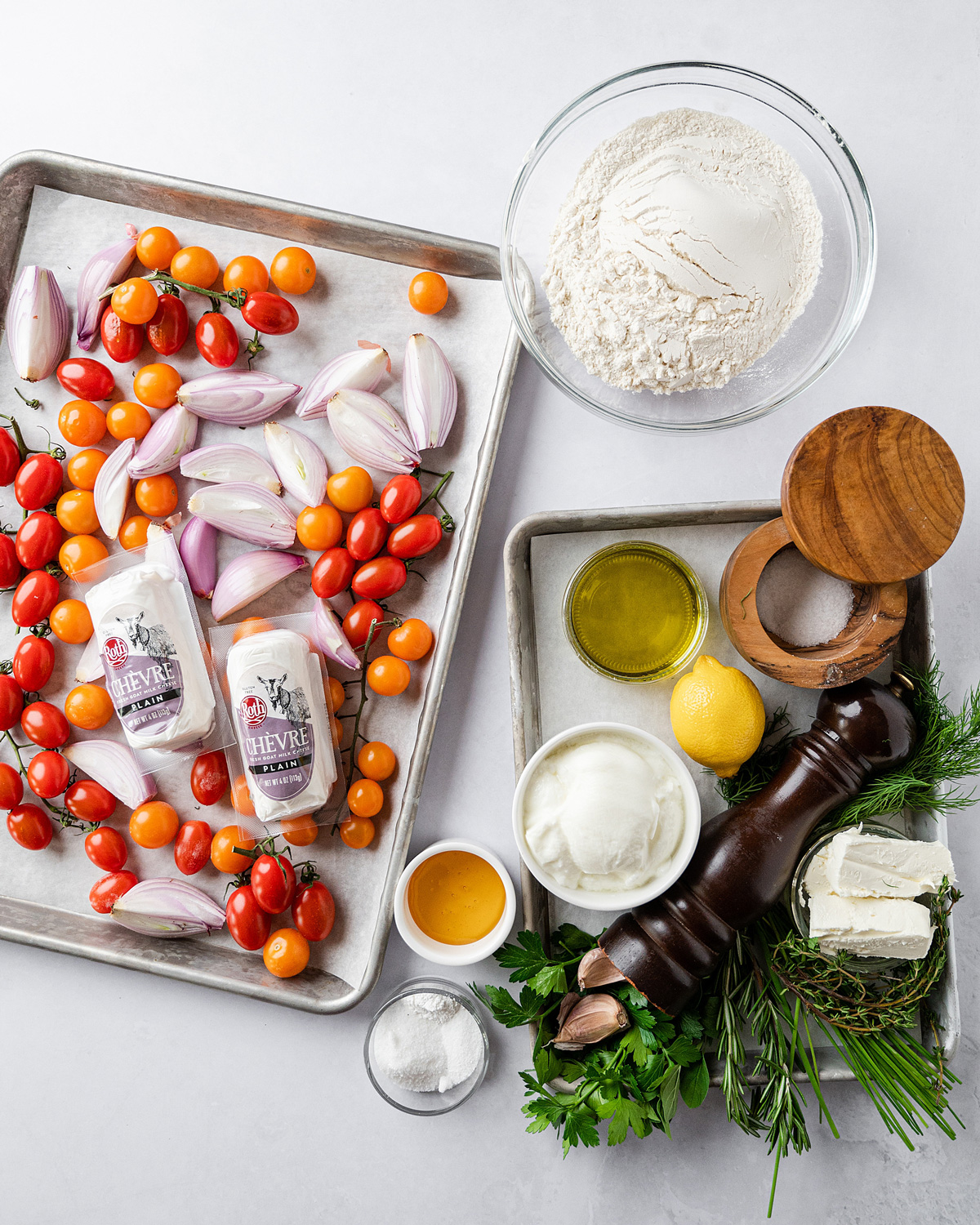 This is a great recipe to make if you have some herbs and tomatoes to use up before they start to go. The flatbreads will impress everyone when you tell them you made them yourself. No one has to know how easy they are to make.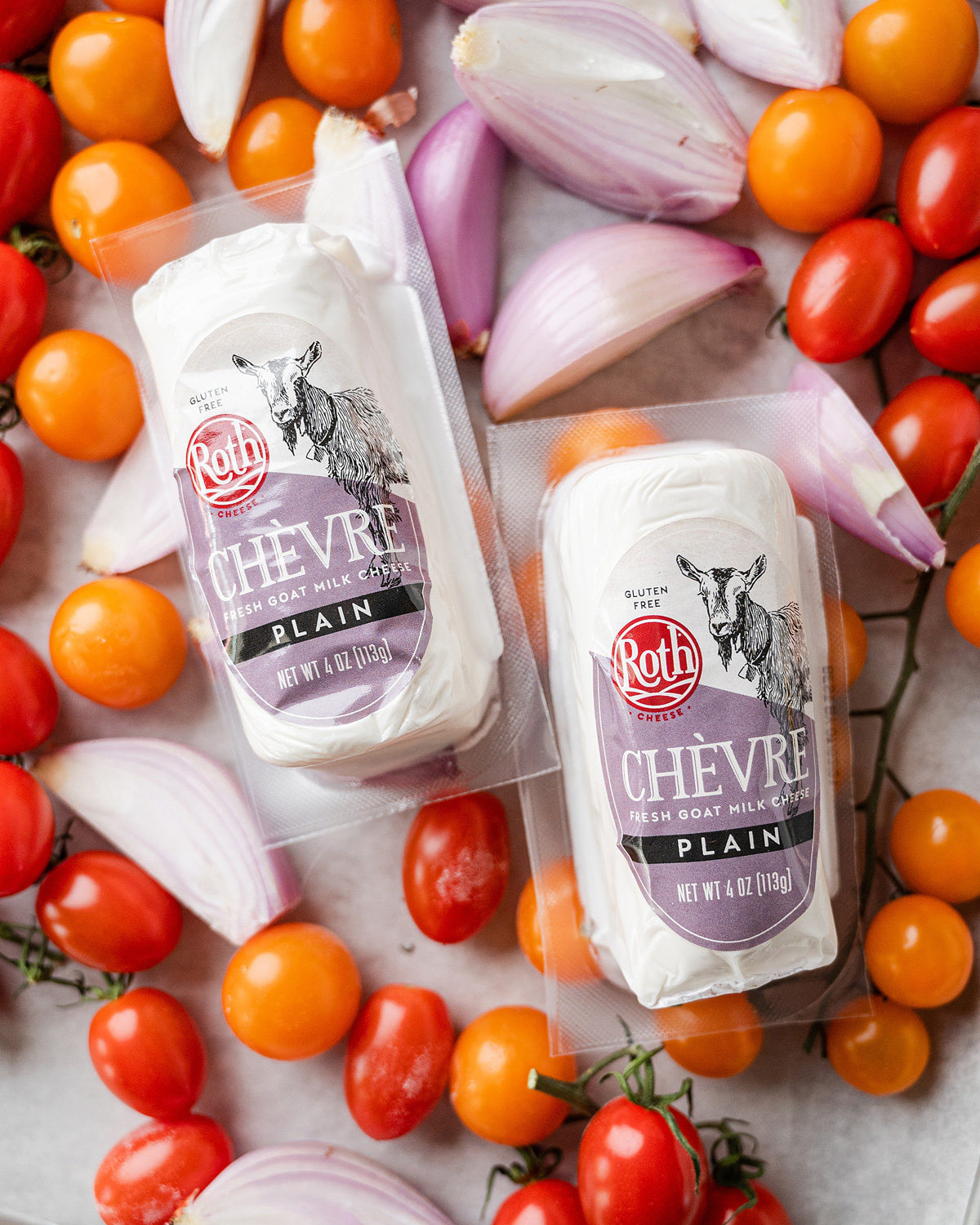 Whipped Goat Cheese Ingredients //

Roth Chèvre: This is a creamy, mild goat's milk cheese that is perfect to start with if you think that you don't like goat cheese. It's soft, mild, and takes on other flavors beautifully. It comes in 4- and 8-ounce packages that can be found at your local Walmart. (You can also use the Garlic Herb version and really punch up the flavor.)
Honey: This doesn't make the dip sweet, but it does balance out the tartness of the cheese. 
Lemon: Lemon juice brightens the whole dip up. Feel free to fold in the zest when you are folding in the herbs.
Fresh herbs: I almost always have parsley, dill, and chives either in my fridge or growing in my garden. Fresh herbs add so much flavor and brightness to any dish you make.
Garlic: My favorite trick is to drop whole cloves into a running food processor and let the machine do all the work. I start a lot of recipes this way. 
Olive oil: This adds a little fattiness and also helps mellow out all of the other flavors.
Roasted Tomato Ingredients //

Cherry tomatoes: I love the way that tomatoes on the vine look. But you can use any kind of tomato you like. I like to use cherry tomatoes because they take less time and are sweeter than large tomatoes.
Shallots: You can leave shallots out if you don't have any available, but I love the way shallots get sweet when they are roasted. Quarter them to reduce cooking time.
Fresh herbs: I use rosemary, thyme, and oregano, but any herb will add flavor.
Olive oil: Be generous and coat everything well.
Homemade Flatbread Ingredients //

Flour: All-purpose flour is the base of this simple flatbread recipe.
Sugar: Just a pinch adds enough sweetness to balance the tang from the yogurt.
Baking powder: This gives the flatbread lift and helps create the bubbles when cooking.
Yogurt: Helps make a tender flatbread and replaces water in this recipe. 
Salt: It might seem like a lot of salt, but you need it to flavor this flatbread. 
Olive oil: Coat your pan with olive oil to keep it from sticking., but also it It also helps turn the flatbreads golden brown and crisp up.
How to Make // The Steps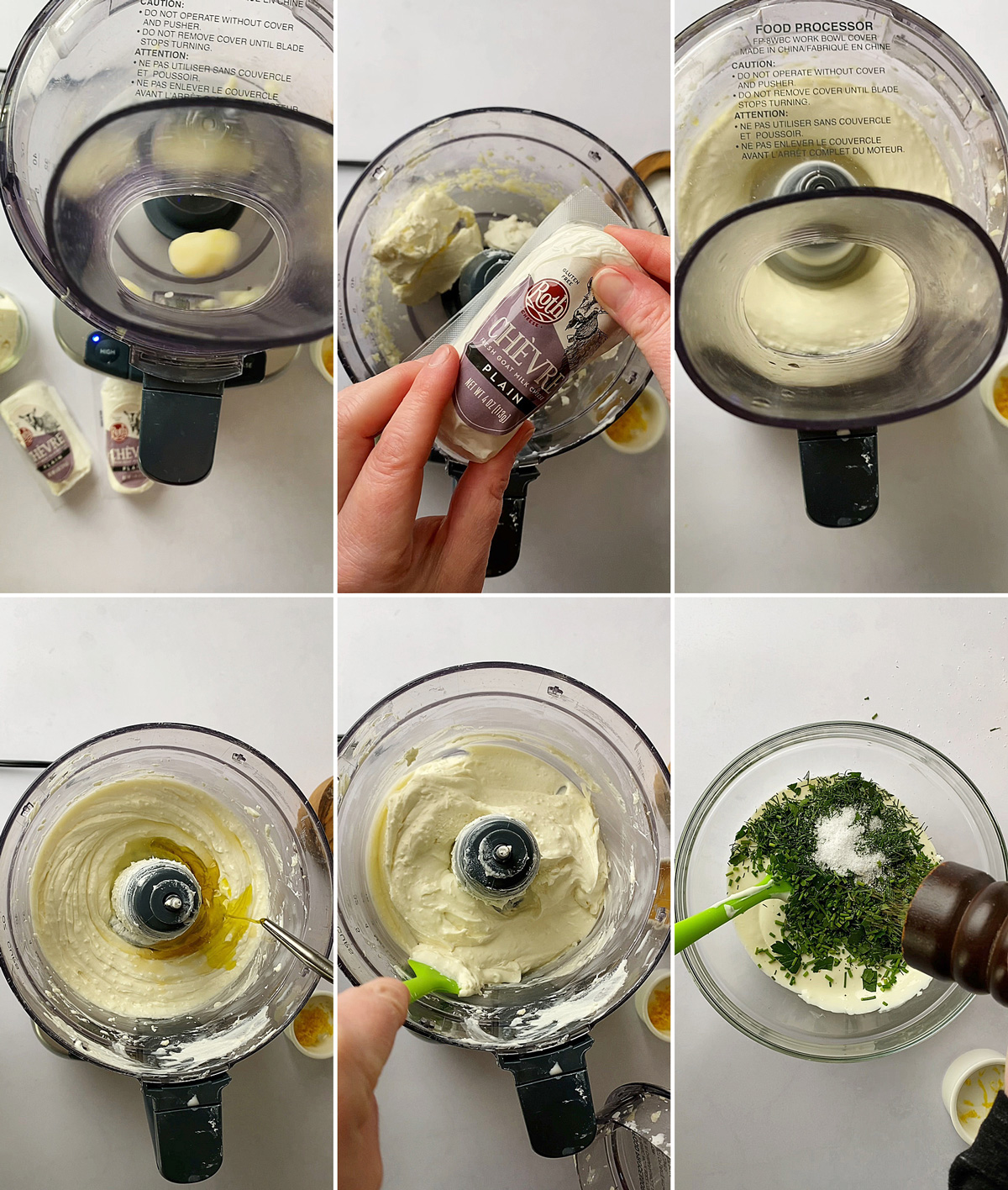 I like to start by making the whipped goat cheese. It needs some time to chill so the flavors can get to know each other.
Add garlic cloves to a running food processor. Let the food processor do the hard work for you.
Add goat and cream cheeses. Let it run at high speed for 3-4 minutes, scraping the bowl every now and again. Make sure that it is really smooth and creamy.
Add lemon juice, honey, olive oil, and a good pinch of salt and pepper, to taste. Run again for another minute.
Transfer to a bowl and mix through the fresh herbs. Cover and chill for at least an hour before you serve it.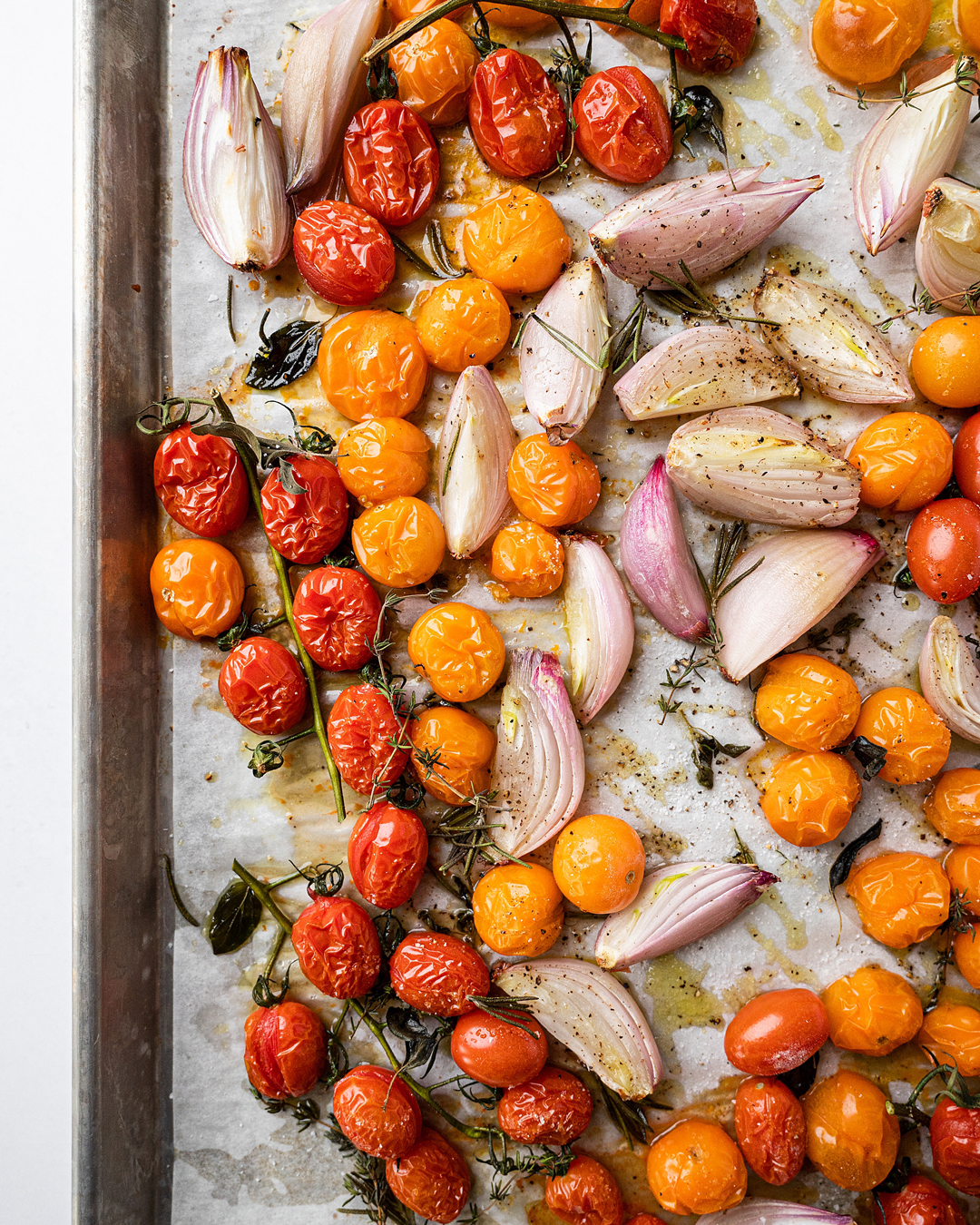 While the dip is chilling, start the tomatoes. Line a baking sheet with parchment paper or foil. Spread the tomatoes and shallots out in a single layer.
Drizzle a generous amount of olive oil, salt and pepper over the top. Add sprigs of fresh herbs.
Roast for 15 to 20 minutes. Set aside.
Time for the flatbreads.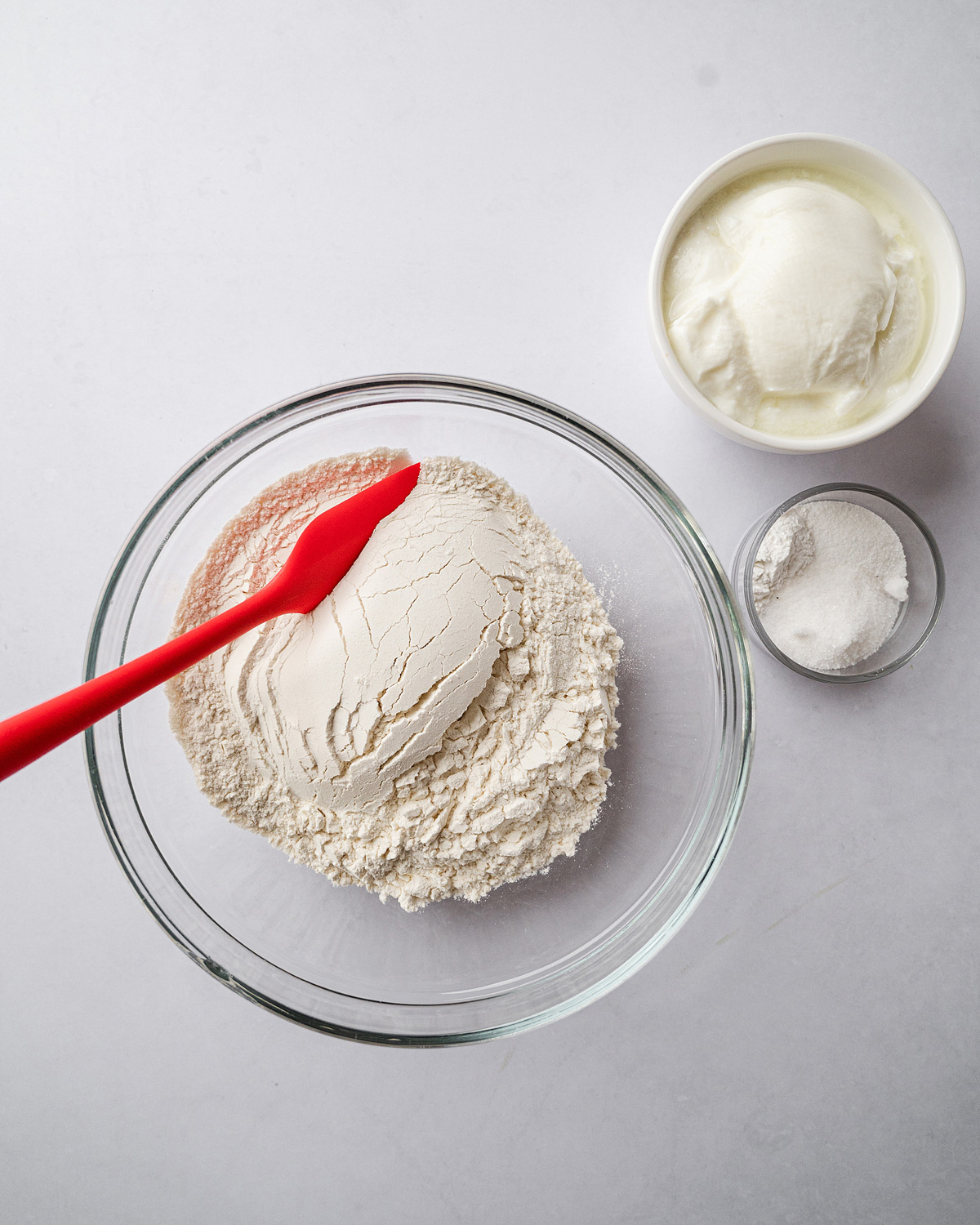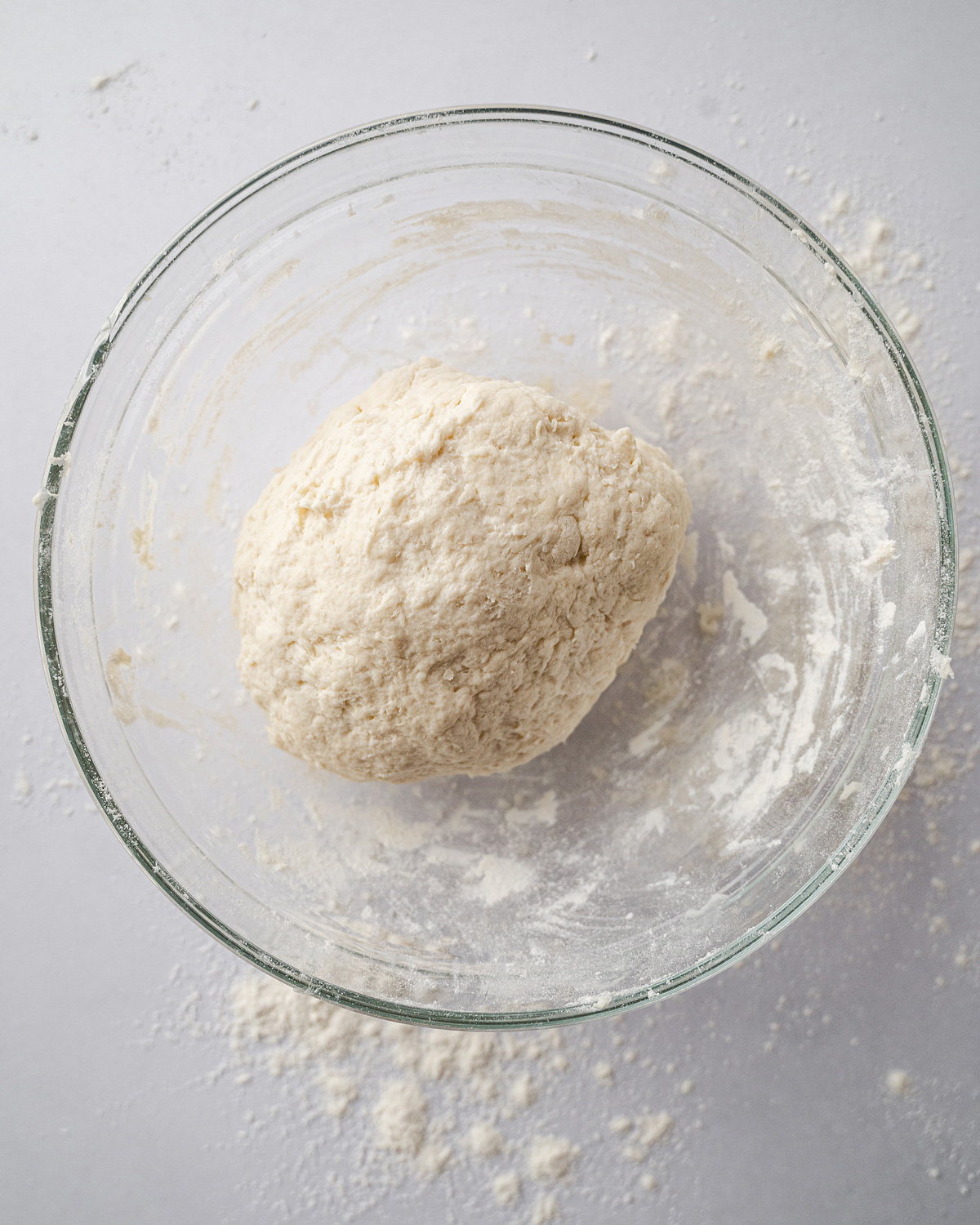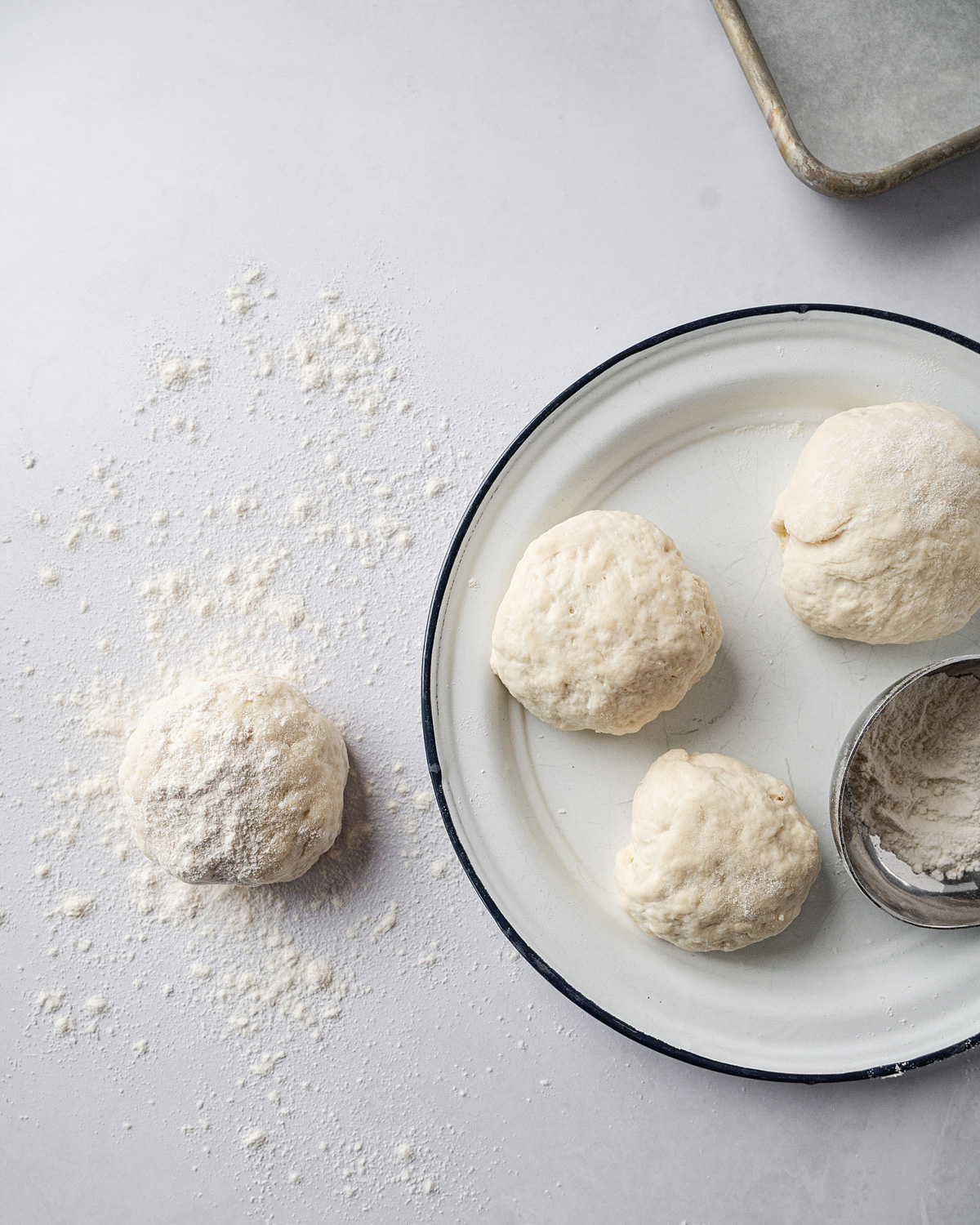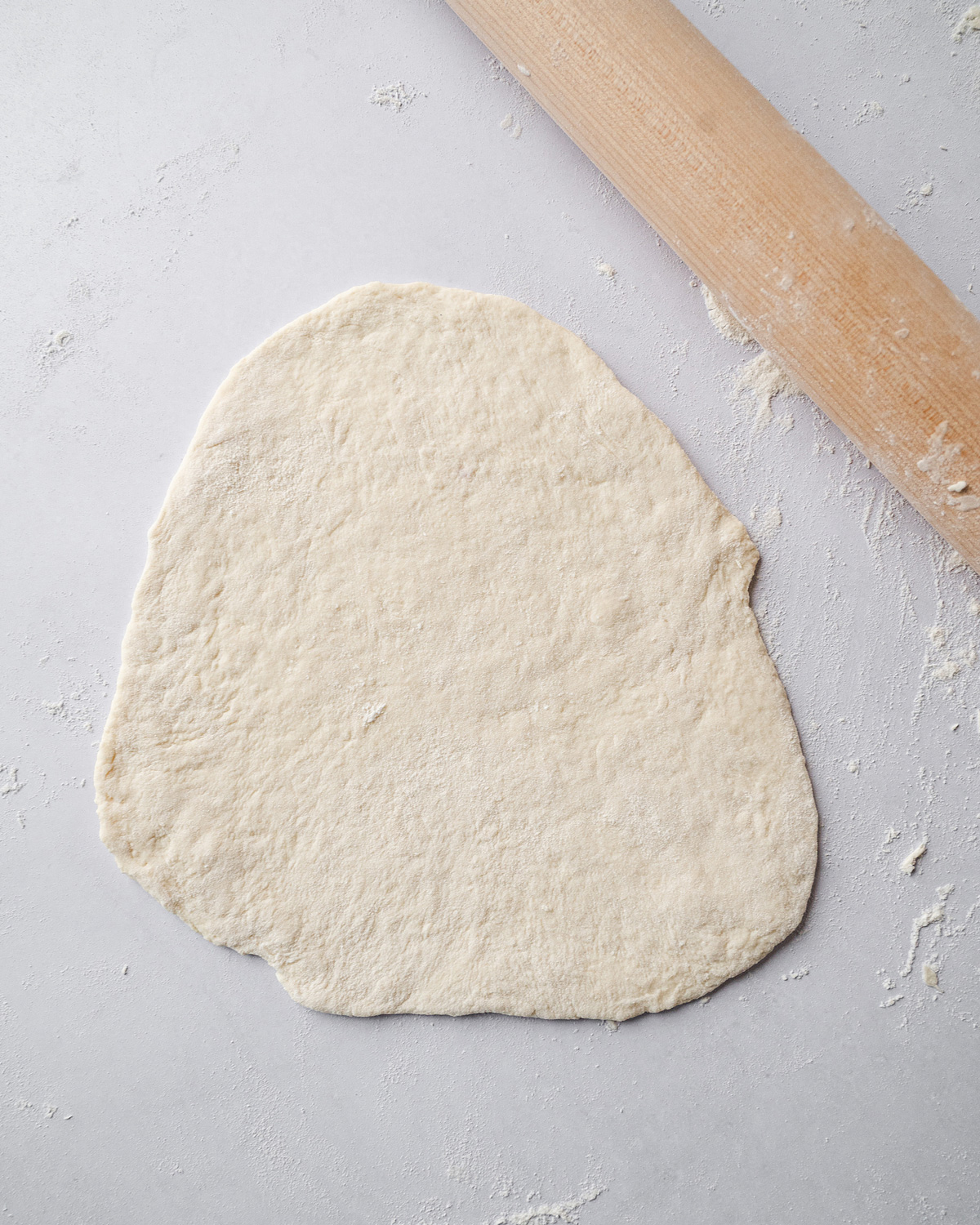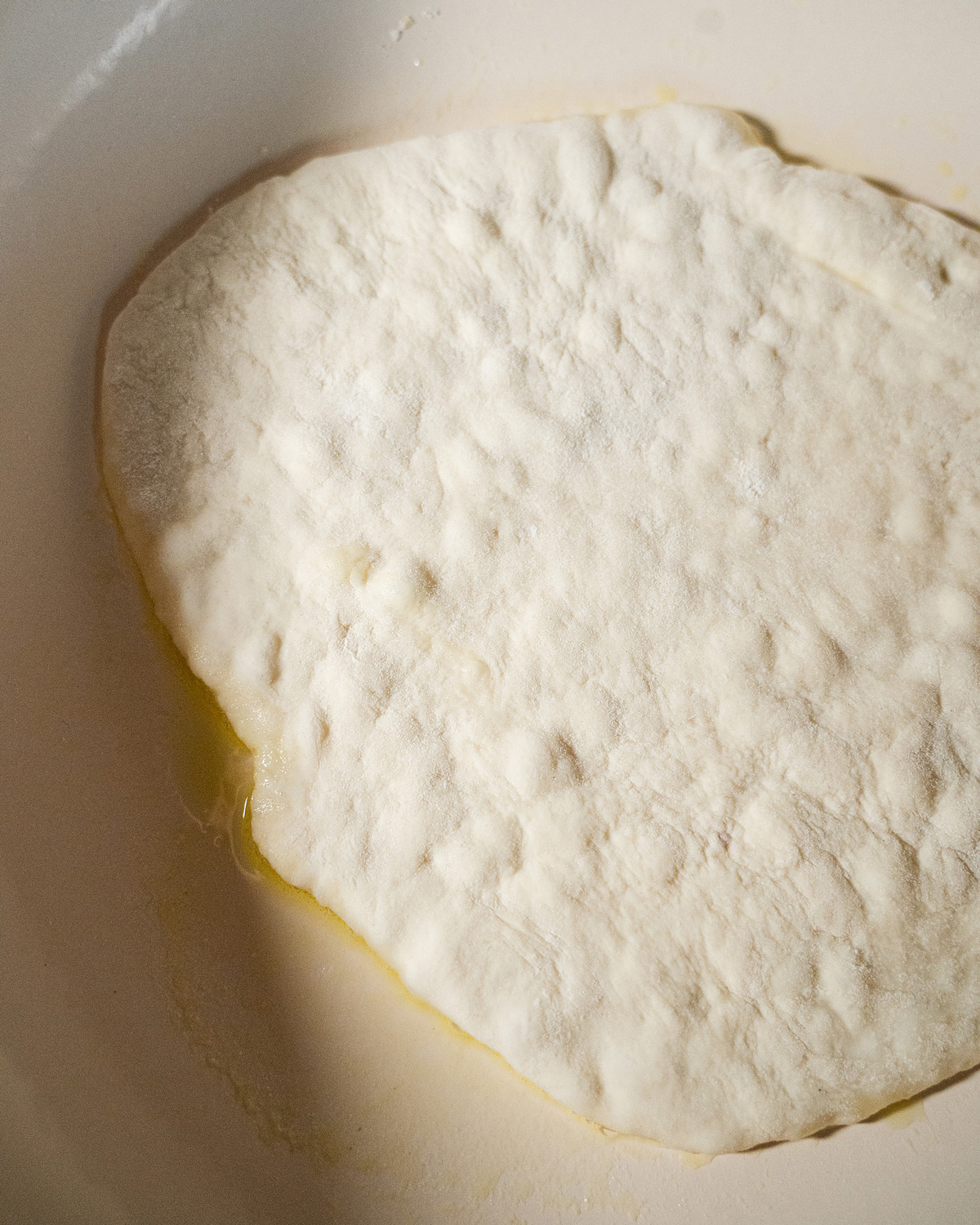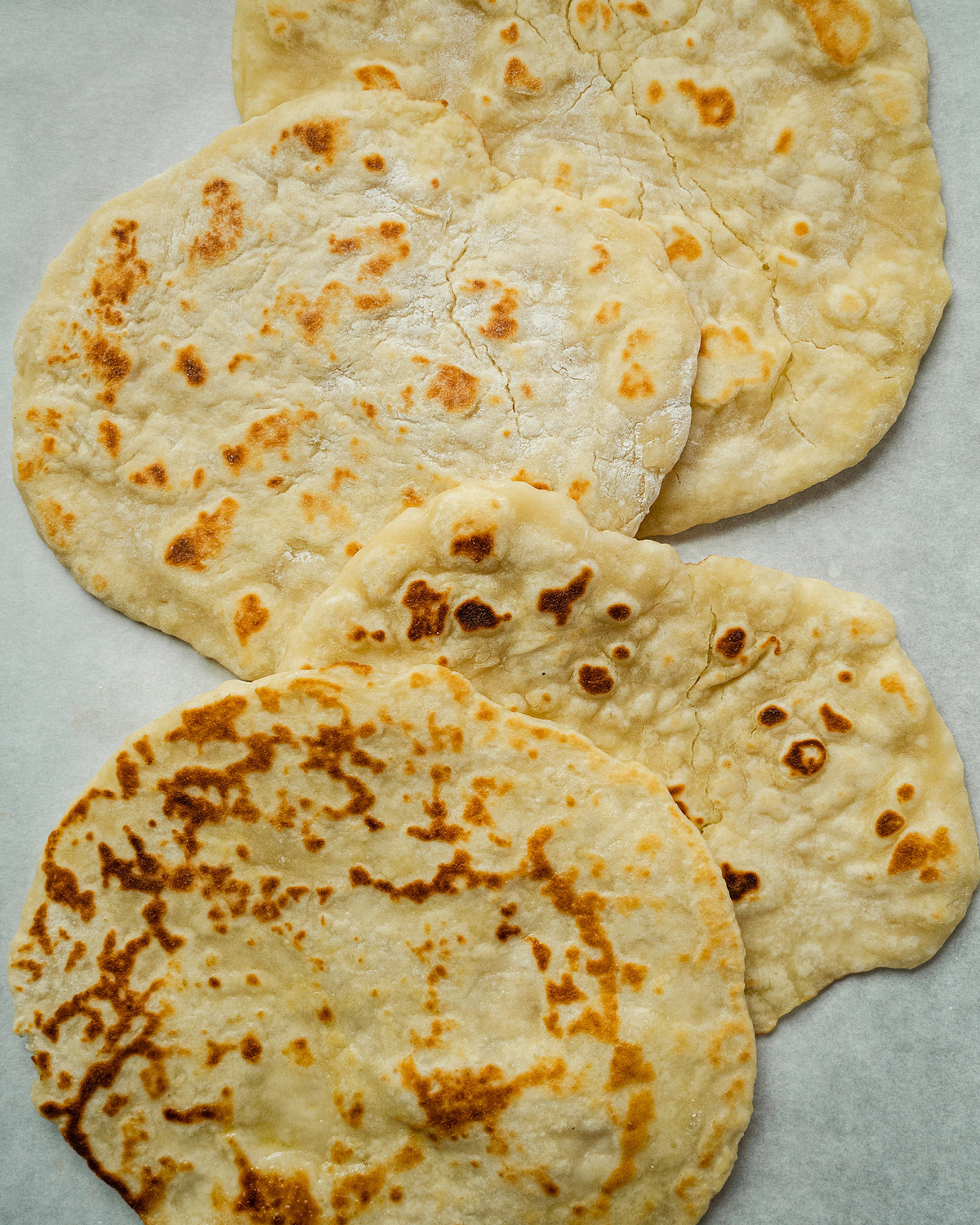 Add flour, sugar, baking powder, and salt to a large bowl. Give it a good mix. Stir in the yogurt and when it starts to come together, turn it out onto the counter. Knead for about a minute or until it is in a ball.
Divide into 4 pieces and cover with a tea towel. Let rest for 15 minutes. Roll out to ⅛ inch.
Heat a cast-iron skillet over medium heat. Add 1 tablespoon of olive oil and add the dough to the pan. Cook for about 2 minutes, or until the surface begins to bubble and the bottom turns golden brown. Flip and cook for another two minutes.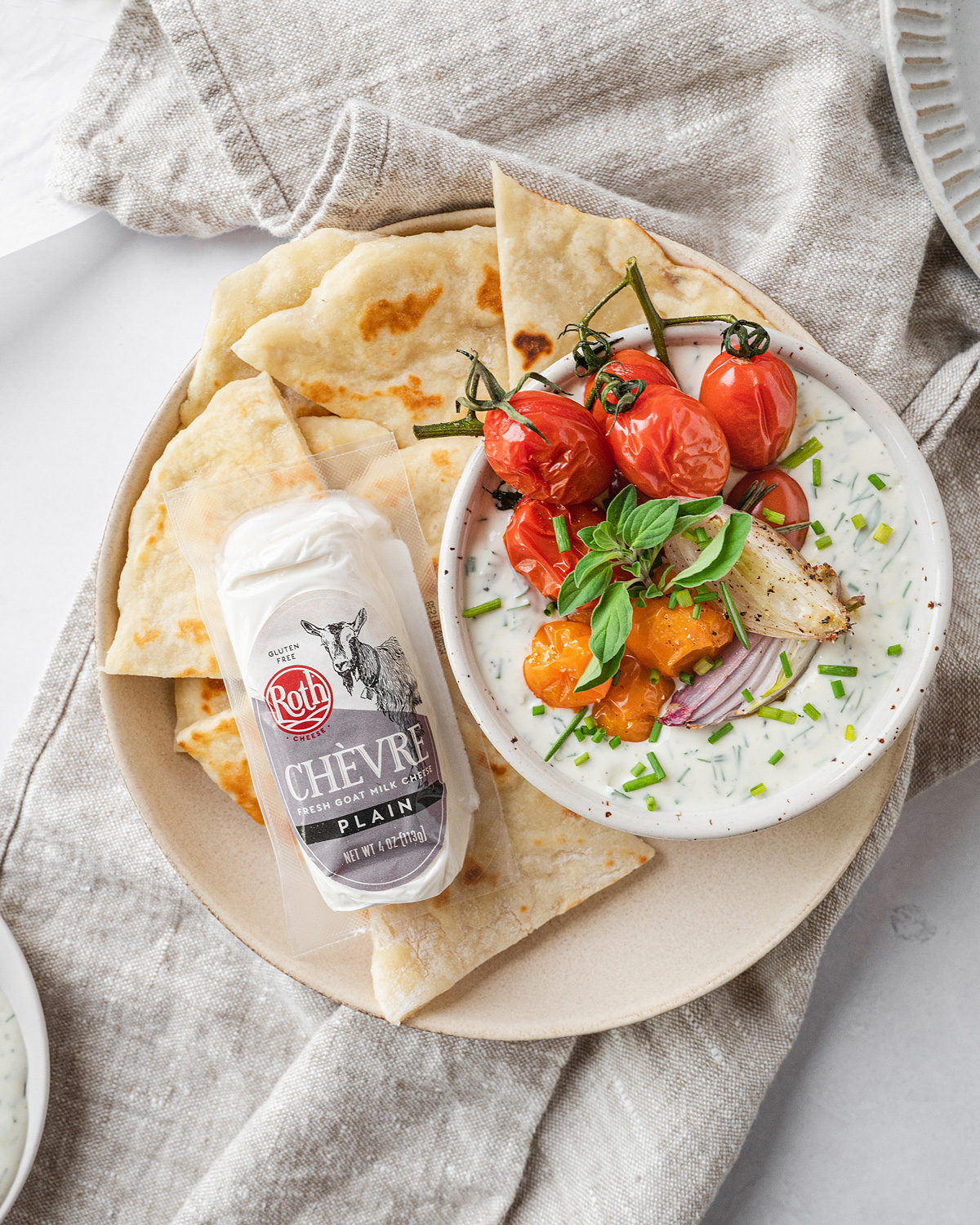 FAQs //

What's the difference between goat cheese and chèvre? They're the same thing! Chèvre translated from French means both "goat" and "goat cheese". There are lots of different kinds of cheese made with goat's milk, but the soft, creamy, fresh, white cheese is commonly known simply as goat cheese. 
Can I make this dip ahead of time? YES! It will just get better and better as it chills out in the fridge. 
What are the best kinds of herbs to use in this recipe? Honestly, whatever fresh herbs you have. Basil, parsley, chive, dill, thyme, oregano… they all work together and will add tons of flavor to this dip.
Recipe Tips //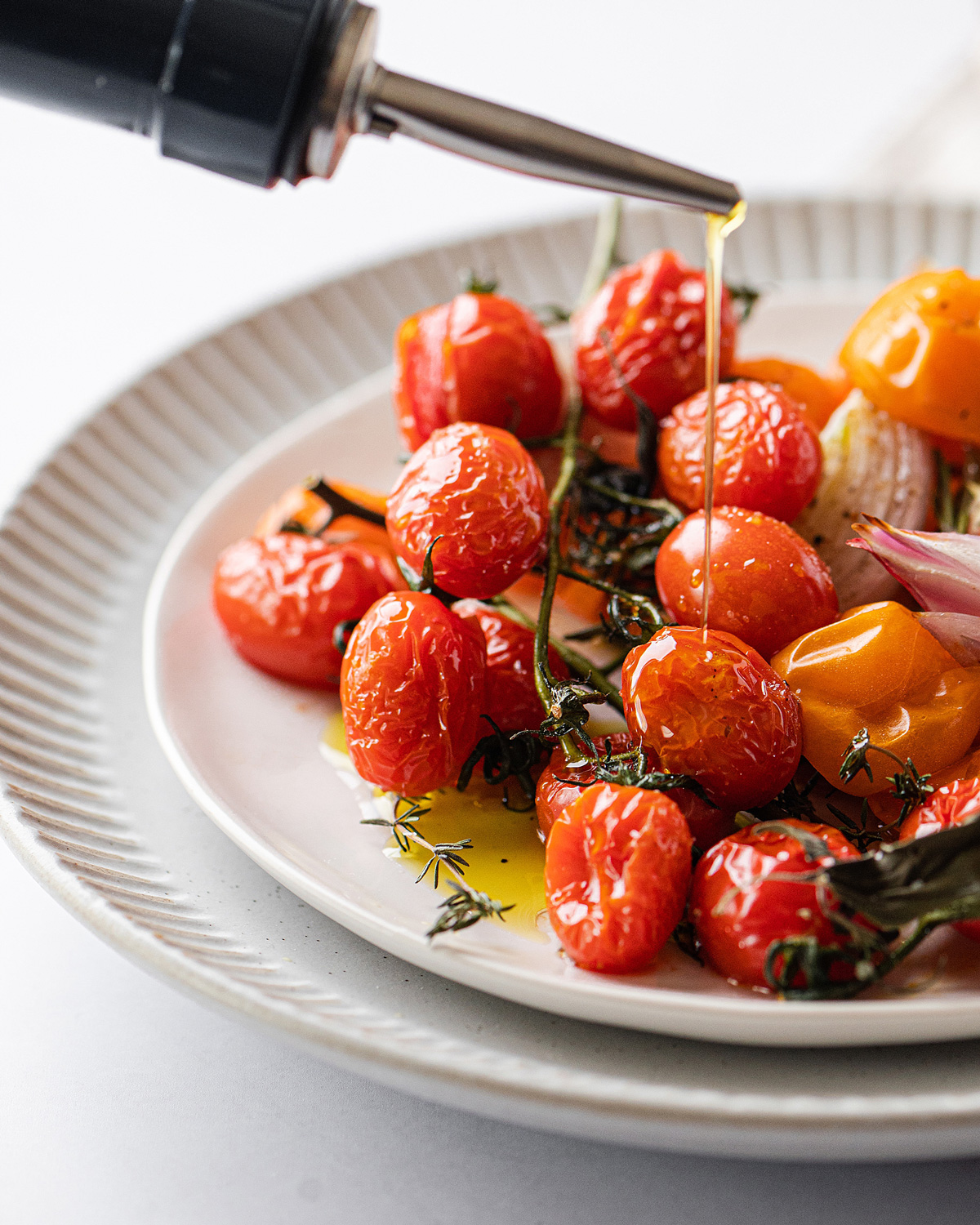 It will be hard to not eat all of this dip right out of the bowl, but let it chill for before serving. It will add to the texture, and the flavors will get a chance to get to know each other.
Don't want to make the flatbread? No problem. Serve on crusty bread, with crackers, or with sliced vegetables. 
What else can I do with roasted tomatoes? I like to purée my roasted tomatoes and turn them into a pasta sauce or soup. The roasting brings out the natural sweetness of the tomatoes and elevates anything you put them in. They also make a great side dish all on their own.
Variations of Herbed Goat Cheese //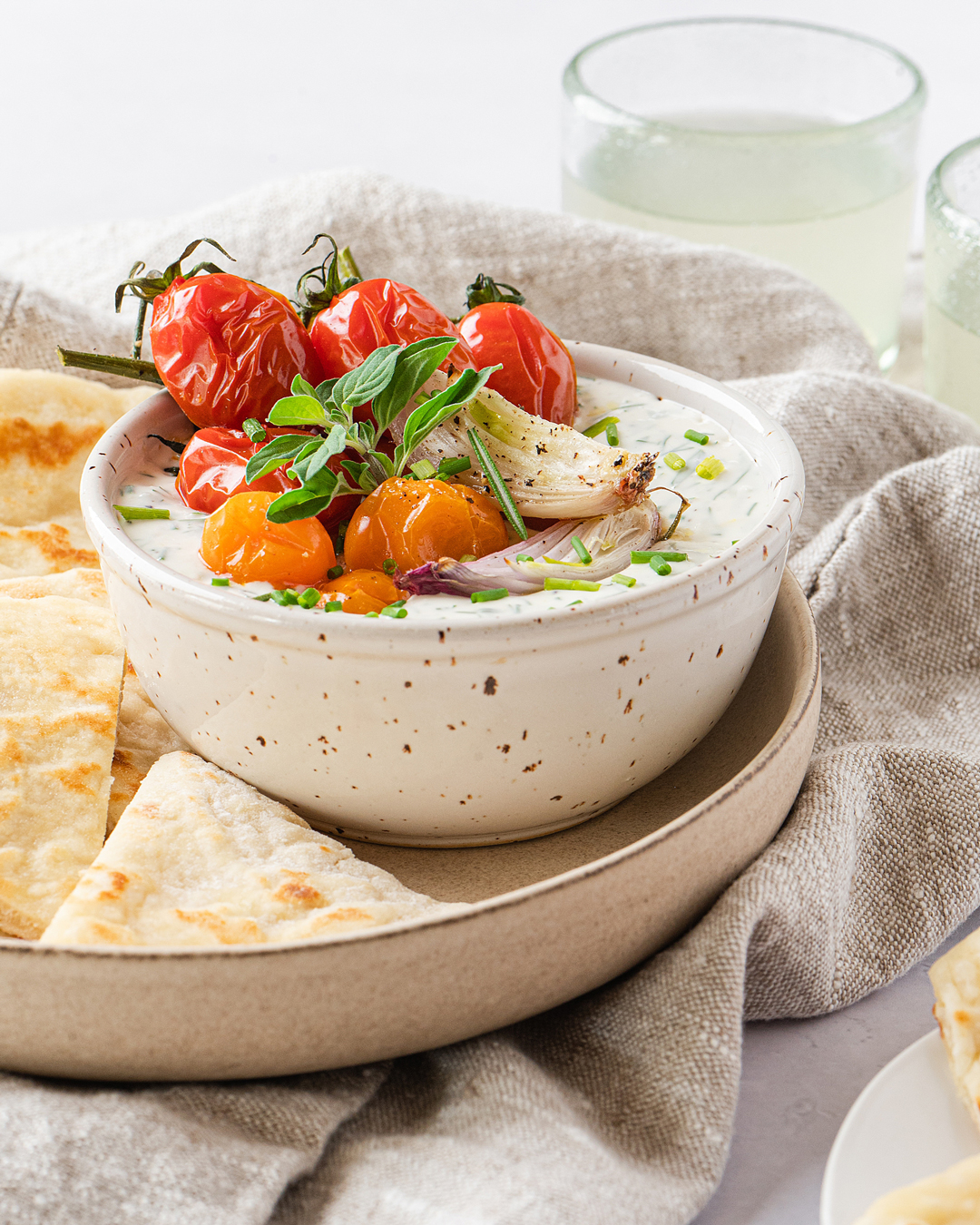 Roth Plain goat cheese is mild in flavor, so it can take on many different flavor profiles. Here are some other ideas for whipped goat cheese:
Blueberry and Orange: Skip the garlic and herbs, add more honey, orange juice, and orange zest. Maybe even a pinch of cinnamon? Top with blueberry sauce or fresh blueberries. You can also use the Wild Blueberry version to really add to the blueberry flavor. 
Strawberries and Balsamic Vinegar: Whip the Chèvre with salt and pepper, olive oil, and top with chopped strawberries and a drizzle of balsamic glaze.
Everything Bagel Goat Cheese: Replace the fresh herbs with a tablespoon or two of everything bagel seasoning. 
Goat Cheese Toast: Elevate your morning avo toast. Spread the herbed goat cheese on toast and top with fresh peach slices and a drizzle of olive oil and honey.
How to Store //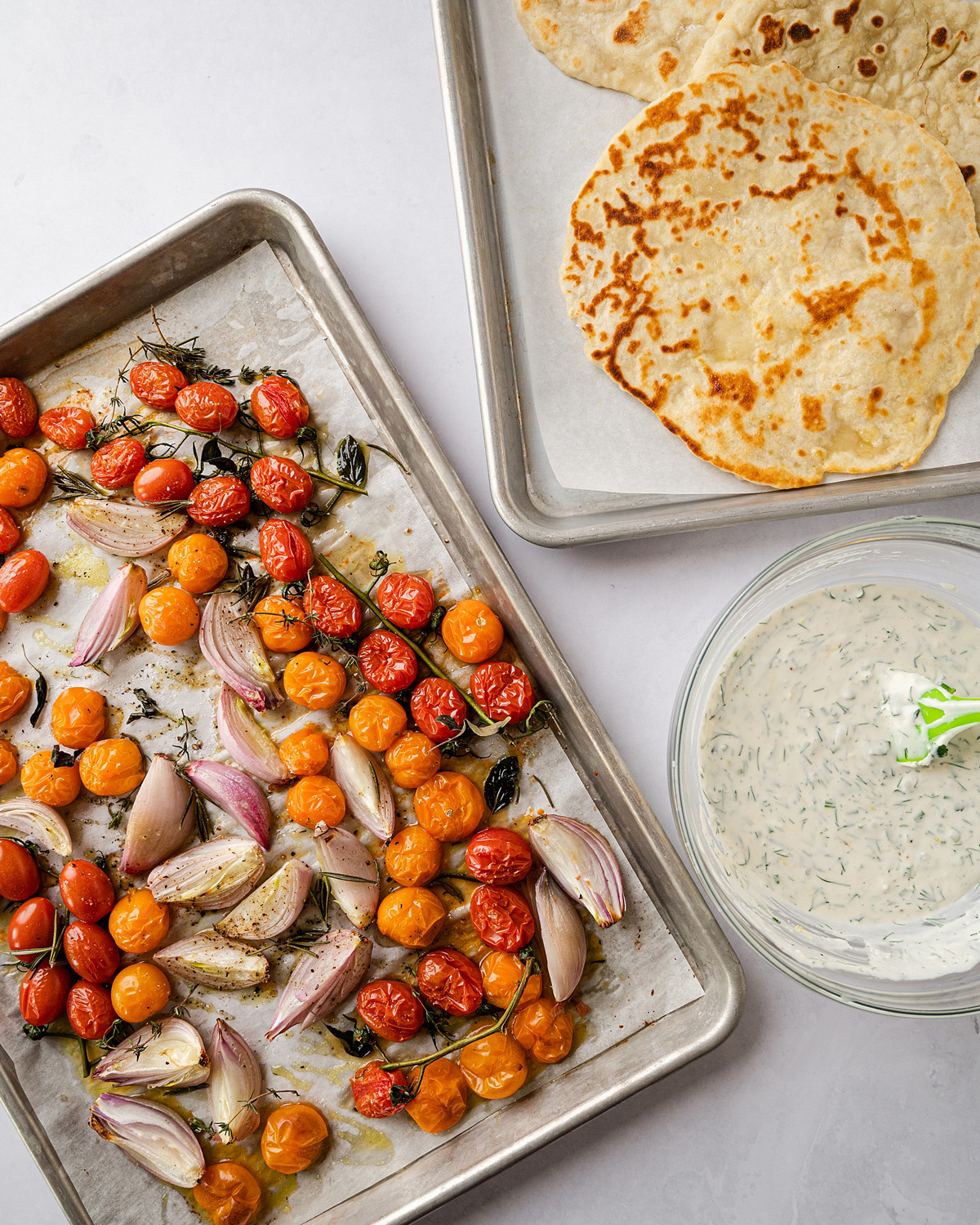 This dip will keep in an airtight container for 4 to 5 days in the refrigerator.
You can make and freeze the flatbreads ahead of time (Although, I think they taste best eaten when they are made). Let cool completely, put in a freezer bag, and freeze for up to one month. To reheat, bake at 350° F for 5-10 minutes.
Get the full recipe instructions HERE!