How to Make a Cheesy Frittata
Baked Frittata with Smoked Gouda, Havarti, Spinach, Potato, and Pepper is a baked frittata recipe that is perfect for breakfast, lunch, or dinner.
By: Bree Hester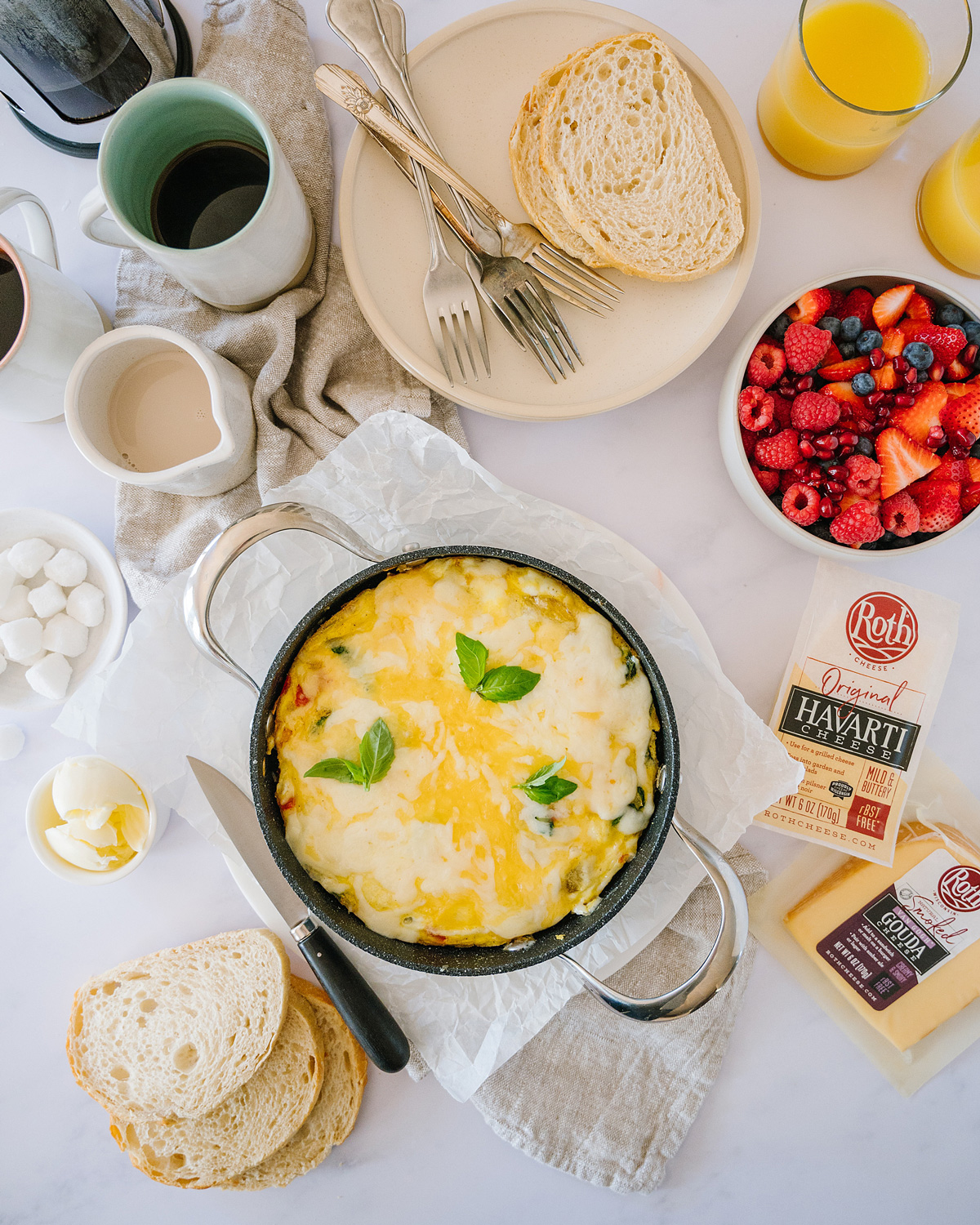 I don't love eggs. But I do love eggs when they are covered in melted cheese and lots of veggies and other things to bulk them up. Like a frittata.
Just about anything goes in a frittata. You can clean out the fridge and throw some eggs in there and you have an incredible meal — for breakfast, lunch, or dinner. You can serve it piping hot, room temperature, or even cold. Frittata is essentially the perfect meal.
For this particular frittata, I used thinly-sliced Yukon Gold potatoes, red pepper, and spinach with shredded Roth Smoked Gouda and Roth Original Havarti cheeses. But what I really want you to do is to consider this a base recipe. You can customize this recipe into any kind of frittata you like.
I do start with sautéed onions as the base for every frittata I make. I like to cook them for a few minutes to soften them before I add the egg. But after that, it's up to you and your taste. Go crazy.
Ingredients //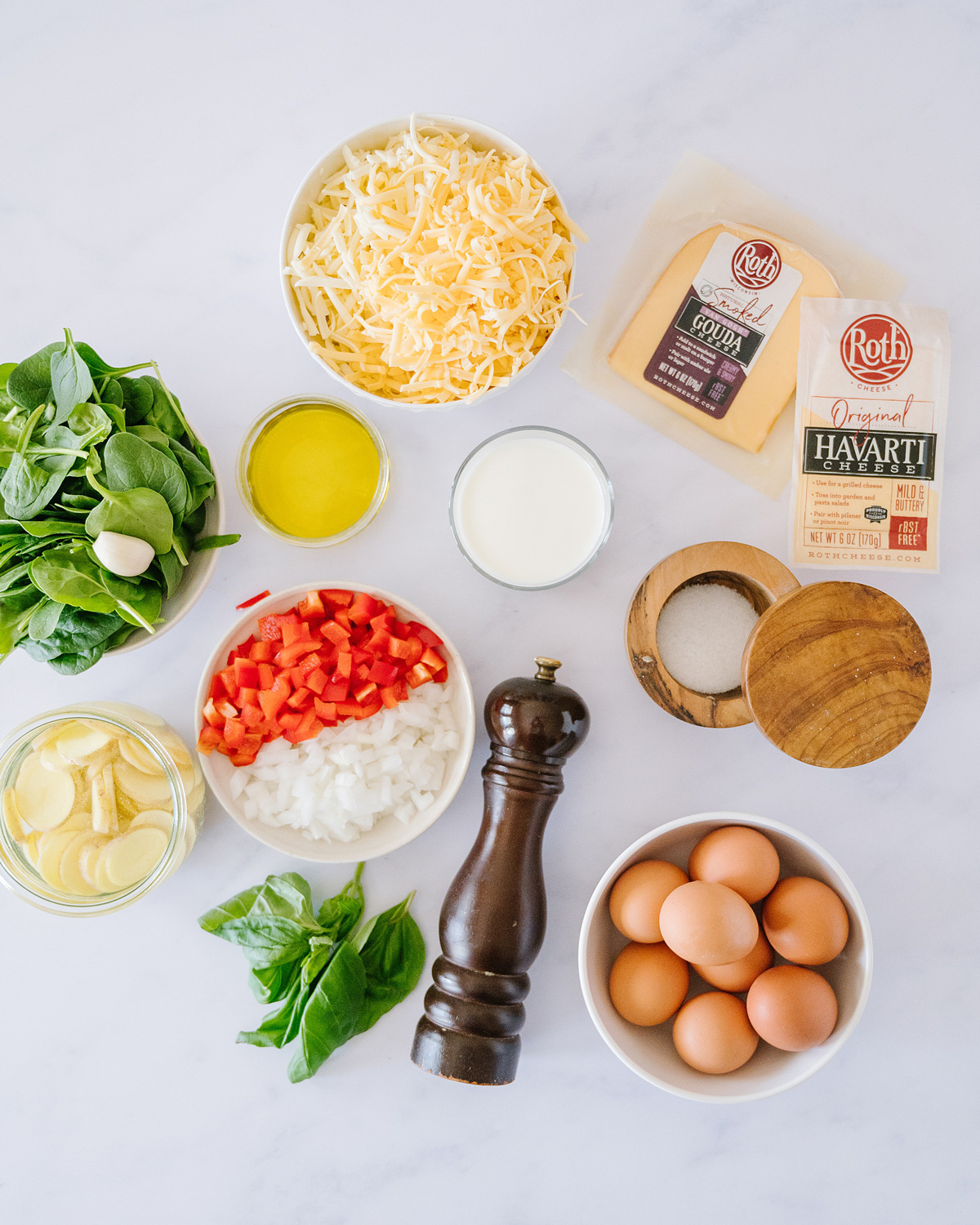 My base frittata recipe only has a few ingredients that you most likely have right this minute. Olive oil, onion, eggs, milk, salt, and pepper. For this recipe, I also used Yukon Gold potatoes, red peppers, garlic, spinach, and two kinds of Roth cheese.
Eggs // I always buy organic large eggs. I think they are best and when they are the main protein source in a recipe, like in this one, I think it's important to use the best eggs you can get your hands on.
Milk // I add a little milk to my egg mixture to make the eggs creamier. You can use half-and-half or if you have some heavy cream, use that. (I like to use up whatever dairy I have and I seem to always have a half carton of cream in my fridge.)
Yukon Gold potatoes // These are my favorite potato variety. They are golden in color, super creamy, and just a delicious potato. I used baby ones, but any size will work. Leftover roasted potatoes are perfect for this.
Roth Original Havarti cheese // I chose this cheese for its melting capabilities. It's super creamy, milk in flavor, and melts like an absolute dream. I use my favorite Kitchen-Aid attachment to shred my cheese. It works like a dream.
Roth Smoked Gouda cheese // Smoked Gouda has a just-right smoky flavor, is slightly sweet, and very creamy. This Gouda melts like a dream. Gouda is one of my favorite cheeses and I use it in as many recipes as I can. Smoked Gouda adds such a depth of flavor, it makes this recipe. Don't sleep on smoked cheese, it is delicious on its own but really adds something amazing to any recipe that calls for cheese. 
Sautéed onions // I think that sautéed onions are the basis of any delicious recipe. They add so much flavor and depth and you don't need a lot to do the job.
How to Make // The Steps for Making Frittata //
This is such an easy baked frittata recipe. You sauté some vegetables, whisk some eggs and milk together, and then put it all together in an ovenproof pan. Top with cheese and bake until set and the cheese is gooey and melty.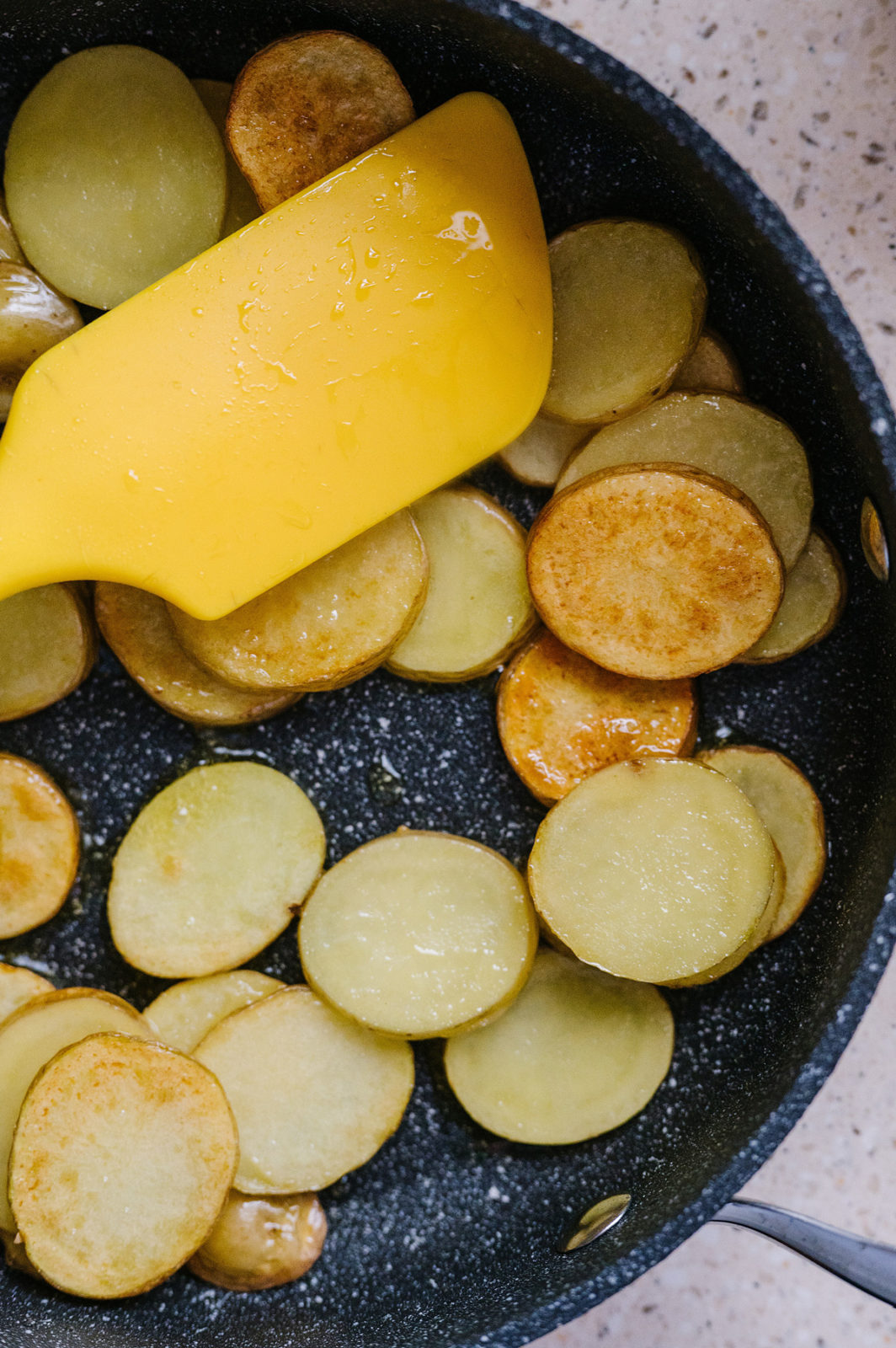 Add olive oil to an ovenproof sauté pan over medium-high heat. (Mine is 8 inches, but I normally make it in a little larger pan. I made two individual ones for lunch tomorrow.)
Add potatoes and cook for about 8 minutes, or until they start to soften and turn golden brown. Season with salt and pepper. Remove from the pan and set aside.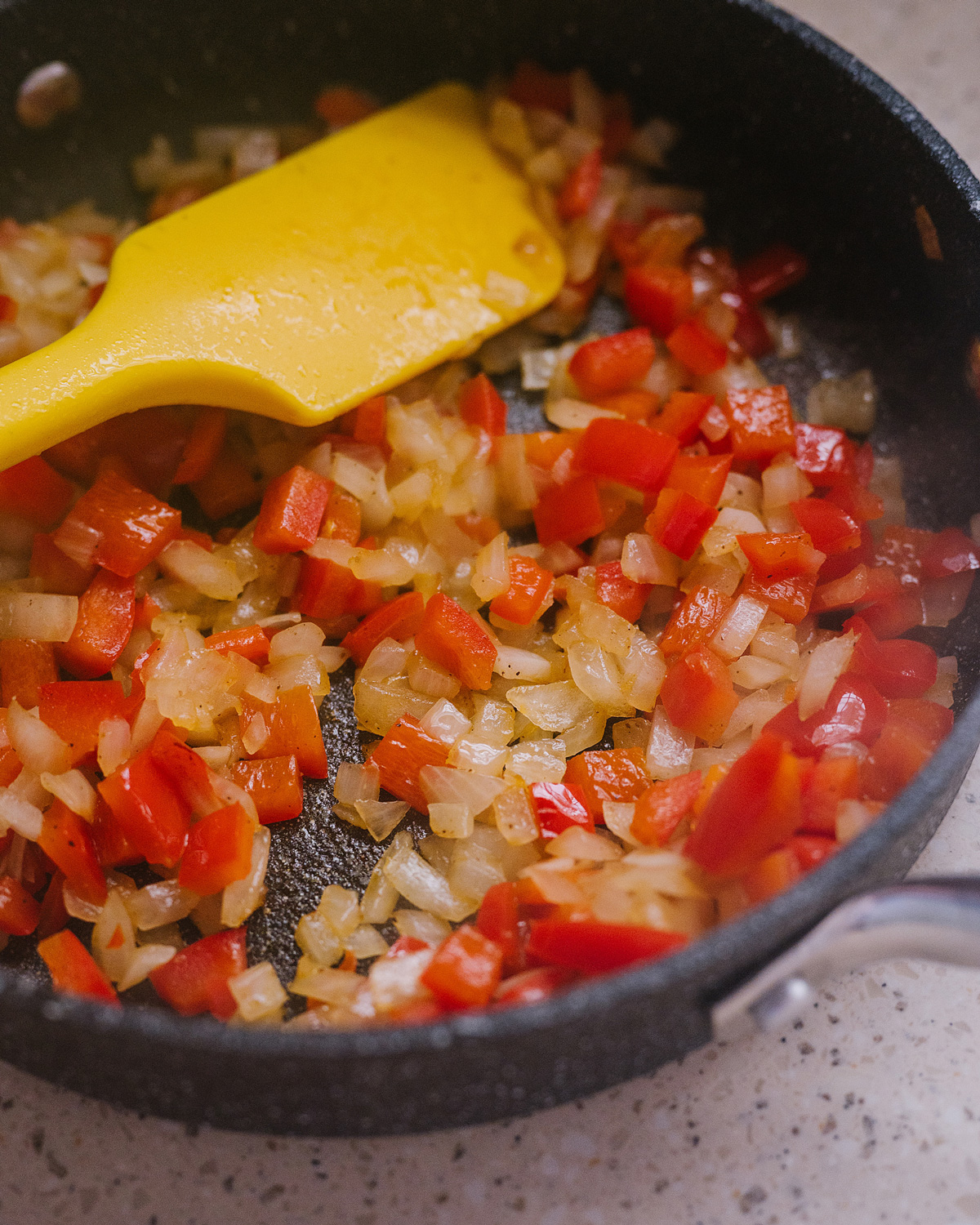 Add onions and red pepper and cook for 5 to 7 minutes or until they are soft and the onions are translucent.
Add spinach and minced garlic. Cook for about a minute, or until the spinach is wilted and the garlic is fragrant.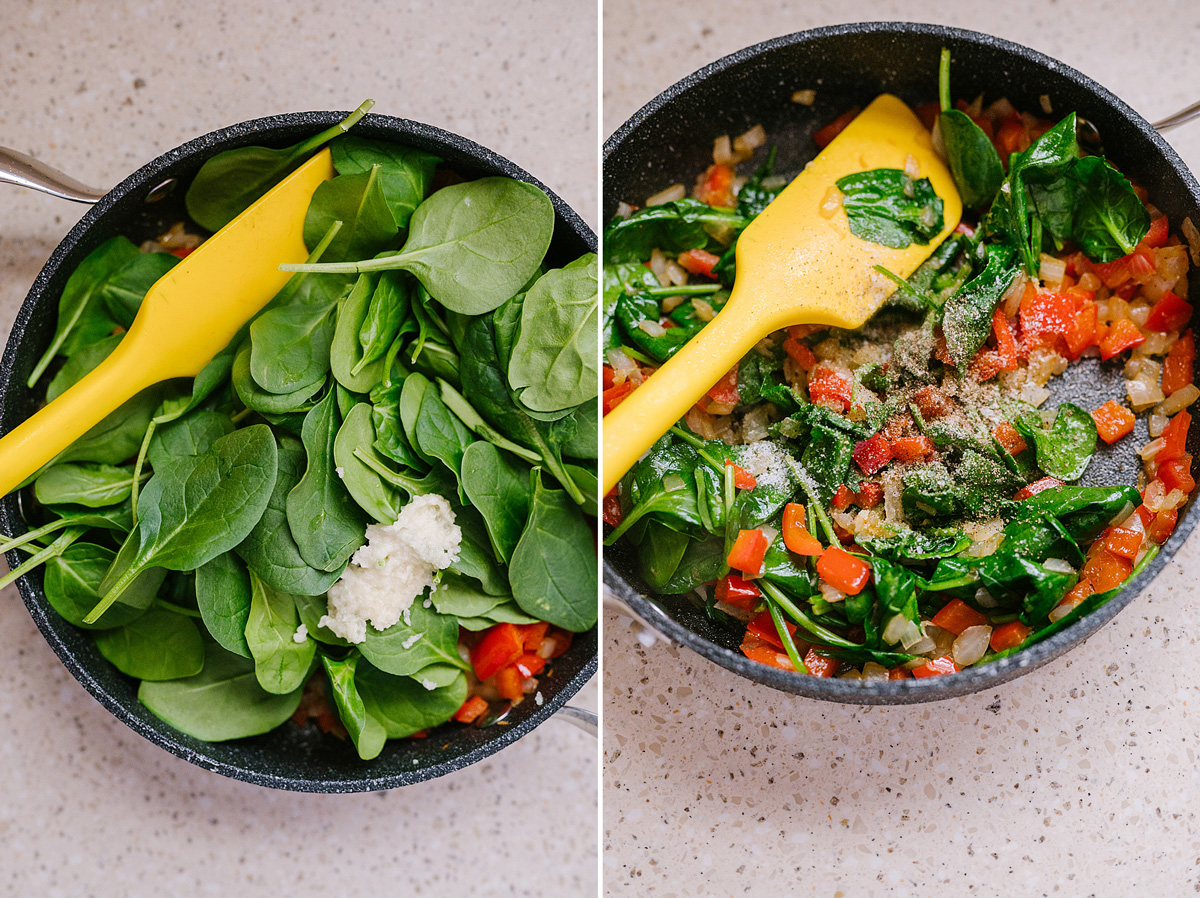 Remove the pan from the heat and add the potatoes back to the pan. Season well with salt and pepper.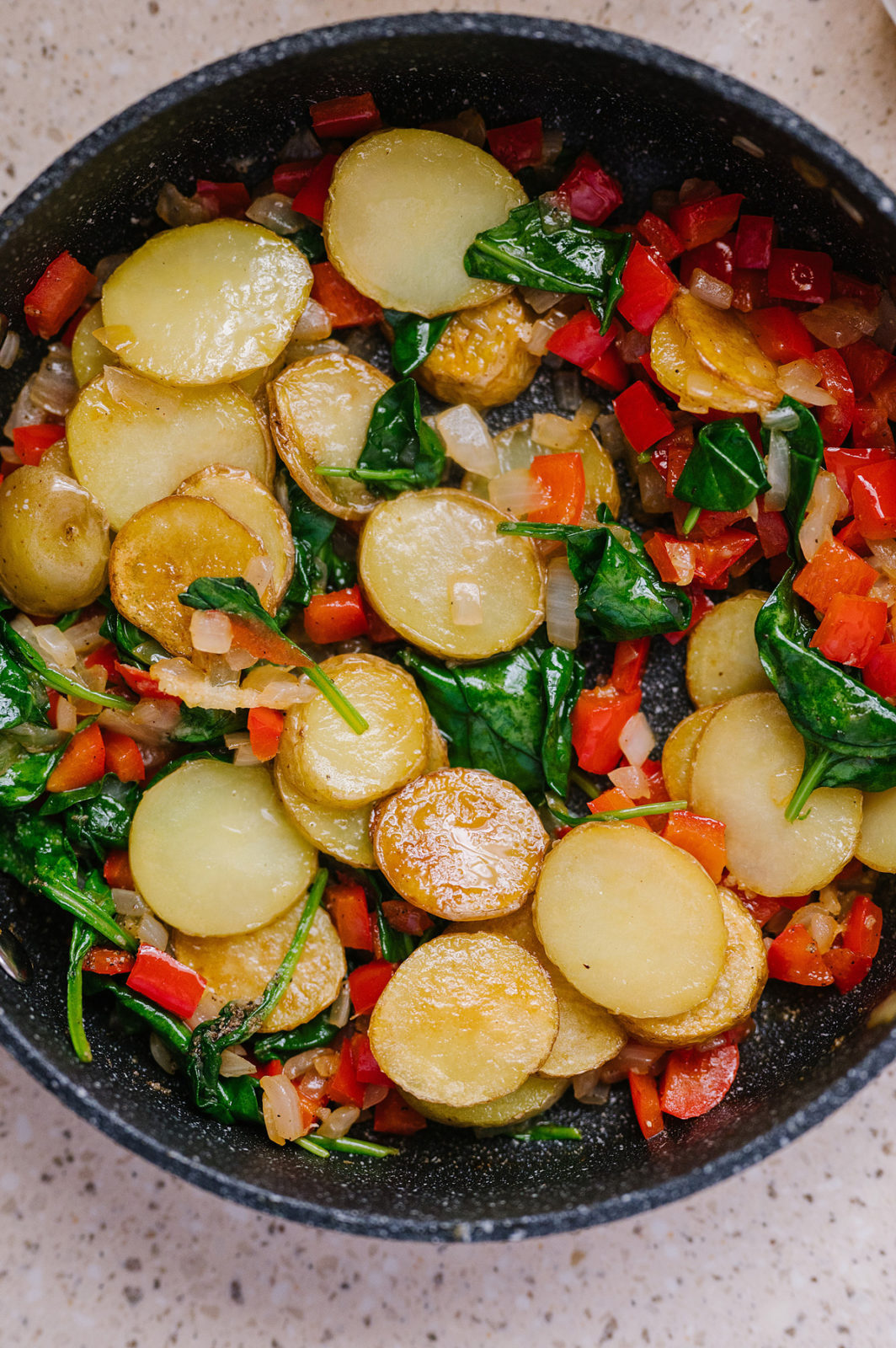 Whisk eggs and milk together until combined. Season with salt and pepper.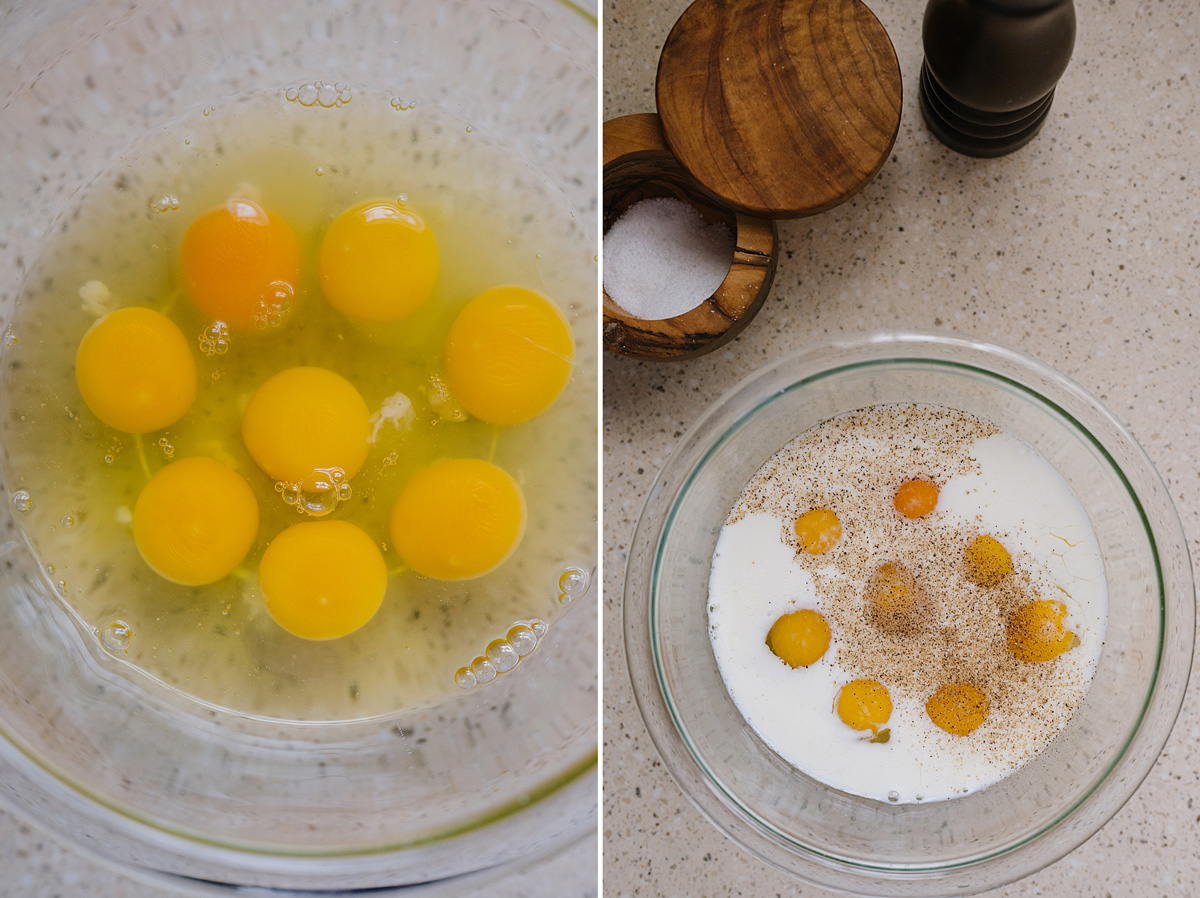 Pour the egg mixture into the pan and top with most of the cheese. I hold some back to add when it comes out of the oven.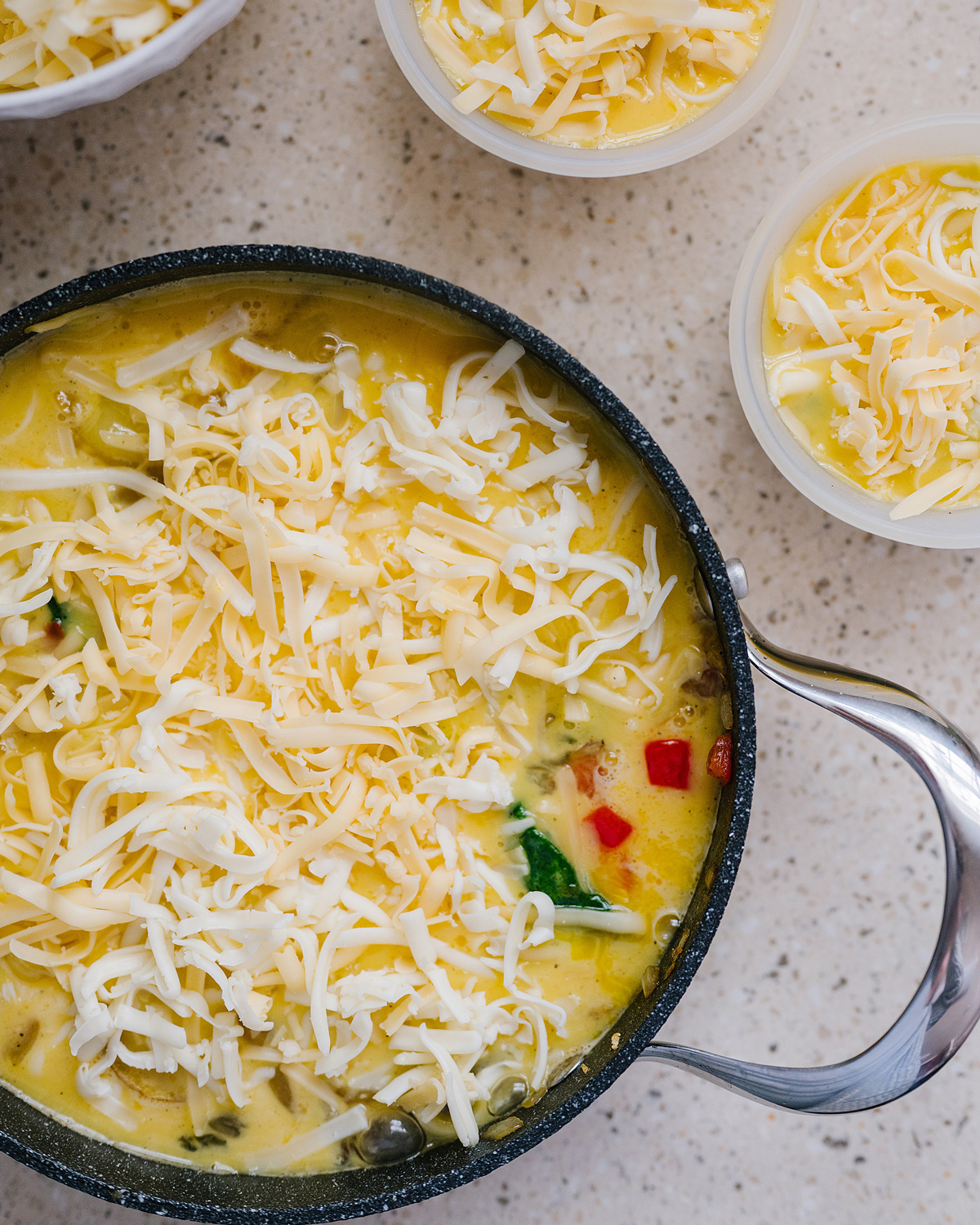 Add the pan to a preheated 350° F oven and bake until set, about 15 minutes. Let sit for 5 minutes, then remove from the pan and garnish with chopped basil.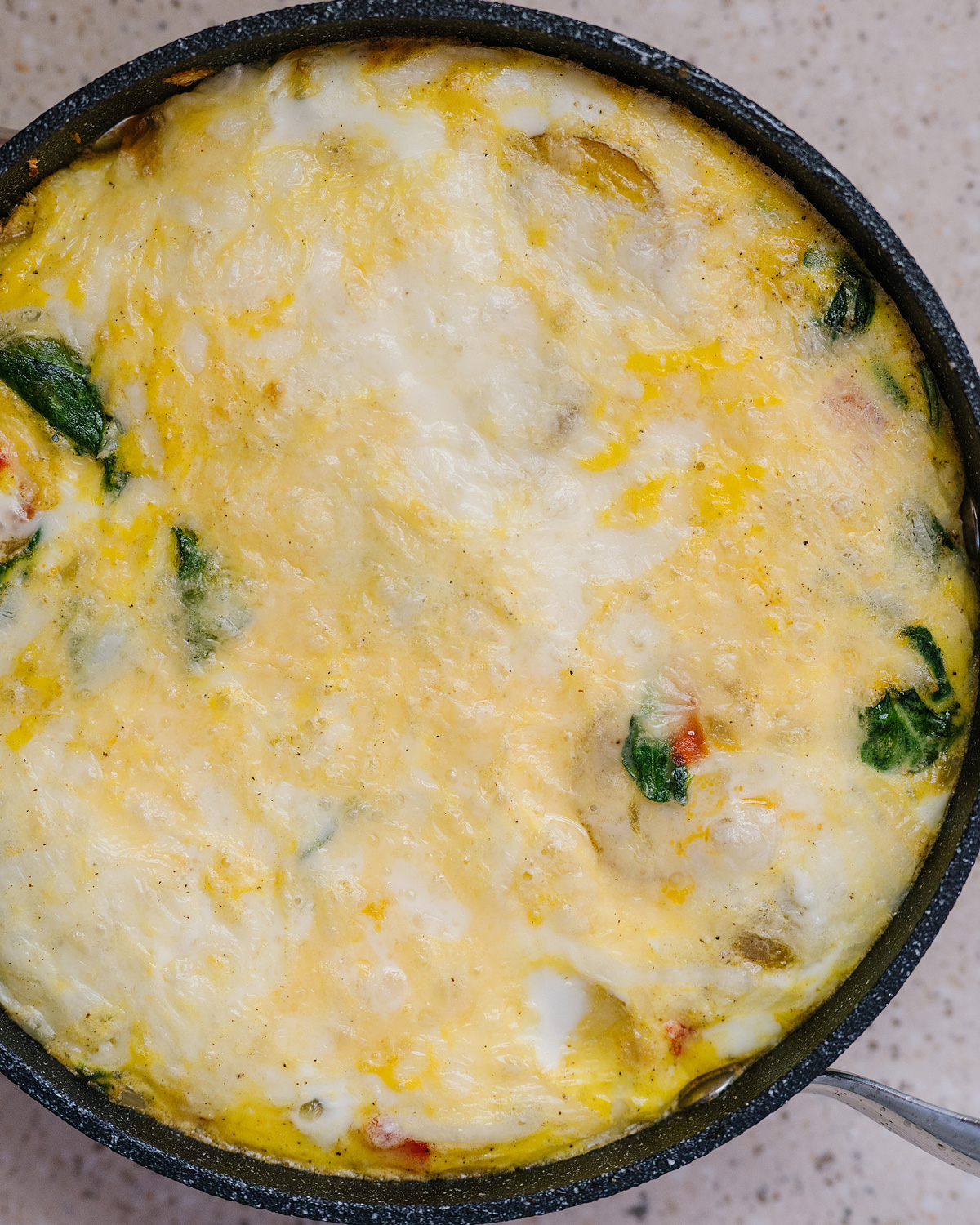 What Makes This Frittata with Smoked Gouda, Havarti, Spinach, Potato, and Pepper So Good? //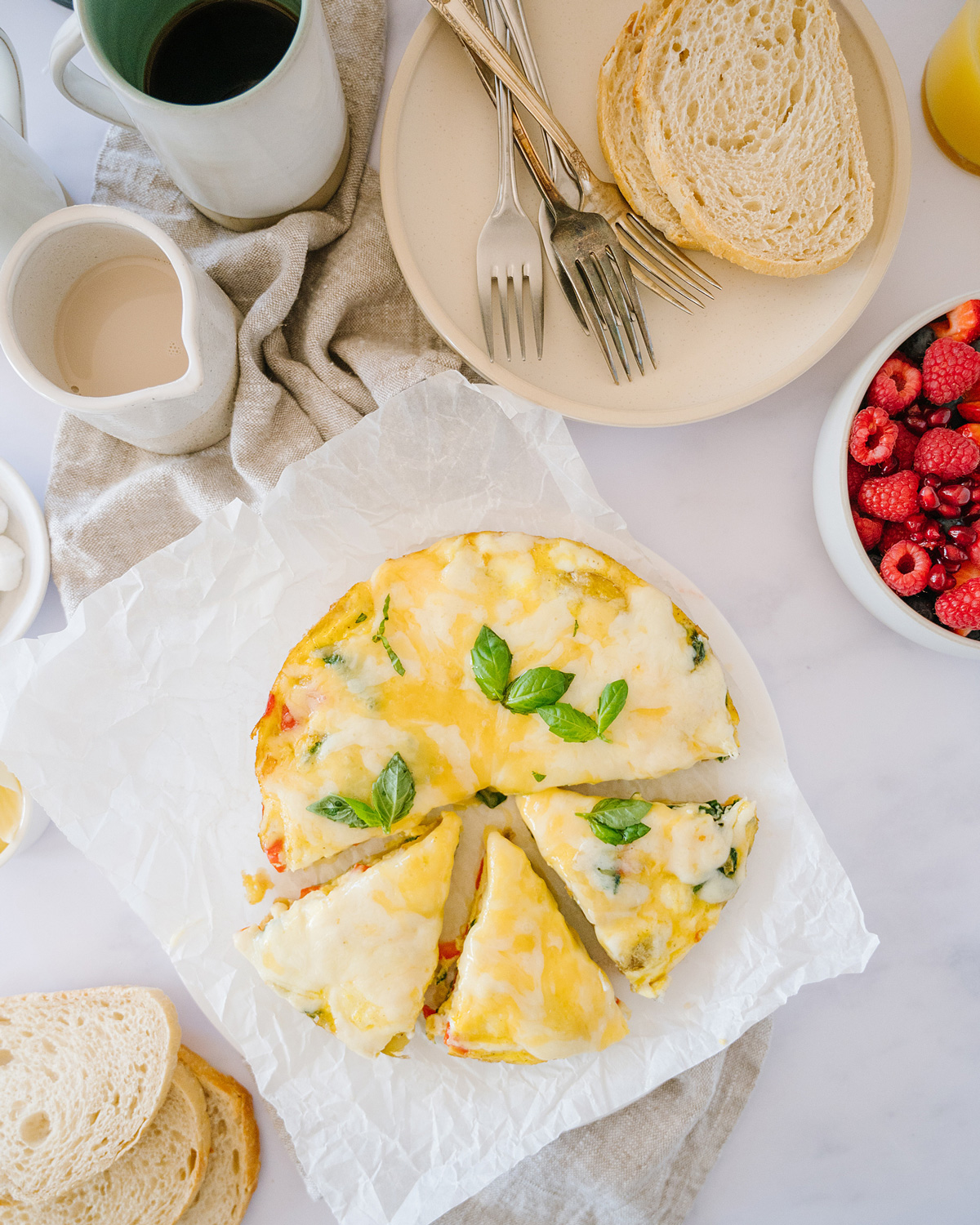 This frittata recipe is so good. It's so easy to make and such a good vehicle to carry flavor. Everyone in my house will eat it and it's also great left over. So many things to love!
Frittata with Smoked Gouda and Havarti. How can that not be amazing? This is a marriage made in heaven, a stronger-flavored cheese that is balanced with a rich and creamy one, and both melt so well. You can also add the extra shredded cheese after it comes out of the oven and put it under the broiler for a minute to get those crispy, brown, cheesy bits.
The more cheese, the better if you ask me. This is a great way to use up any cheeses that you have in your cheese drawer. Shred up what you have and try all kinds of cheese combinations. It's also great for a leftover cheese board after a party. (Remember those?)
Frittata can be served for breakfast, lunch, or dinner. It's so versatile. I probably make it more for dinner than any other time of the day.
It's great leftover and perfect in a lunchbox. I actually made a few individual ones in two silicone baking cups, but you could bake them in a well-greased muffin pan. Make sure to use a LOT of cooking spray, egg sticks like nothing else.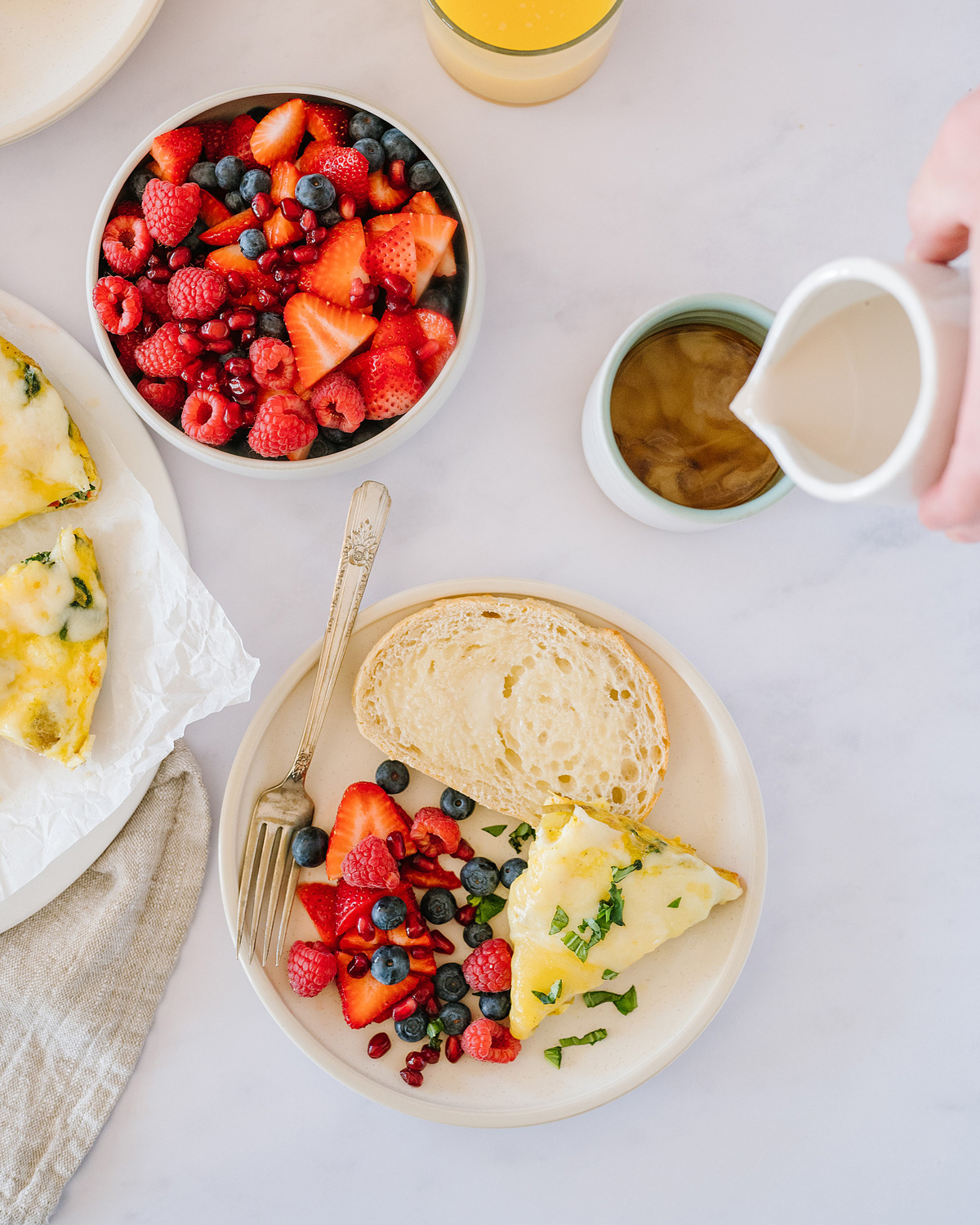 Serving Suggestions //
Frittata can be served all on its own and it's great, but I like to round it out. For breakfast, I like to serve it with some toast and berries or a fruit salad.
For lunch or dinner, I like to serve it with a side salad or arugula dressed with some lemon juice and olive oil. Super simple.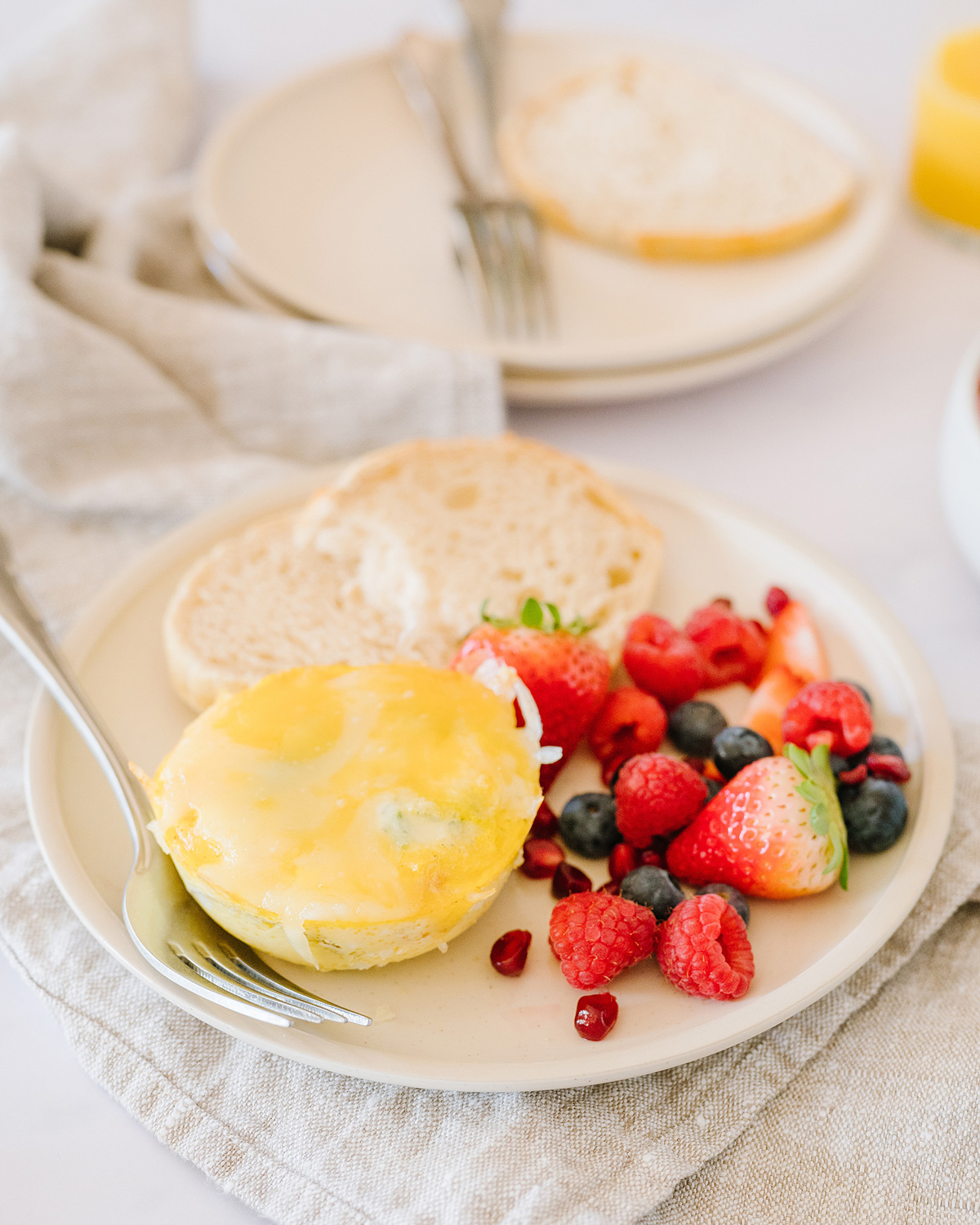 How to Store & Reheat Leftovers //
This recipe serves 8, so I often have a piece or two for the next day. 
Store the leftover pieces in an airtight container for up to 4 days in the refrigerator. It also freezes really well.
To reheat in the oven, cover the frittata with foil and reheat at 350° for 15 to 20 minutes. To reheat in the microwave, put on a plate and cover with a paper towel. Microwave for 15 to 30 seconds or until it is warm all the way through.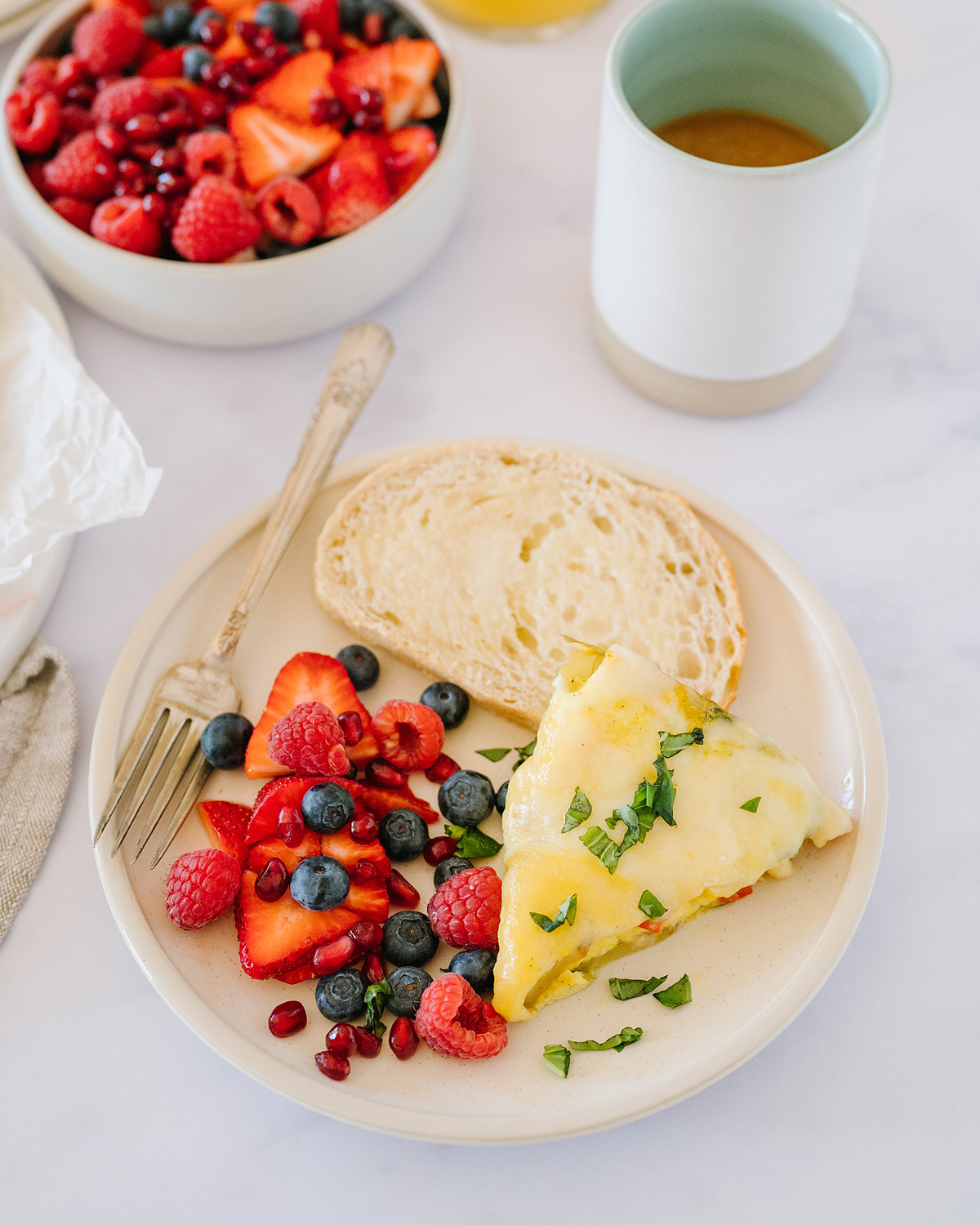 Tips for Making the BEST Frittata Ever //
Frittata is so easy to make, but there are a few things that will make it incredible.
Use a non-stick pan and plenty of oil. Eggs stick like nothing else. If you've ever made the mistake of not greasing a muffin tin enough and then baking eggs in them, you know what a pain it is to get that clean. So be generous with the olive oil.
Season at every stage. Add salt and pepper throughout the recipe. You want to layer and build seasoning. It makes a HUGE difference. Don't wait until the last step to season, you want everything to taste great on it's own.
Shred your own cheese. I used to buy a lot of bags of shredded cheese, but these days, I buy more bricks of cheese and use my grater attachment on my mixer to shred it myself. I get to use different kinds of cheese that I normally wouldn't. Tip: put the cheese in the freezer for 10-20 minutes before you shred it.
Use a combination of cheeses. I always find that using more than one kind of cheese increases the overall cheesiness in recipes. Cheeses have different properties and flavor profiles. Using more than one cheese is a great way to get the best flavor and the next melt possible. Mix a spicy Jalapeño Havarti with Grand Cru® or the gorgeous melting Fontina with Buttermilk Blue®.
Soften the vegetables before you add the eggs. Sautéing your onions and vegetables before you add the egg mixture makes a huge difference in the end result. I know that the vegetables will cook in the oven, but the frittata will not taste anywhere near as good.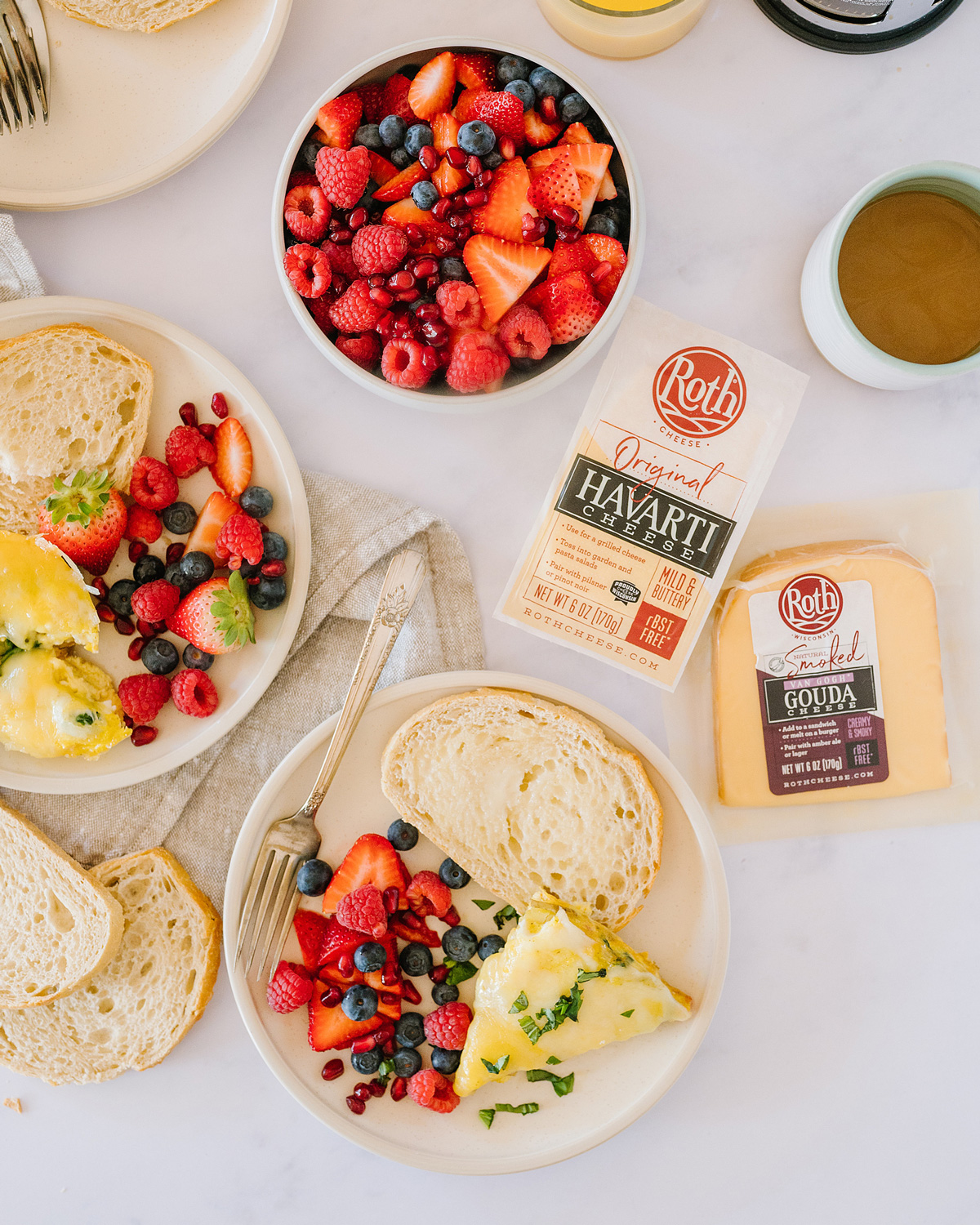 Get the full recipe instructions HERE!
---