The Ultimate Step-by-Step Holiday Cheeseboard Guide
It's the most wonderful time of the year—the HOLIDAY SEASON is here! And no matter how or who you're decking the halls with, a cheeseboard is one of the easiest ways to impress your loved ones and eat your way through the holidays.
Here's our step-by-step guide for how to make a holiday cheeseboard that will surprise and delight: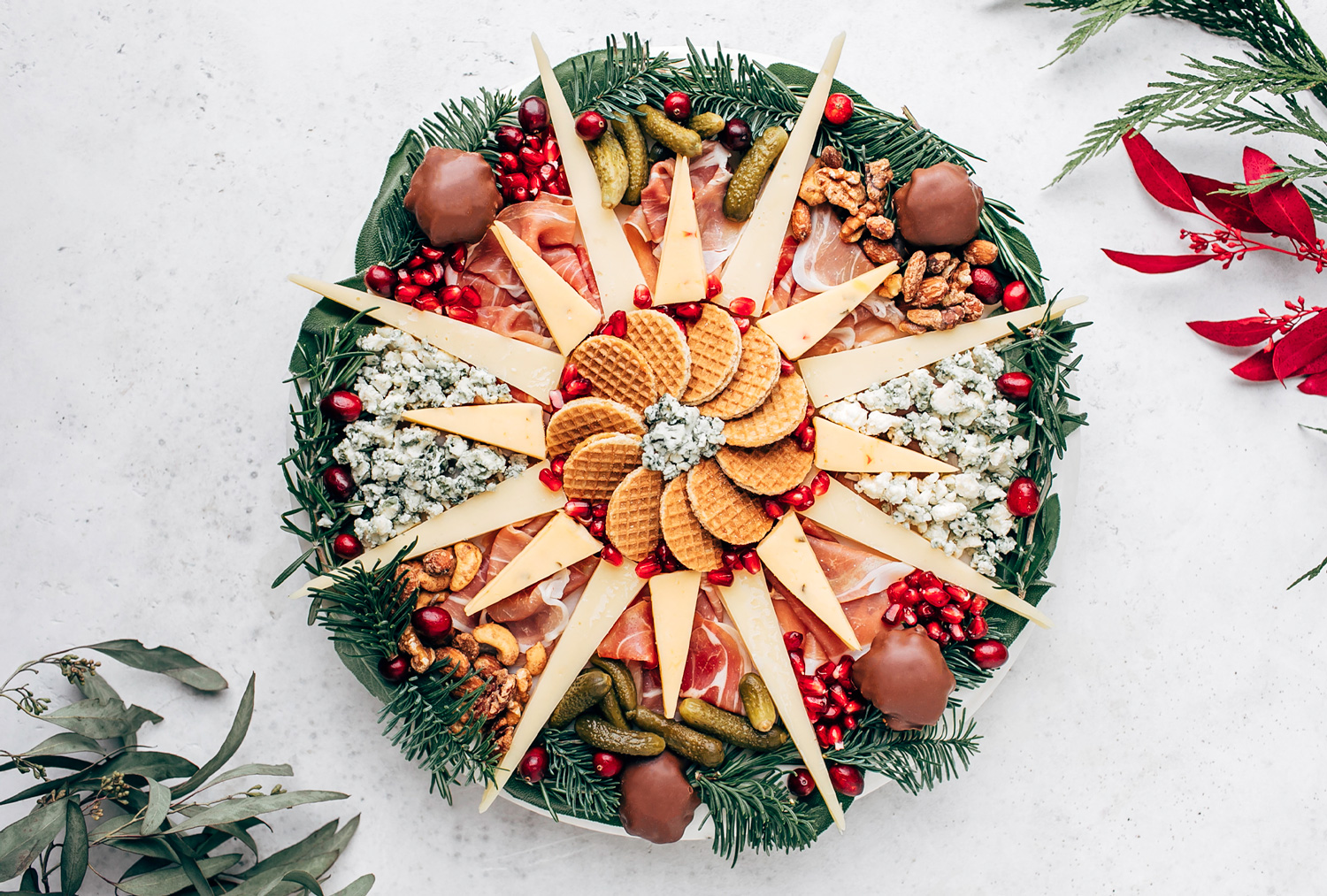 1. Choose Your Cheese
We recommend picking 3 to 5 kinds of cheese for a cheeseboard. Too many can get expensive and overwhelming, while too few lacks variety. Aim for cheeses that vary in texture, color, and taste for a well-rounded spread. We love the mix of a soft, boldly-flavored cheese (like Blue or Chèvre), a mild semi-soft cheese (like Havarti or Gouda), and a flavored or aged cheese (like Jalapeño Havarti or Grand Cru®).
2. Calculate How Much Cheese You'll Need
A good rule of thumb is 1 to 2 ounces of each cheese per person if you're serving the board as an appetizer or dessert course. If your cheeseboard is starring as the festive centerpiece of the big holiday meal, double that amount to 2 to 4 ounces of each cheese per person.
3. Prep Your Cheese Ahead of Time
Did you know you can put together your cheeseboard ahead of time, giving you more time to celebrate with your loved ones? While cheese can be cut in advance of being served, different styles are best cut at different temperatures:
Hard Cheeses: Hard cheeses like Grand Cru® are easier to slice at room temperature. Remove these cheeses from the fridge 30 to 60 minutes before slicing.
Soft & Semi-Soft Cheeses: Soft and semi-soft cheeses hold their shape better and are easier to cut when cold. Try putting softer cheeses like Blue and goat cheese in the freezer for 5 to 10 minutes for easier slicing.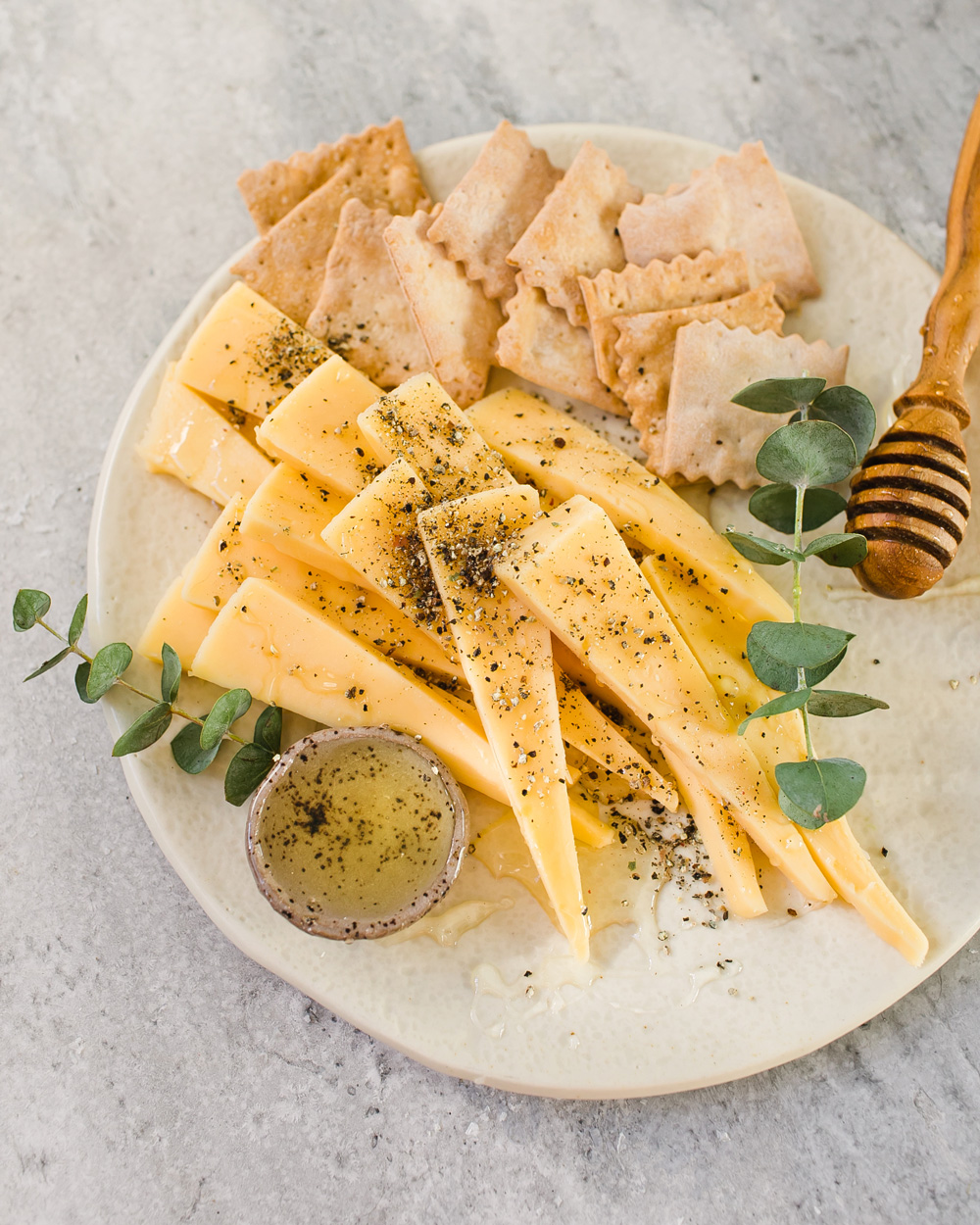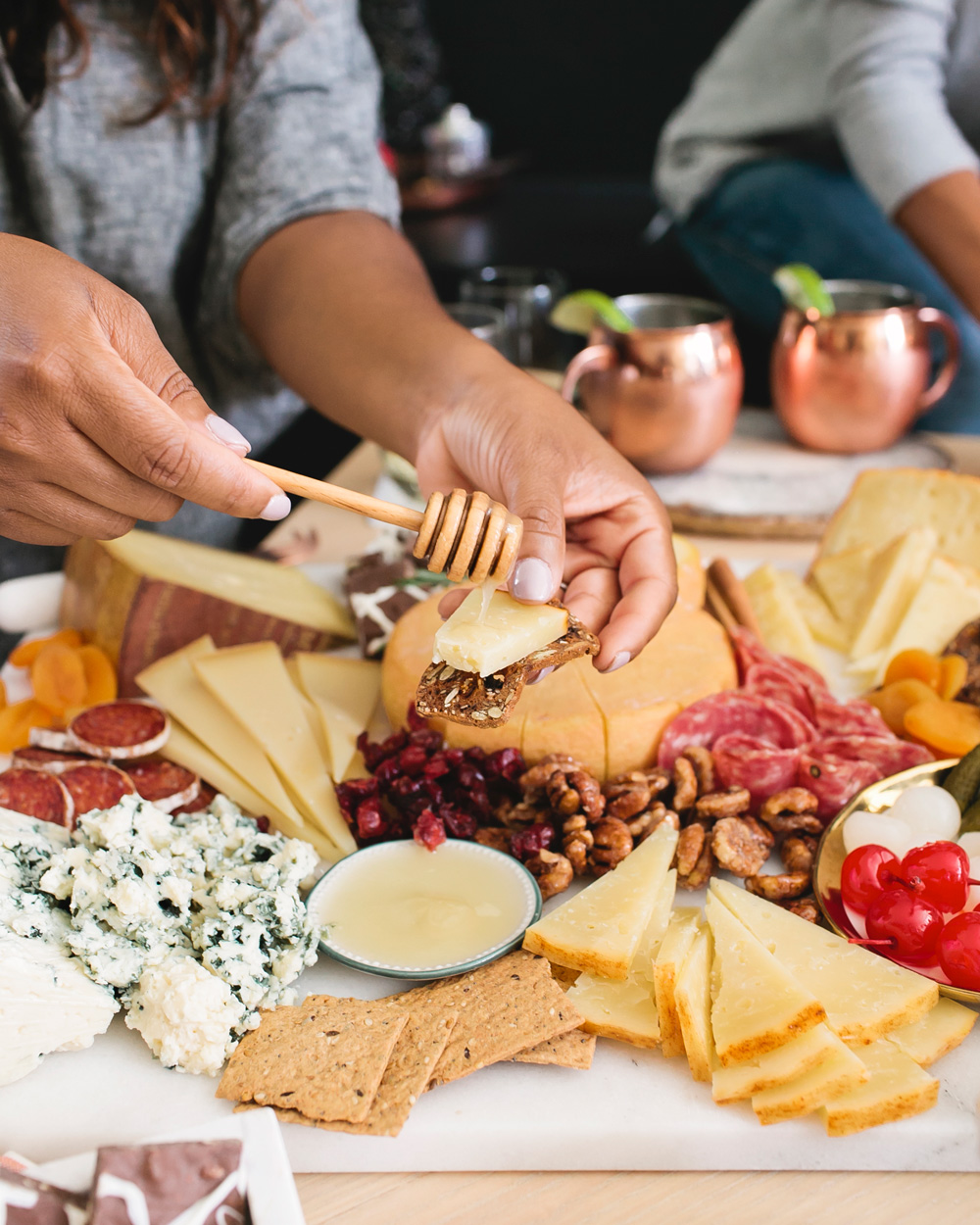 4. How to Cut Your Cheese
One of our most frequently asked questions! With a variety of cheeses on your holiday board, it's helpful to cut them in different shapes for distinction and to make an aesthetically pleasing spread. Varying shapes—like tiles and triangles—create striking patterns, and we find it best to let the natural shape of the cheese be your guide when determining the best shape for cutting.
Blocks: Havarti is one of many semi-soft cheeses made in blocks, and it can easily be cut into rectangles, squares, triangles or cubes.
Wedges: Wedge-shaped cheeses like our alpine-style Grand Cru® and Gouda should be sliced into smaller wedges or triangles.
Soft: Soft cheeses like Buttermilk Blue® and Chèvre goat cheese can either be sliced with a wire cutter or simply crumbled and placed on the cheeseboard in chunks.
For more tips on how to cut cheese, check out this helpful post.
5. Pick Your Pairings
This is the perfect step to amp up the joy and merriment! Pick festive accompaniments that balance the board in both color and taste. Hint, hint: you may want to lean toward the colors red and green for extra holiday cheer.
RED Accompaniments
Dried or fresh cranberries
Jam (raspberry or strawberry)
Pomegranate arils
Red grapes
Strawberries
Raspberries
GREEN Accompaniments
Fresh herbs (like rosemary & thyme)
Green apple
Green grapes
Green pear
Olives
Pickles
Ensure there are crunchy snacks and a sauce for dipping on your board. We love nuts, like candied pecans or pistachios, and dips like caramel sauce, honey, mustards, and tapenades (olive, sundried tomato, etc.). The last addition is piling on meats, crackers, and other hearty bases to fill in the remainder of the board (and bellies!).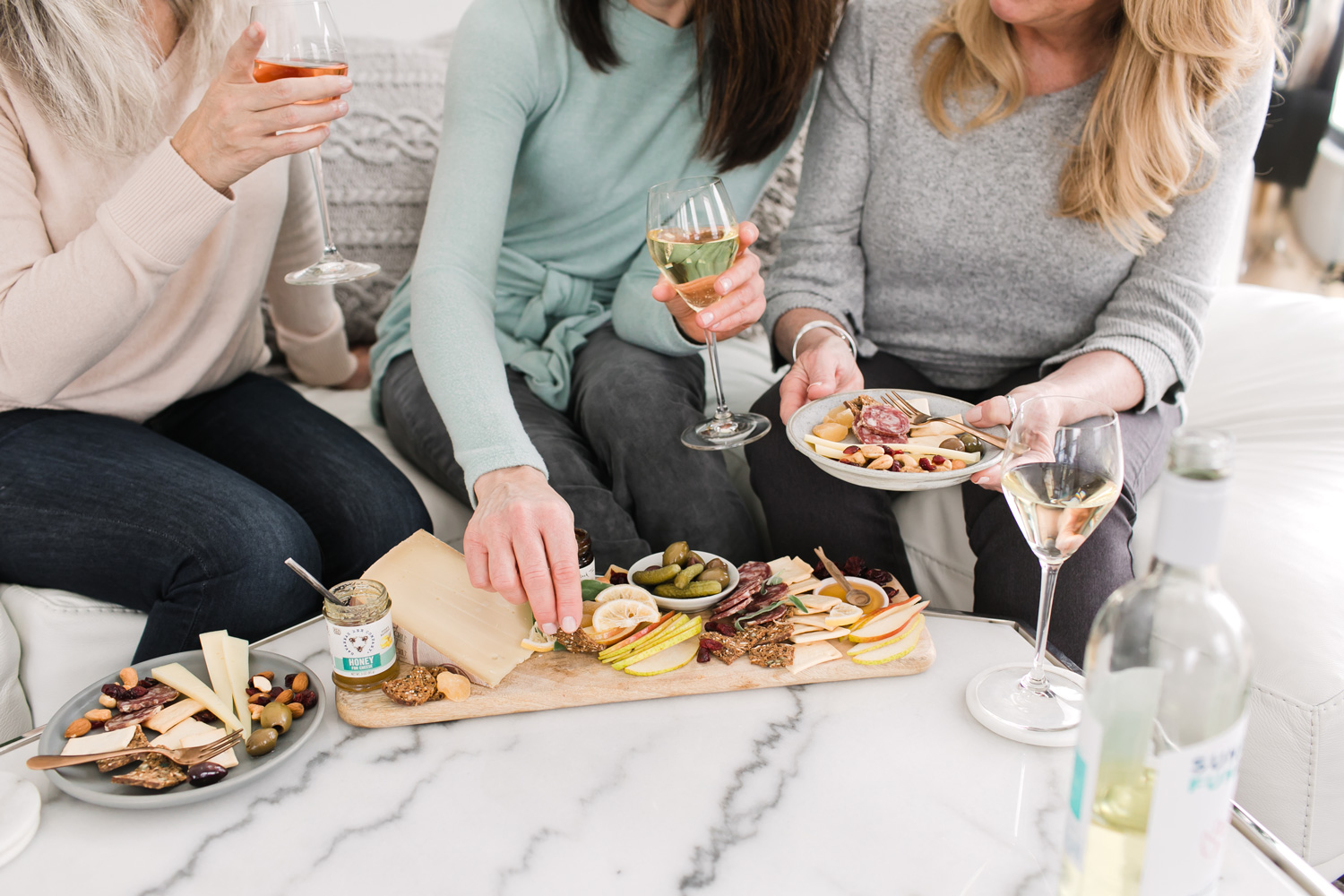 6. Add in a Beverage (or Two!)
Tis' the season for imbibing, and wine, beer, and spirits are all mandatory for washing down your cheeseboard. The general rule for pairings is to not let either overpower the other. Spicy cheeses deserve a nice beer to balance their flavor, blues can stand up to liquor like gin, and alpine-style cheeses go really well with white wine:
If you're looking for non-alcoholic options, we love bubbly sodas like Dry Soda, switchel (a refreshing apple cider vinegar & ginger drink), and kombucha. Garnish your drinks with fresh cranberries and herbs for a Christmas-y touch.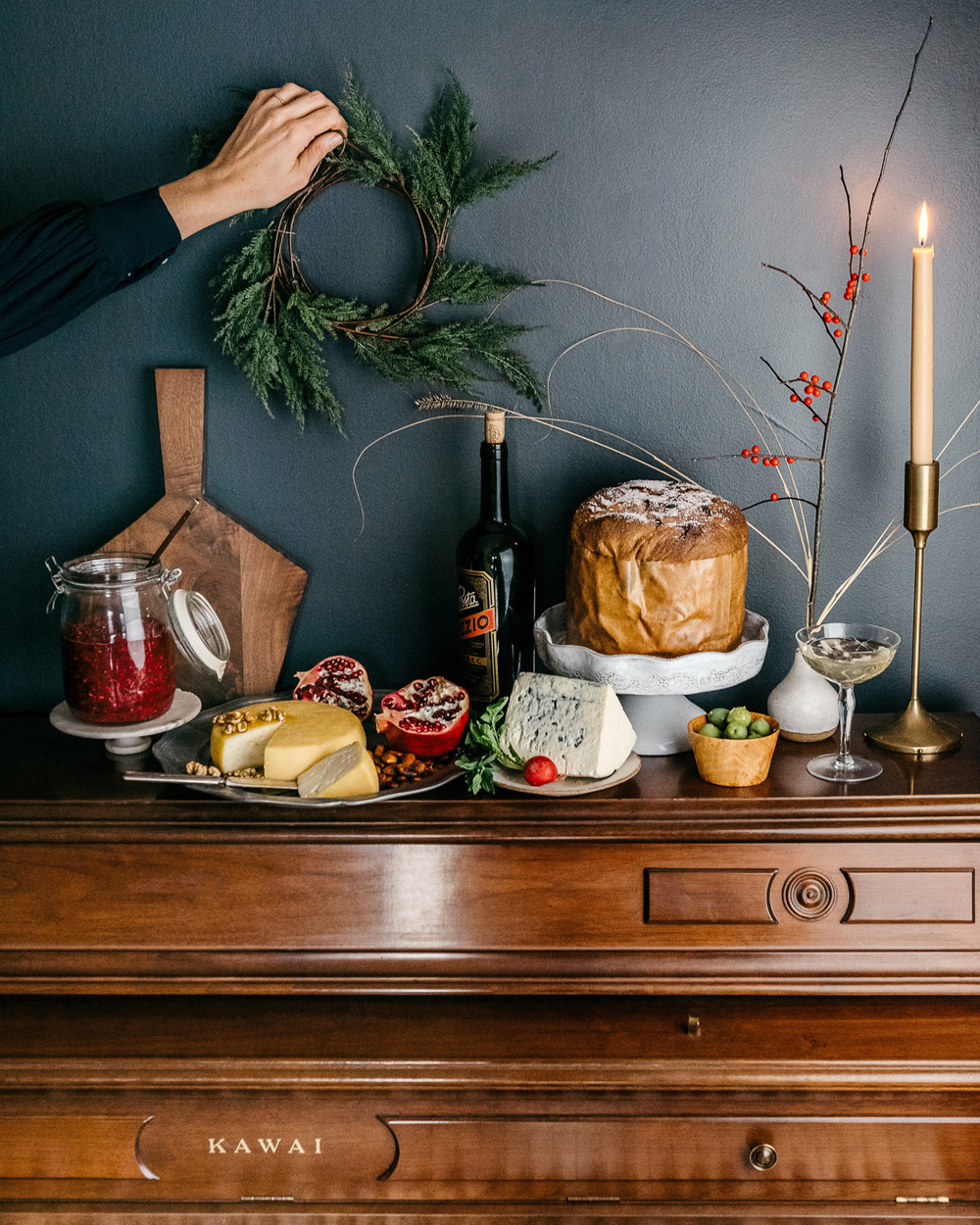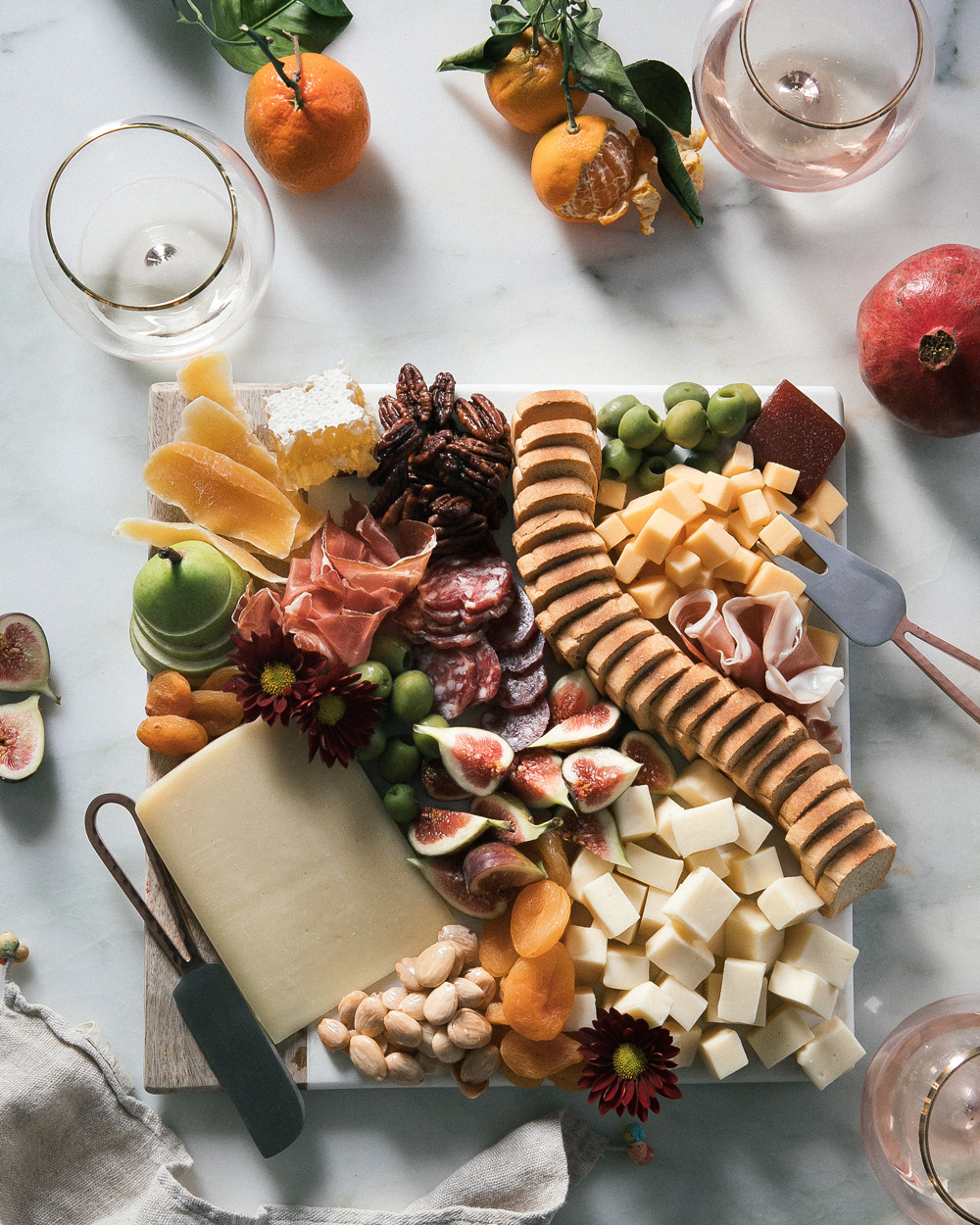 7. Arrange Your Cheeseboard
When arranging your board, start with the cheese. Draw attention to each cheese by arranging slices in varying shapes.
Next, add your accompaniments! These fill in the space between each cheese, and add depth and texture to the board. Begin by adding items according to the amount of space they take up—biggest to smallest. If possible, place cheeses by their best pairings, so it's easy for guests to know which foods go together. For example, slice your Grand Cru®, then tuck next to apples, figs, pickles, and almonds so you can easily try pairings together. Make the board pop by placing contrasting colored cheeses and accompaniments next to one other.
Finally, garnish with herbs like rosemary or thyme, or even clip spruce sprigs off your Christmas tree. Cranberries and winter flowers also beautiful seasonal garnishes. When you're finished arranging your board, place it in the refrigerator wrapped in plastic wrap or a towel until you're ready to eat.
8. Take Cheese Out 30 Minutes Before Serving
Do NOT—we repeat—DO NOT serve cheese right out of the refrigerator. Cheese has the best taste and texture at room temperature, so let it sit on your countertop for at least 20 to 30 minutes before digging in.