How to Build A Holiday Pantry Cheeseboard
By: Bree Hester
How to Build A Holiday Pantry Cheeseboard! Create a showstopping holiday cheeseboard with delicious Roth cheeses by shopping your pantry. We'll show you what to buy to have a beautiful and balanced board in no time.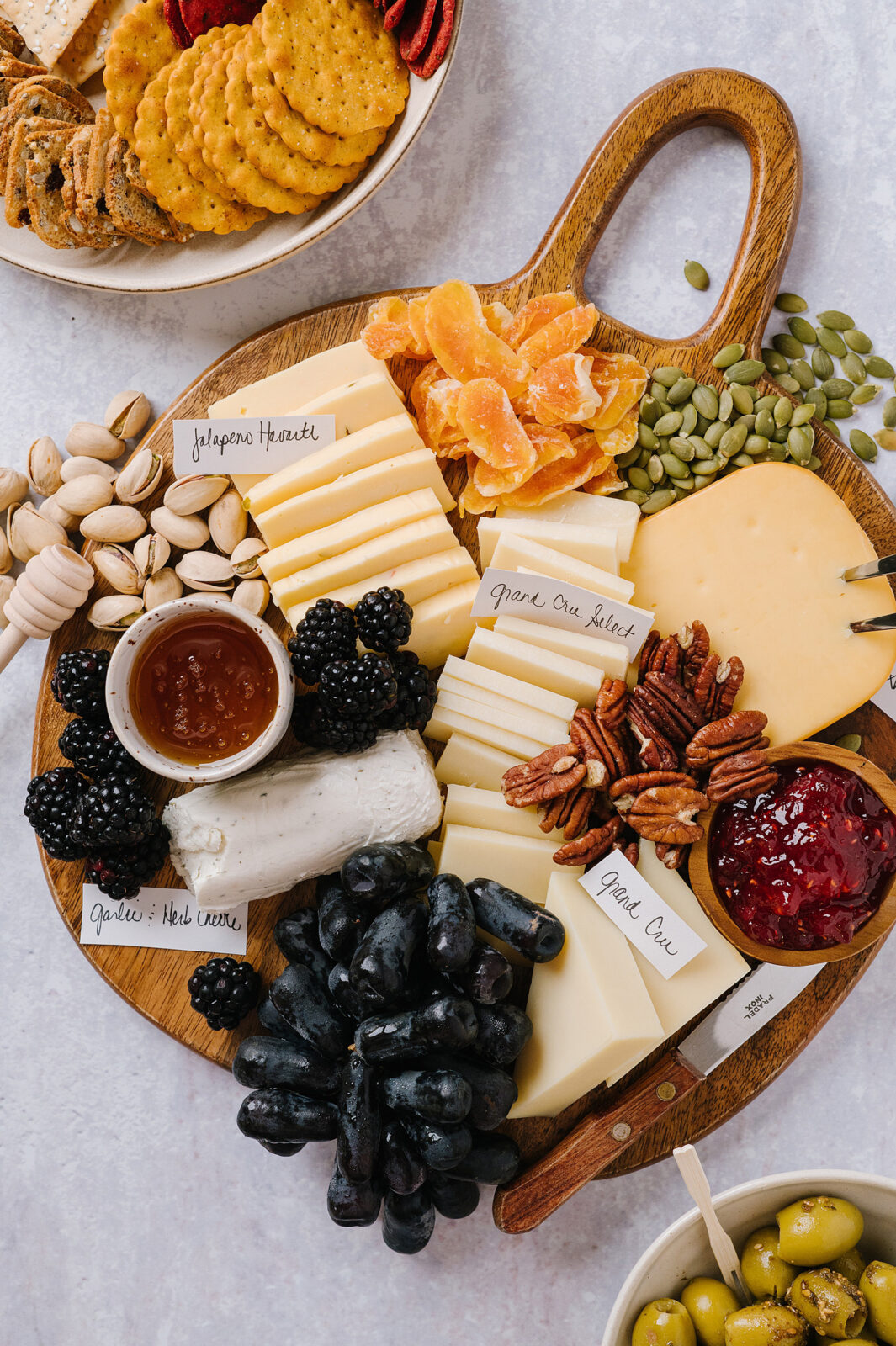 I can make different appetizers with puff pastry and dips, and spend ages making unique things to nibble on, but everyone gravitates to the cheeseboard. (I'm not hating on things in puff pastry or a dip – there is a time and place for sure.) Maybe it's because a cheeseboard just looks so welcoming and inviting?
These days, I often skip making traditional appetizers and only serve a cheeseboard or grazing table. Especially during the busy holiday season, who has time for anything else?
A secret about a holiday cheeseboard is that it takes very little effort on your part. Having a well-stocked holiday pantry makes it easy to create a gorgeous board like this one in no time. It doesn't take a lot to make a board seem abundant, overflowing, interesting, and seasonal. Just some strategic shopping and you are good to go!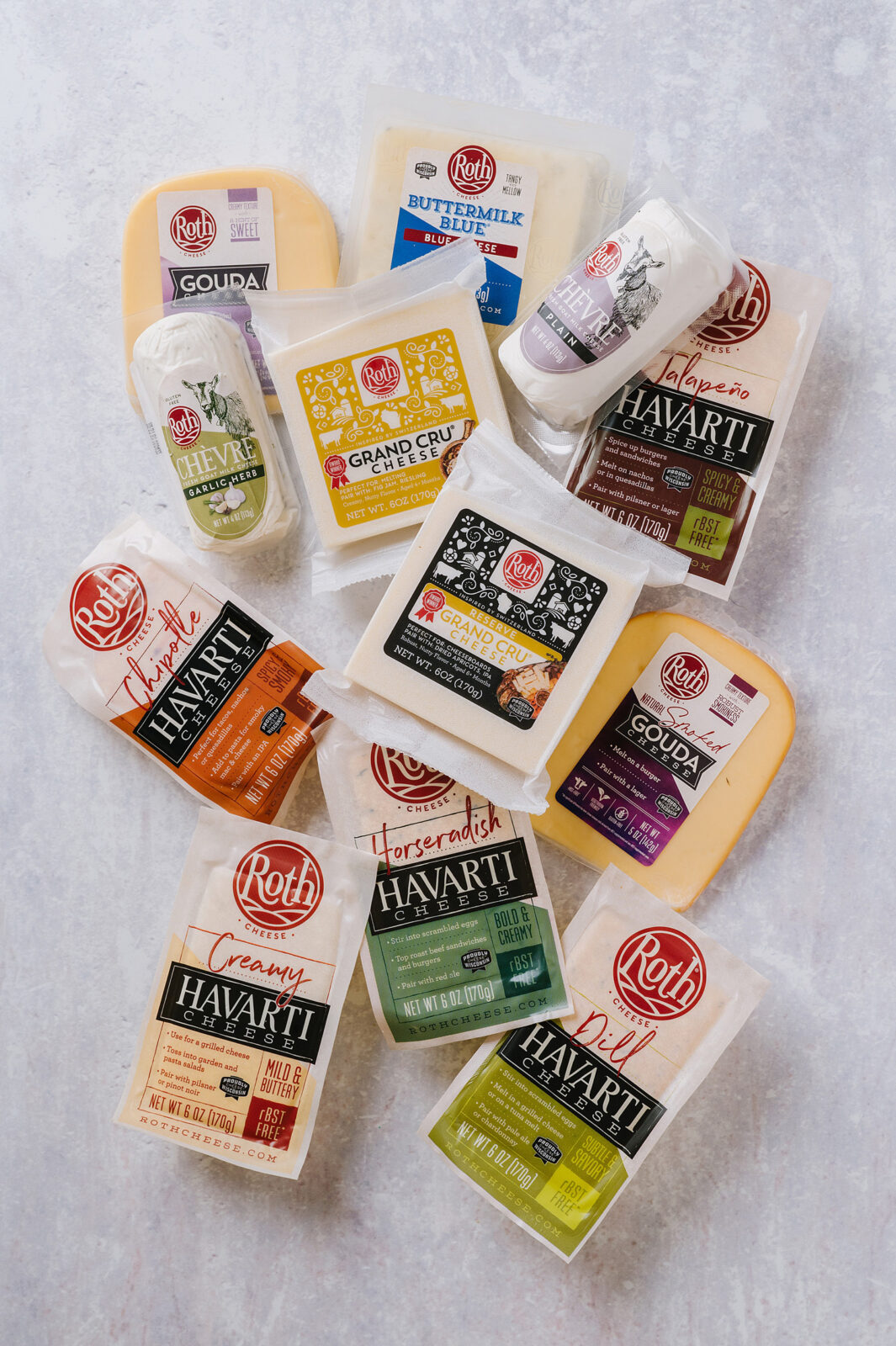 What Kind of Cheese Do I Put on a Holiday Cheeseboard? //
If you have been to a cheese shop or grocery store lately, then you know there are many incredible cheeses to choose from. I think it can be overwhelming, especially if you are new to cooking and entertaining. There are often HUNDREDS of varieties in the cheese case. 
There are no hard and fast rules for choosing cheese for a board. Anything goes really, but what I think works best is a variety of flavors and textures. I tend to make sure I have something for everyone on each board I create.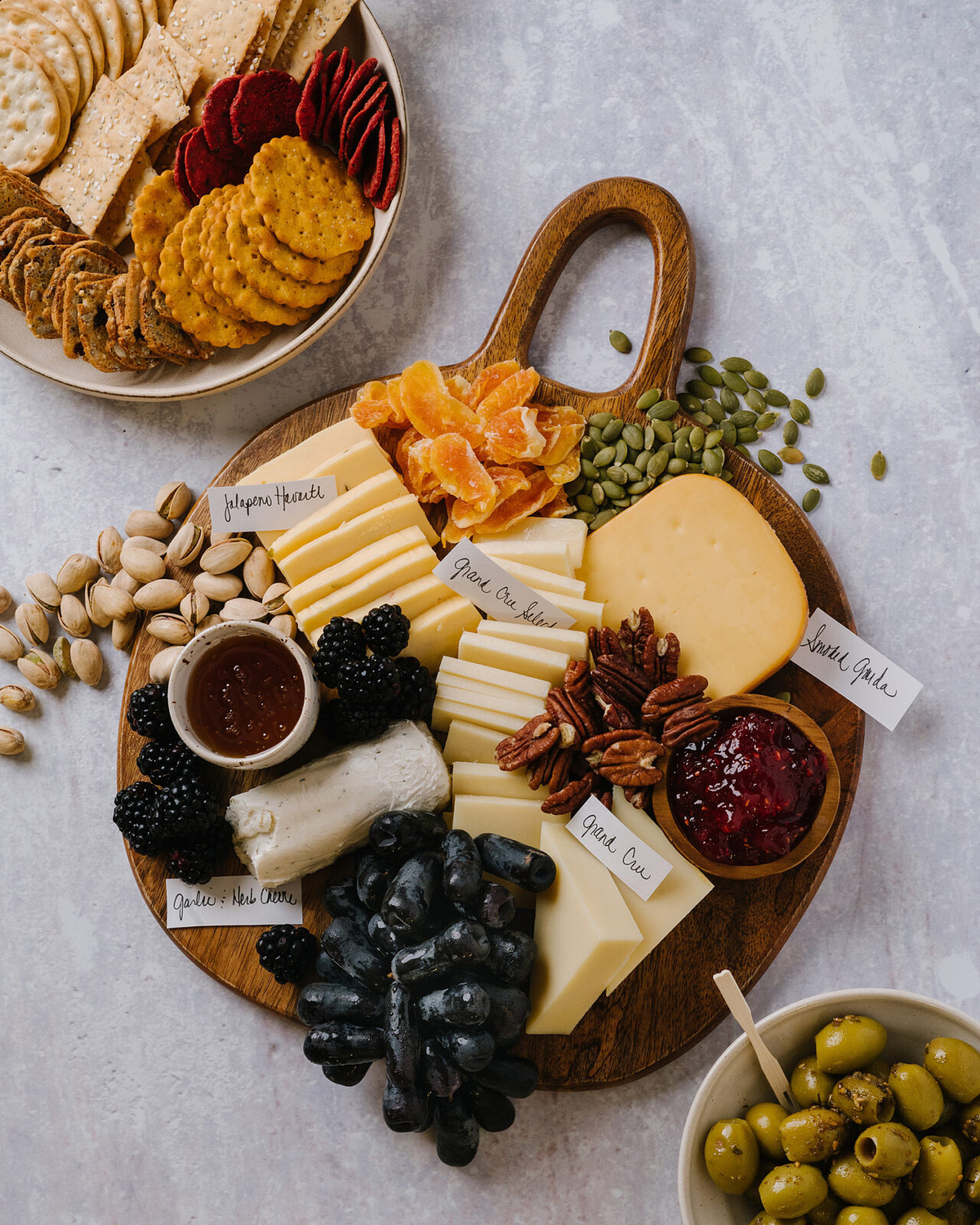 My biggest piece of advice is to put cheeses that you like to eat on the board. If you don't know what you like, try a new cheese each time you go to the grocery store. Bring home a small portion and see what you like about it. Is it creamy? Is it hard or soft? Do you love Chèvre? Do you love Aged Gouda?
When in doubt, ask the person at the cheese counter what they like or what they recommend. I do this almost every time I buy cheese from a specialty shop or specialty cheese section. Cheese people are passionate about their products.
Often, they will let you sample before purchasing. I often say, "I have alpine-style Grand Cru® and Gouda, what else should I include?" and they will have great suggestions and advice for you.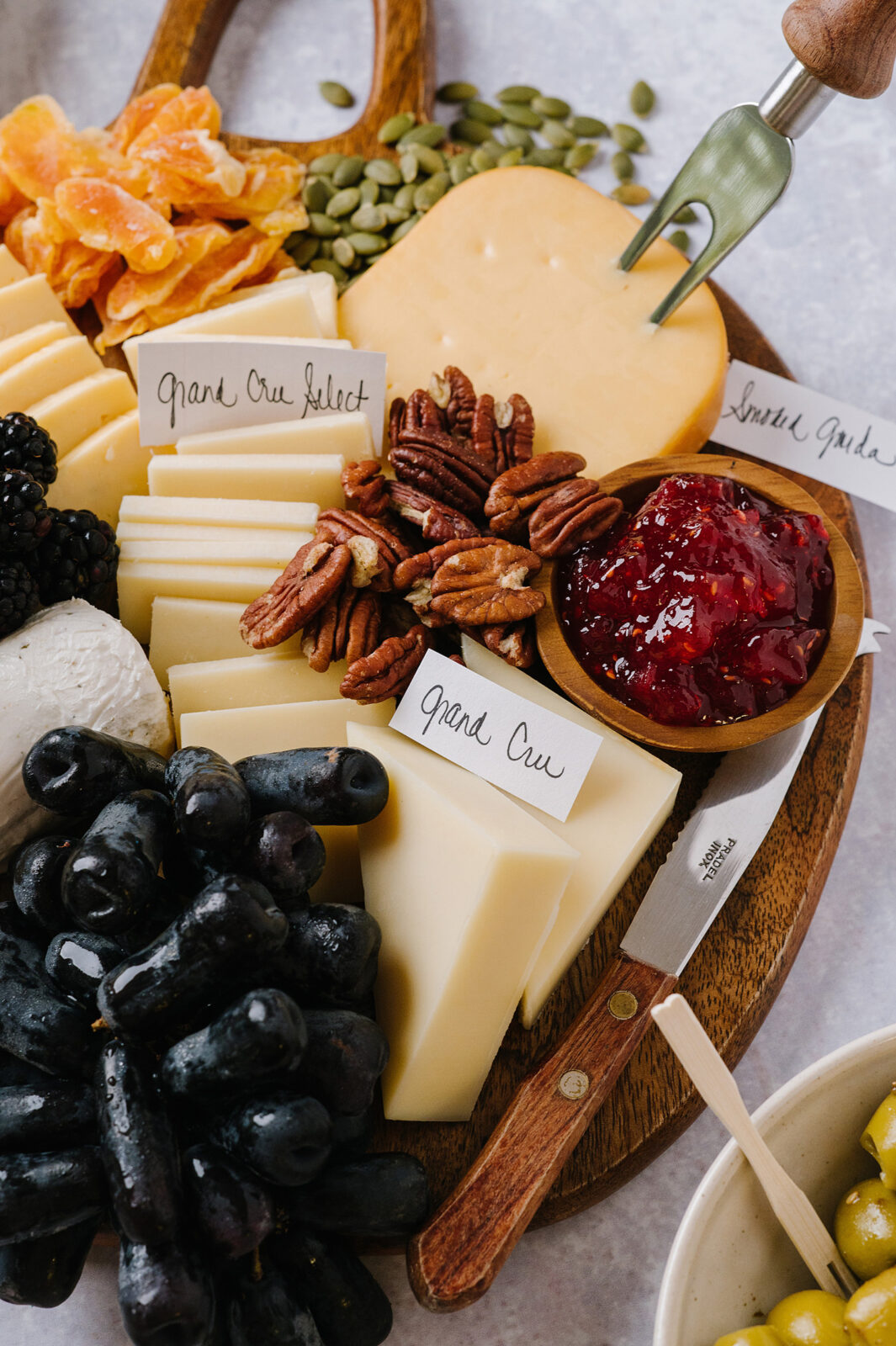 Hard cheeses: This can be Aged Gouda, Sharp Cheddar, Canela. These cheeses are typically very savory and bold. They often crumble and have a unique texture. They usually have a rind you cannot eat, but save it and add the rind to soups or stews to add another layer of flavor. 
Semi-hard cheeses: These cheeses are often aged, but softer than hard cheeses. Grand Cru® is my go-to (and my husband's favorite cheese) and on every cheeseboard I make. It's alpine-style, mellow, and just looks beautiful sliced into triangles. 
Crumbly or soft cheeses: These are cheeses you can typically spread on a cracker, like Chèvre goat cheese. These cheeses are creamy, typically mild, and moist. (Don't hate me for using that word, but they are kind of wet.) They're very distinct in flavor, fresh and milky. I like to add Plain Chèvre to my cheeseboards because I often will roll it in dried fruits or herbs for color to bring my palette together. 
Blue cheeses: I put these in a category of their own. Blue cheeses are soft, but I find they are either something you like or don't like. I happen to love blue cheese and Buttermilk Blue® is mild enough for even people that swear they don't like blue cheese. This is a bold, distinctly-flavored cheese. I like to spread it on a piece of bread with a drizzle of honey.
Wild card: This is where you can really go crazy. A stinky cheese, holiday-flavored cheese, a new variety — something completely unique and different. Let your guests experience something FUN. This is also where I rely on the help of the person selling cheese. Ask them for a recommendation for a wild card and they will deliver.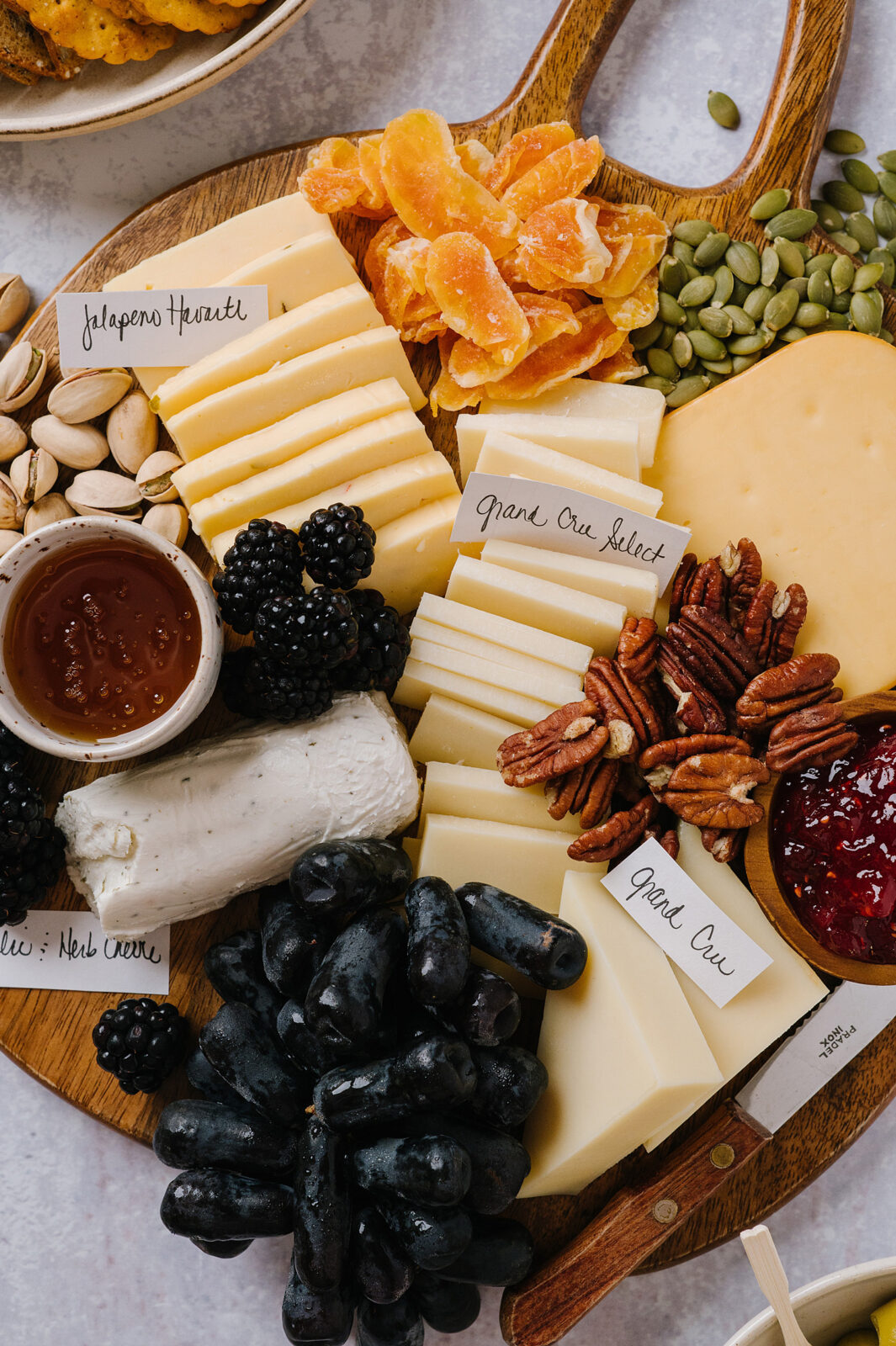 How Much Cheese to Buy For A Holiday Cheeseboard? //
When you buy the bags of cheese, they add starch to the bag to keep the shreds from sticking together and they just don't melt the same sexy way that cheese you shred yourself does. It makes a huge difference in the end result.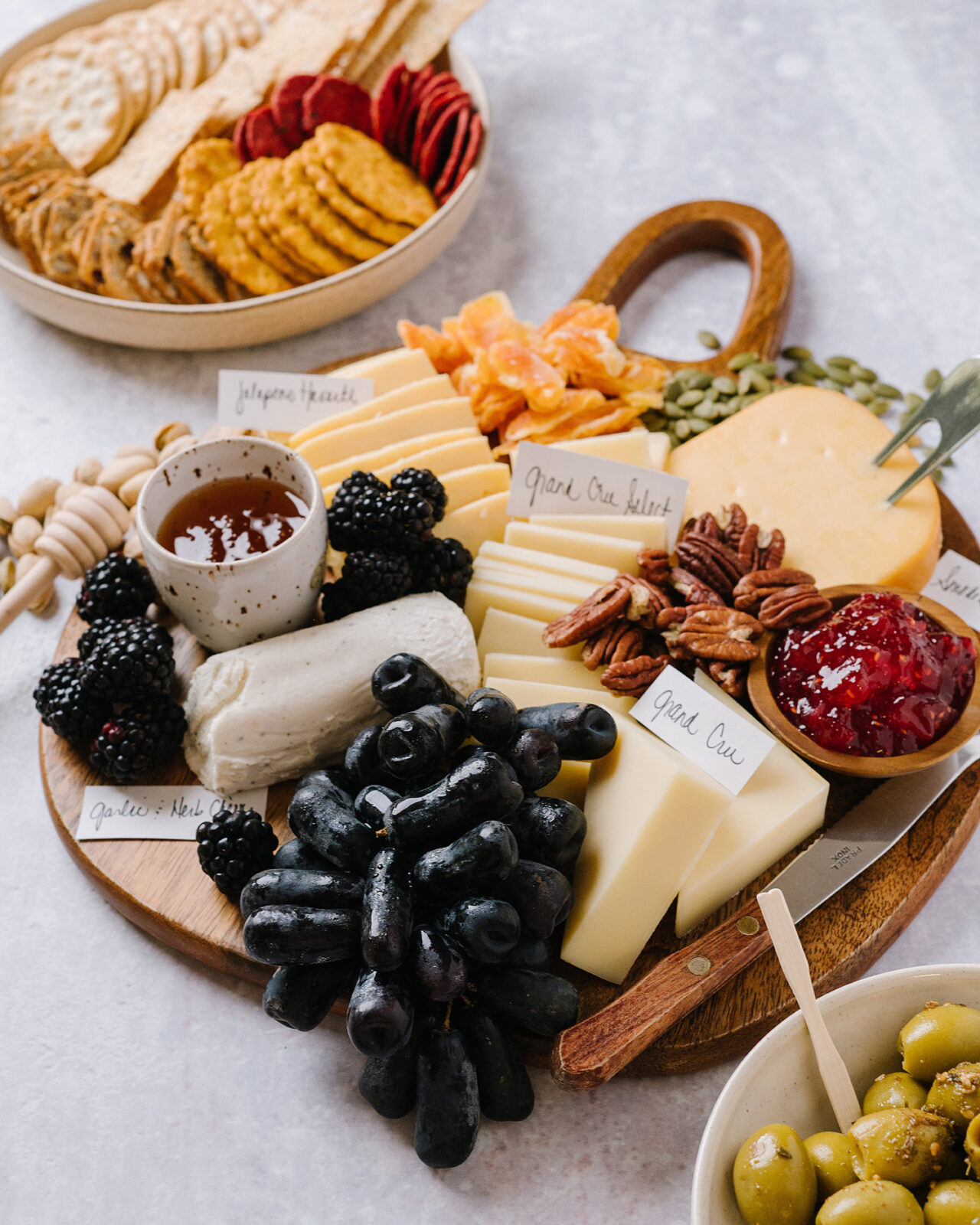 What I Keep Stocked In My Holiday Pantry //
I'm going to confess to something that I am both embarrassed and proud of: I have a cabinet in my laundry room that is strictly my cheeseboard-making pantry.
I keep my cheese board pantry stocked with nuts, pickles, olives, dried fruits, crackers, mustards, seasonal things, jams, jellies, honey, anything that I see when I am shopping that I think will look or taste great with cheese.
When we lived in Europe, I did not buy typical souvenirs. I would go to a local grocery store and buy fun and unique things that I couldn't get anywhere else or that the region was known for. I have holiday jellies from France and preserved lemons from Morocco and Marcona almonds from Spain and honey from Slovenia. It makes me so happy to pull them off the shelf and use them and think about where they came from.
I loved coming home from our travels and continuing the adventure on my plate. I don't live in Europe anymore, but I still get delighted to find fun things while shopping.
Being able to shop my well-stocked (ok, fine, OVERFLOWING) pantry allows me to create a cheeseboard whenever I am feeling inspired — whether that is to have a movie-watching couch date on a Wednesday or a full-blown holiday gathering. I can go to that cabinet and pick and choose things to make my board festive, inviting, and interesting. 
Along with the idea that cheeses should be different textures and flavors, I think everything else on the board should be as well. Sweet with salty, crunchy with soft, you get the idea.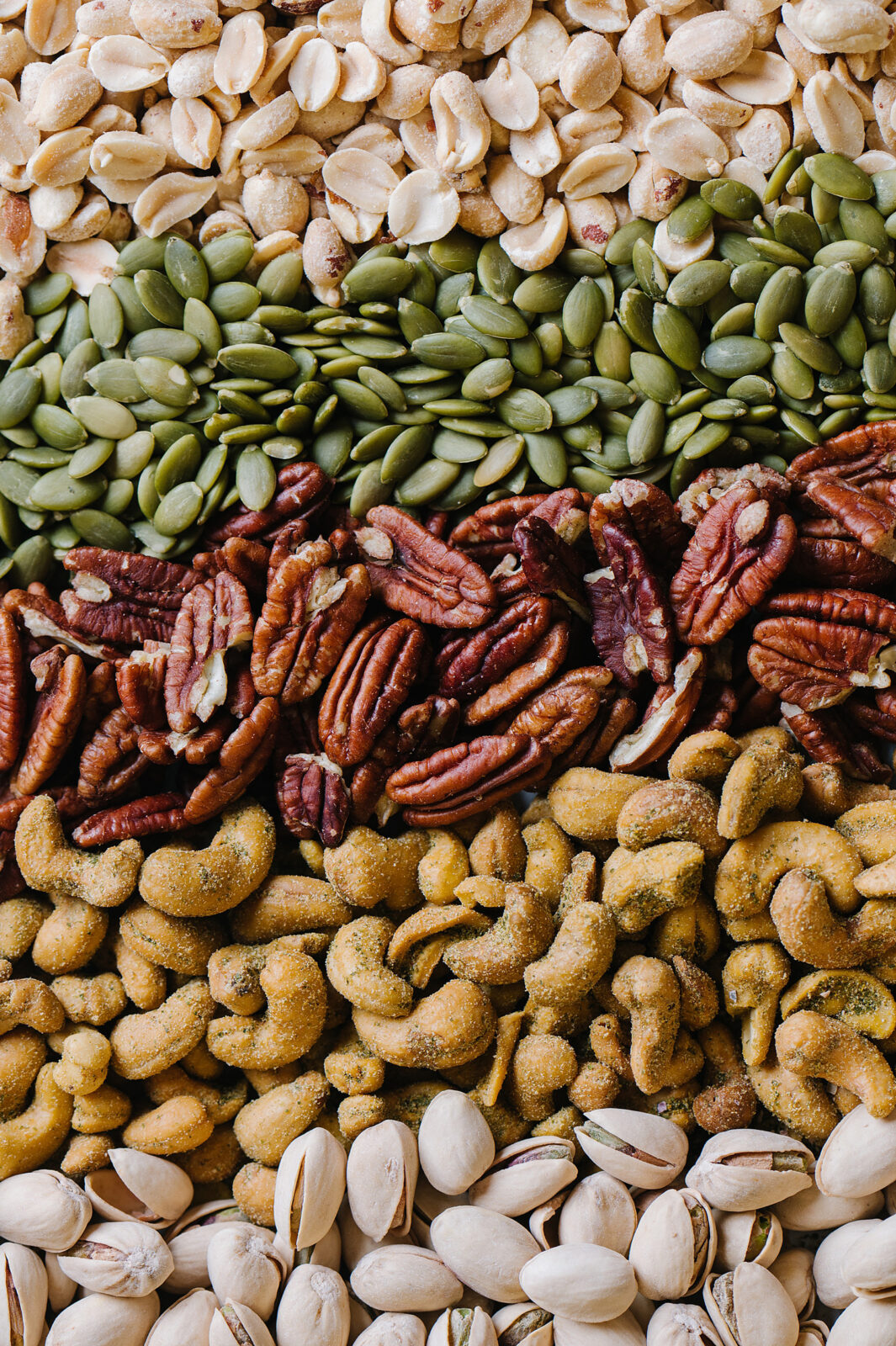 Savory Pantry items:
Pickles
Olives
Cured meats
Nuts
Tapenade
Pickled vegetables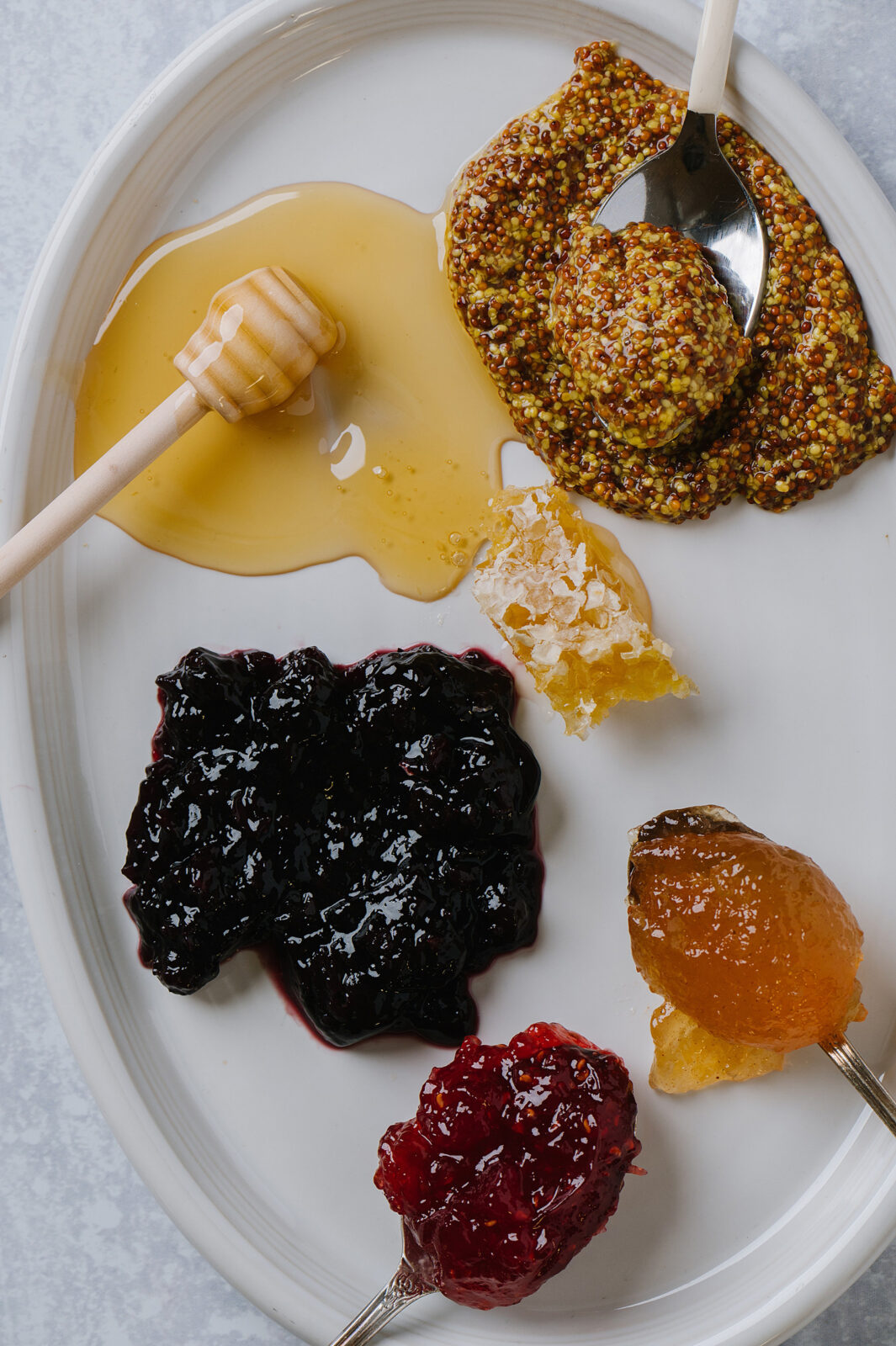 Condiments:
Mustard
Honey
Jams/jellies
Chutney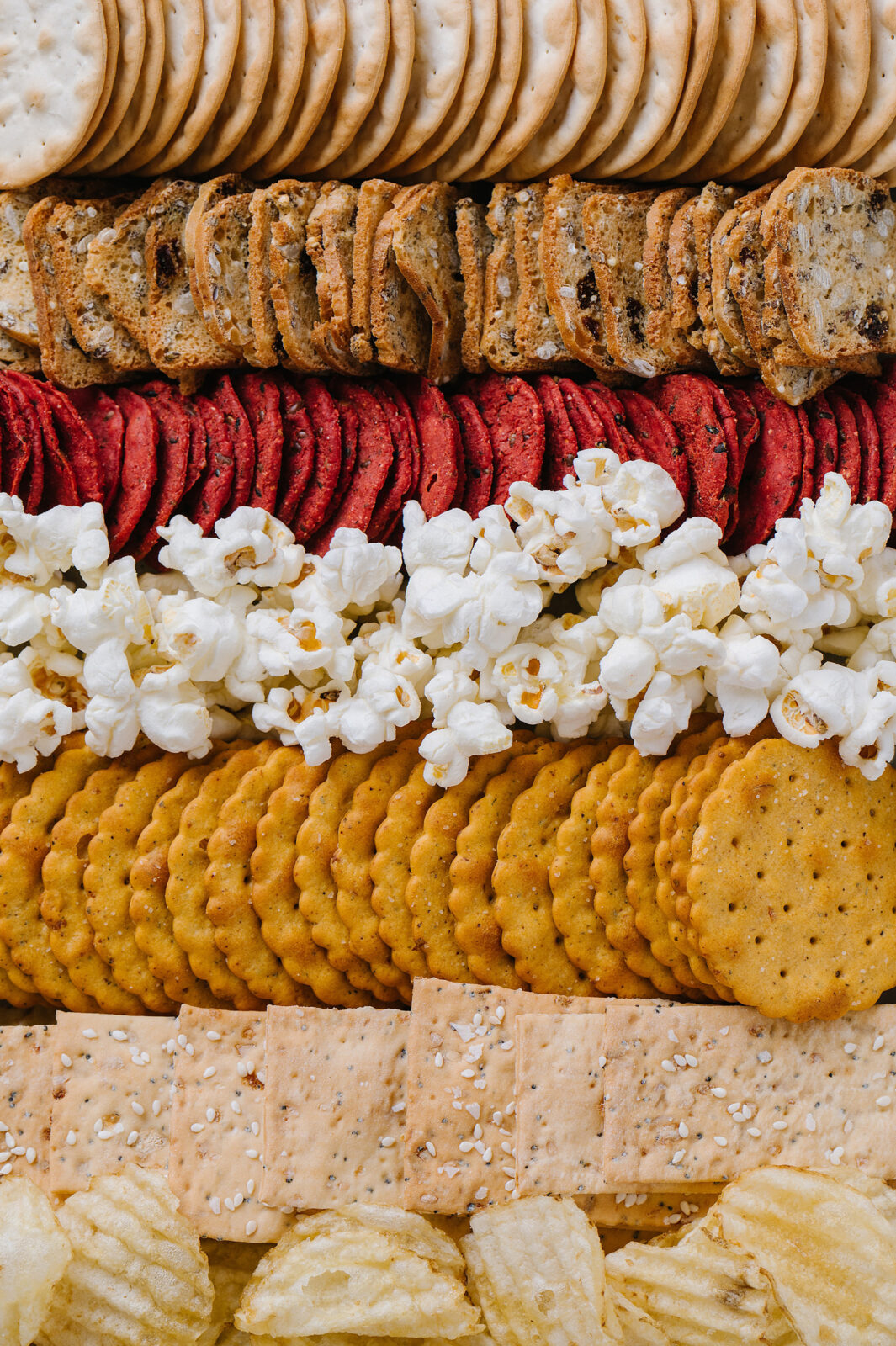 Delivery Vehicles & Crunchy Things:
Crackers
Breadsticks
Pretzels
Rice crackers
Potato chips
Popcorn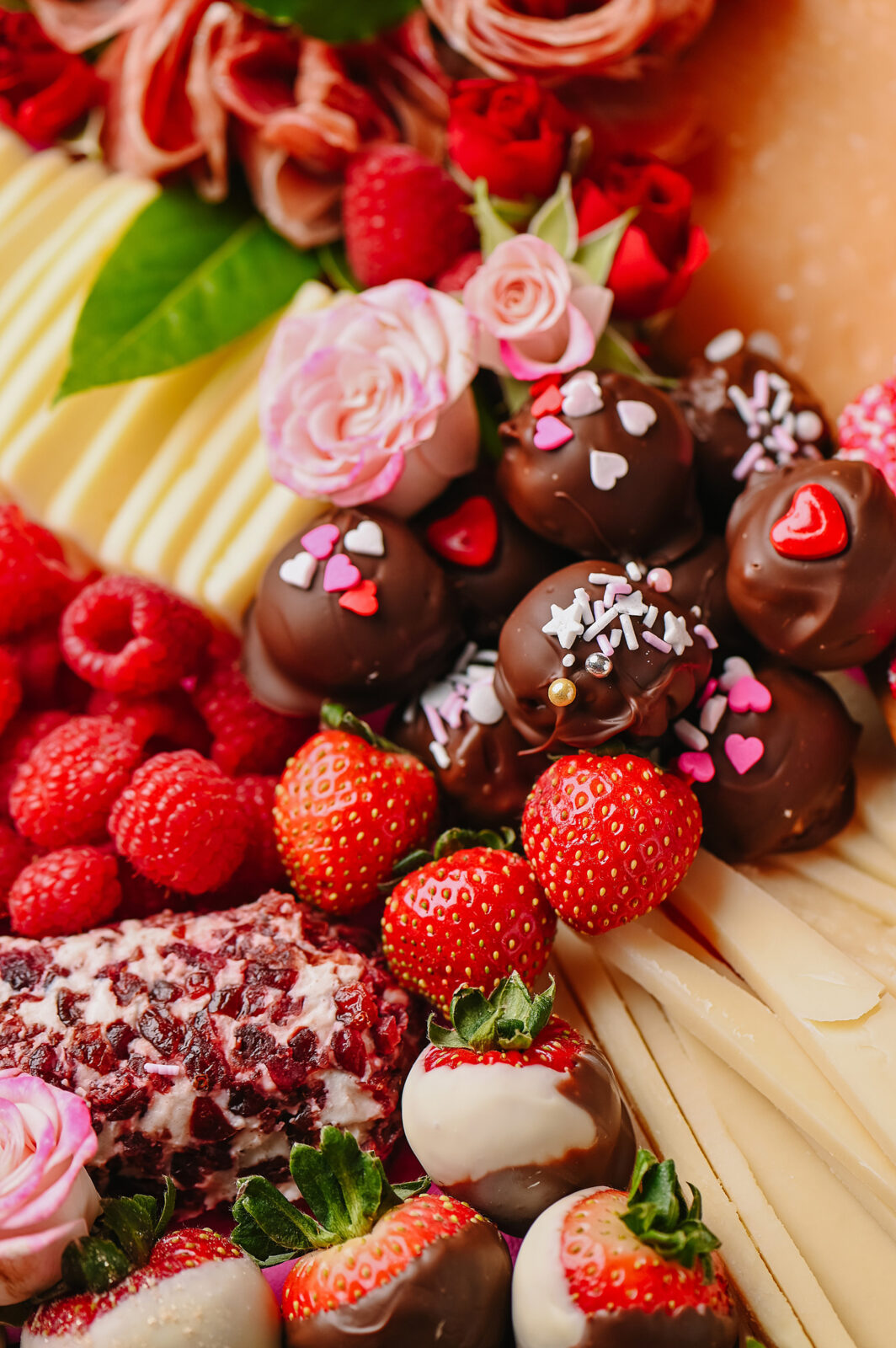 Sweet Pantry Items:
Candied nuts
Dried fruit
Candies
Chocolate 
Caramels
Kettle corn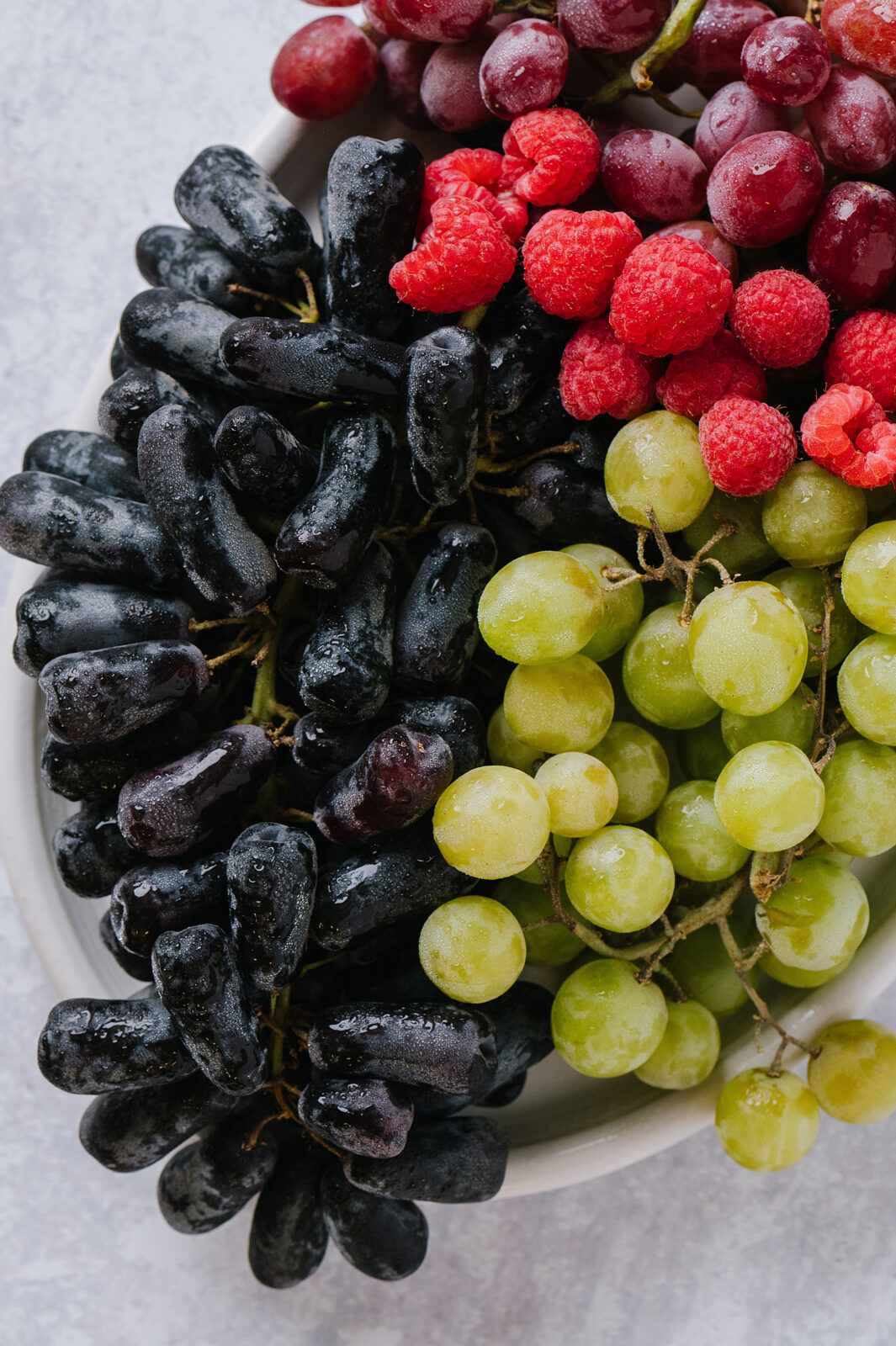 Fresh things to add:
Prosciutto
Herbs
Fruit
Vegetables
Baguette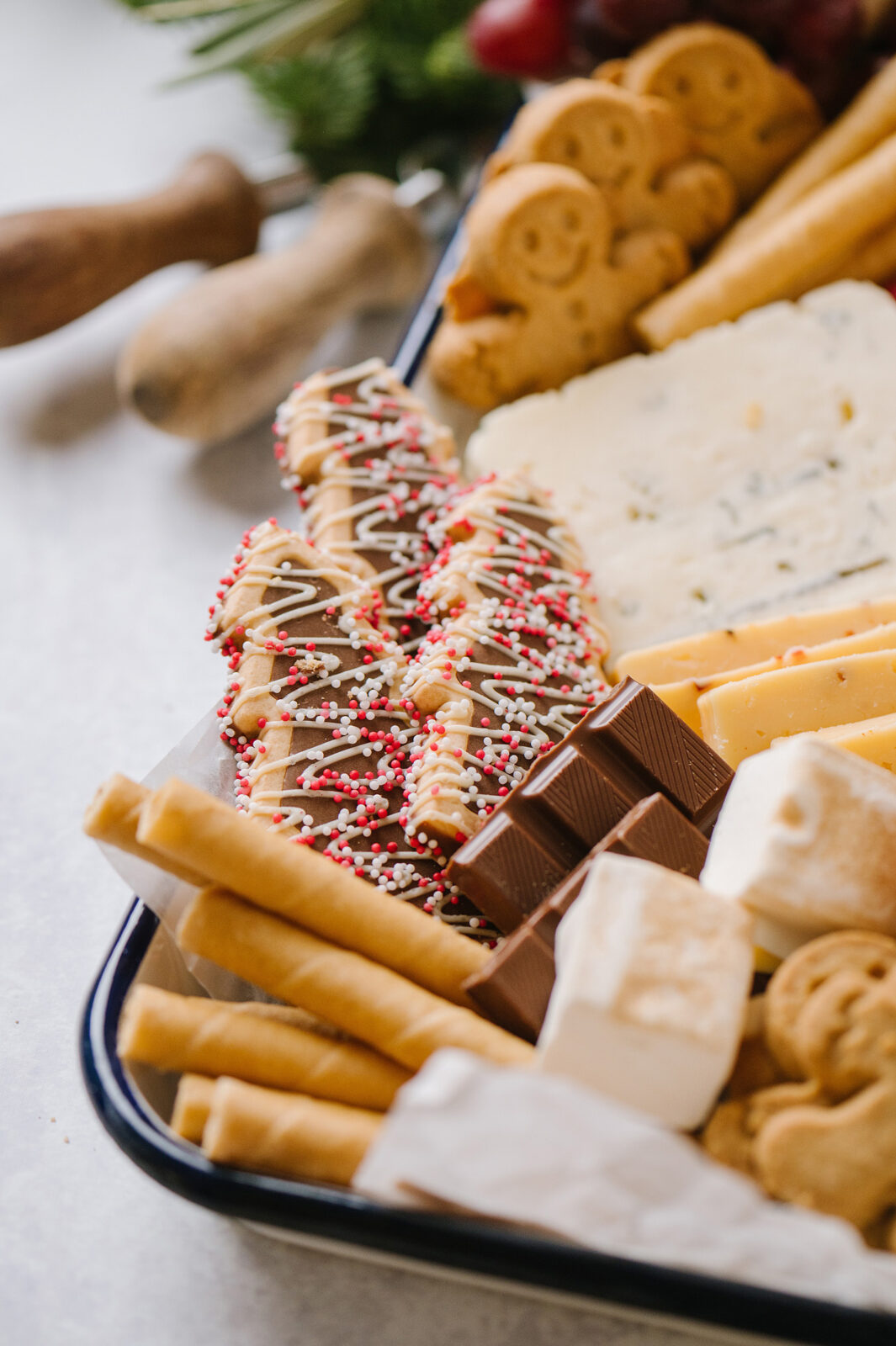 Festive & Seasonal:
Decorated cookies
Seasonal chutney/jams
Spiced items
Seasonal garnishes (think seasonal serving pieces like mini ornaments or glittery mini trees)
Mini cupcakes
Seasonal breads, like pumpkin or cranberry orange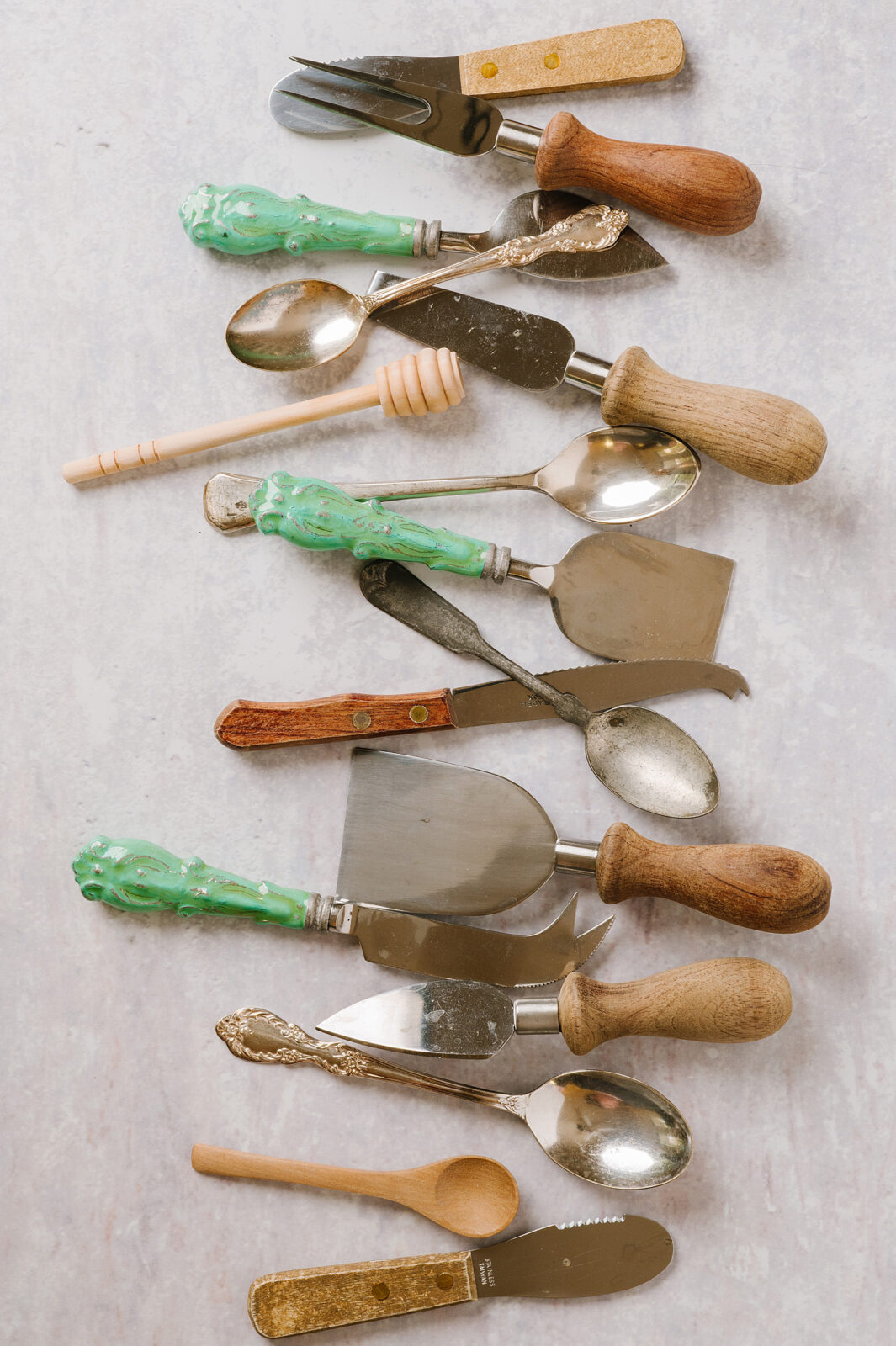 Serving Pieces:
Parchment paper 
Rimmed platters
Large plates
Cheese knives
Small bowls
Spoons, picks, and forks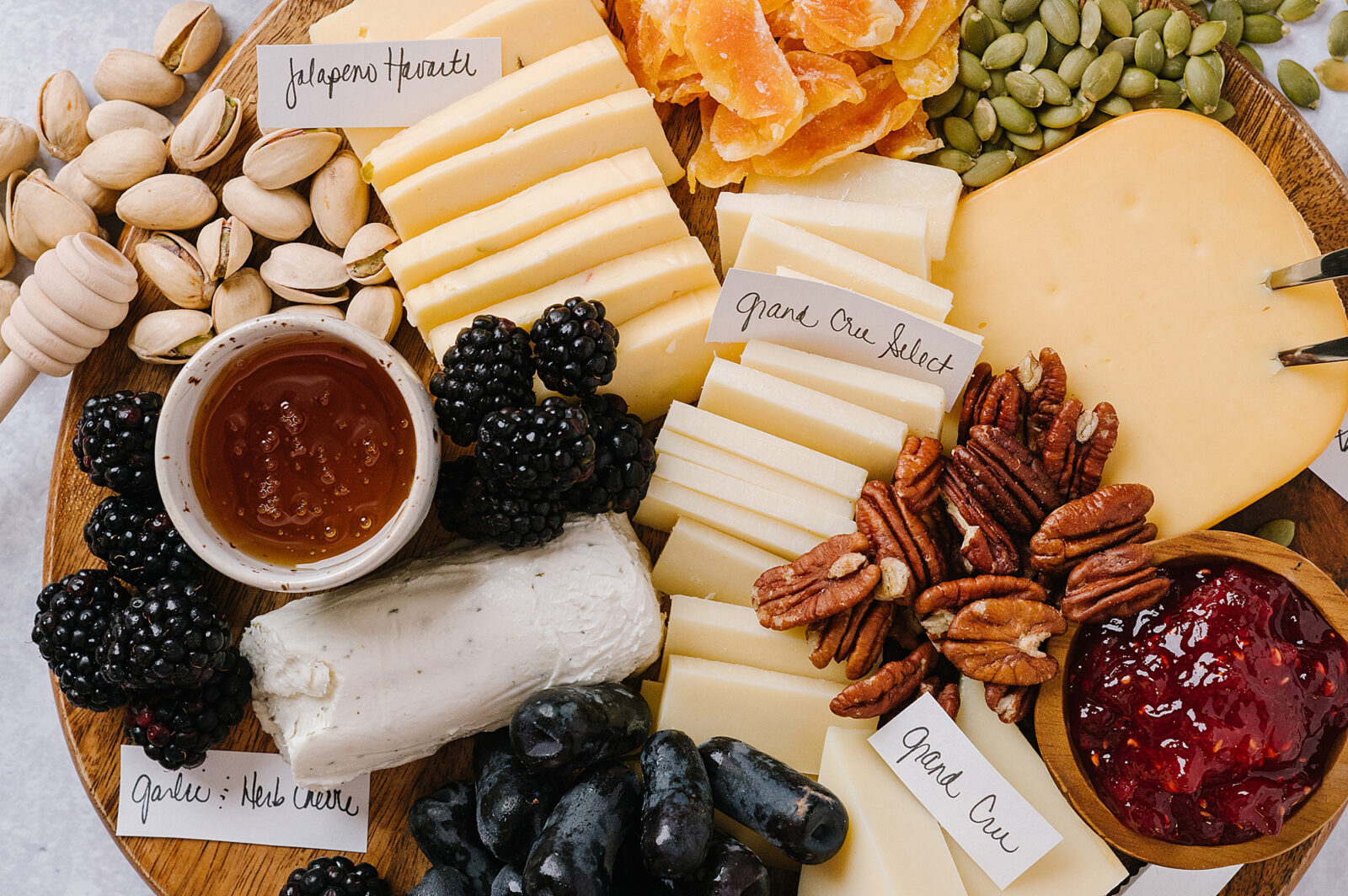 TIP: Line your boards or platters with parchment — this makes clean up so much easier.
You do not need to have everything on this list, but having one or two things from each category will allow you to make a beautiful, well-balanced, festive cheeseboard whenever the mood strikes.
Creating a holiday cheeseboard doesn't have to be difficult. By having a well-stocked pantry and delicious Roth cheese, you will be able to serve your guests at a moment's notice. 
If you need some help styling your board, check out this post. I share all of my best tips for making a board that tastes AND looks amazing.
---