How to Make a Mardi Gras Cheeseboard
How to make a Mardi Gras cheeseboard or Fat Tuesday-inspired cheeseboard with all things yellow, green, purple, and New Orleans!
By: Bree Hester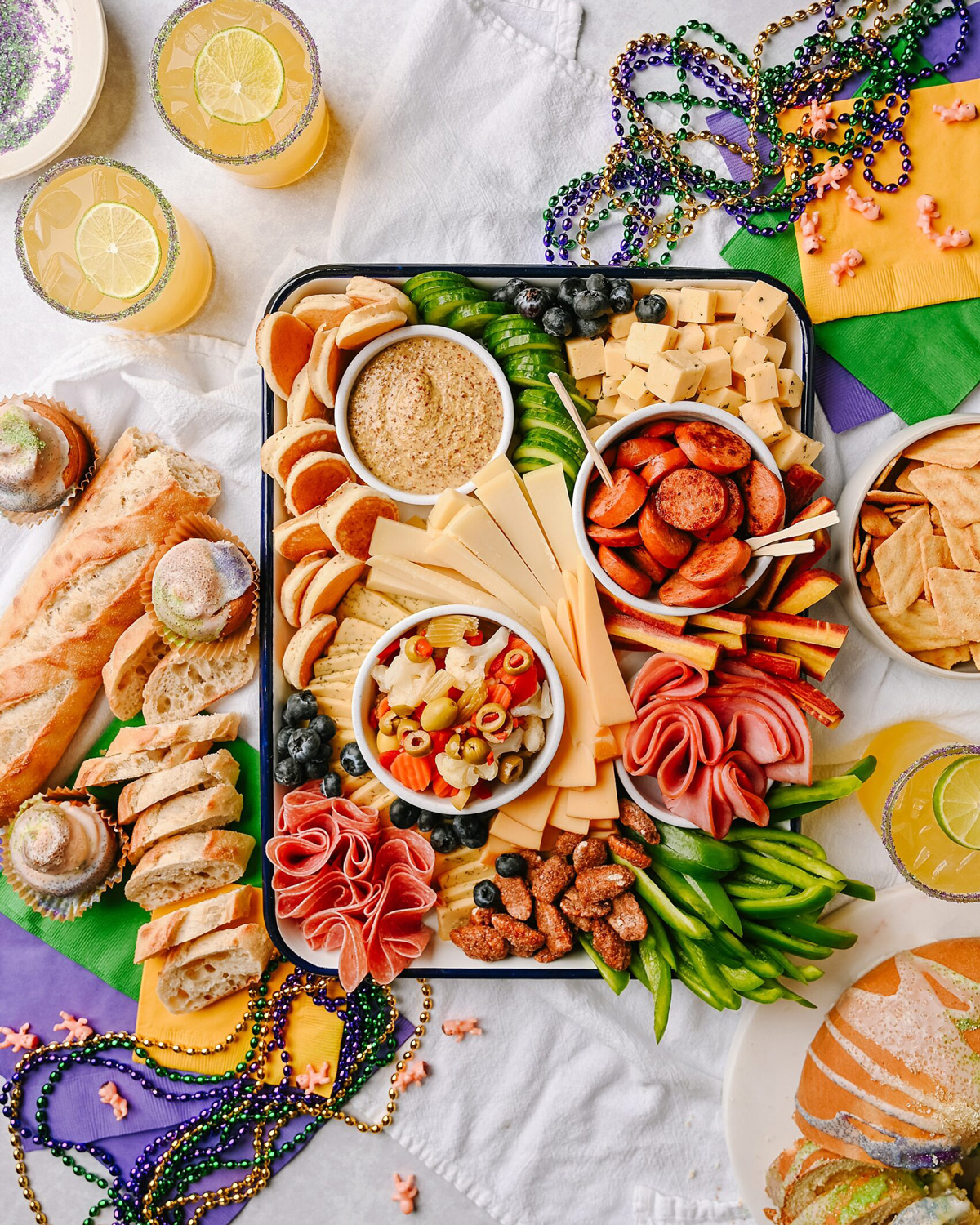 I have never lived in New Orleans or anywhere that truly embraces Mardi Gras, but I do love to celebrate it. You don't really need to give me an excuse to decorate and make food around a theme.
I make a King Cake for my family every year, sometimes multiple times during Mardi Gras season, but for sure on Fat Tuesday. Some people eat pancakes (it's called Shrove Tuesday or Pancake Day in the United Kingdom) or paczki (Polish jelly doughnuts — they are incredible!) to get ready for the Lenten season. Some people go buck wild with the cocktails and the beads. 
This year, we are going all out and will eat so much cheese and meats and King Cake and we will have zero regrets. I feel like we need a reason to celebrate and this is the answer! Have a family Mardi Gras night at home.
How to Create a Mardi Gras-Inspired Cheeseboard //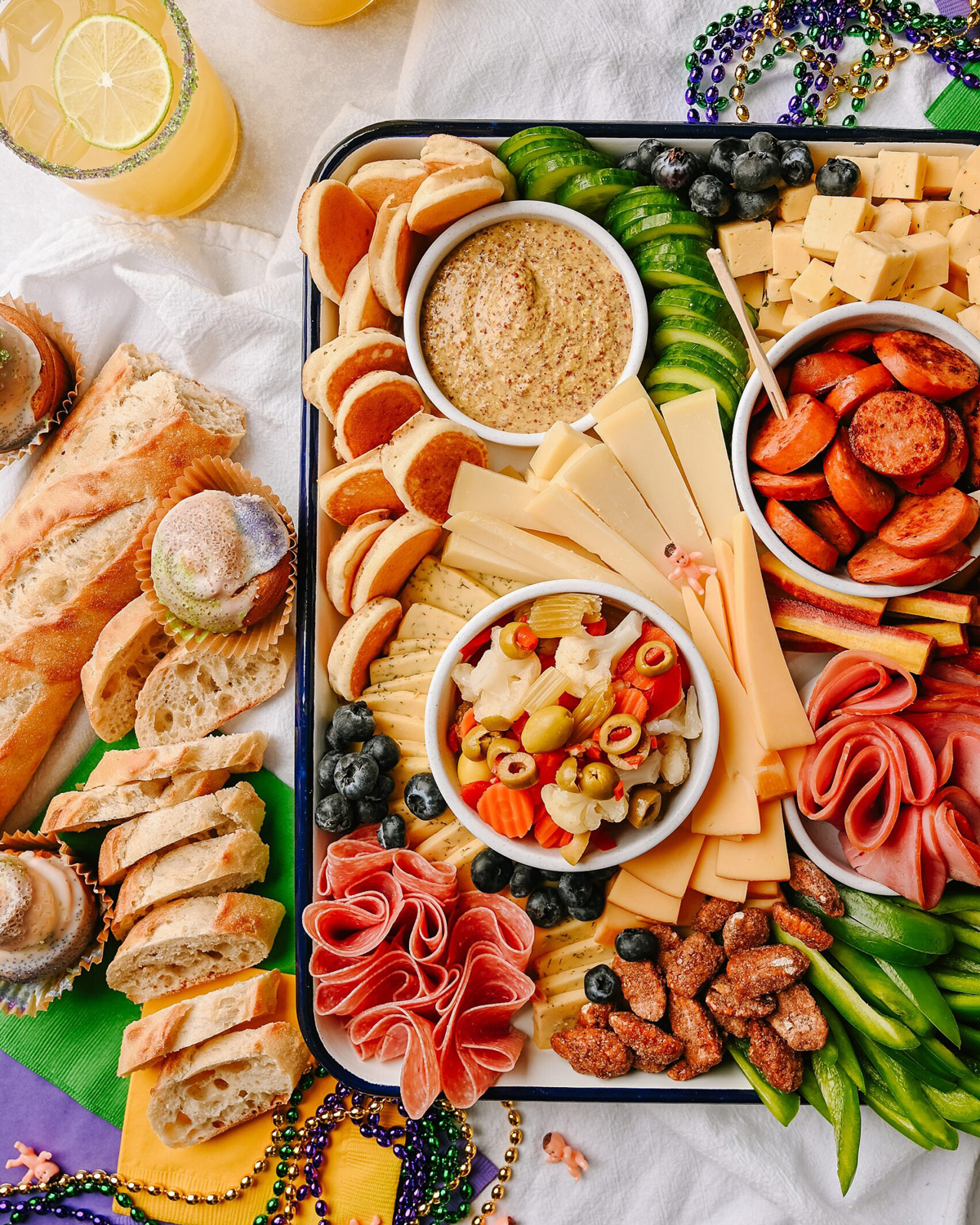 I love a clear theme and this board has one: the colors of Mardi Gras and New Orleans. According to my research, purple represents justice, green represents faith, and yellow or gold represents power. 
New Orleans is what I think of when I think of Fat Tuesday, so I chose things that are from New Orleans and things that you eat while you are there.
I had the BEST time creating this cheeseboard and I can't wait to tell you how I made it. So grab a King's Cup and let's get started!
Researching the Foods of New Orleans and Mardi Gras //
I started by doing a little research into foods that can be found and eaten in New Orleans. I wanted things that are easy to eat, go well on a cheeseboard, and loosely all tie into my Creole and Cajun theme.
King Cake // King Cake had to be on there. It's the first thing I think of when I'm thinking about Mardi Gras. I made this one, but you can order them and have one shipped from Louisiana straight to your door. I've done this before and love how many different fillings you can choose from. I did an easy cheese filling for this one.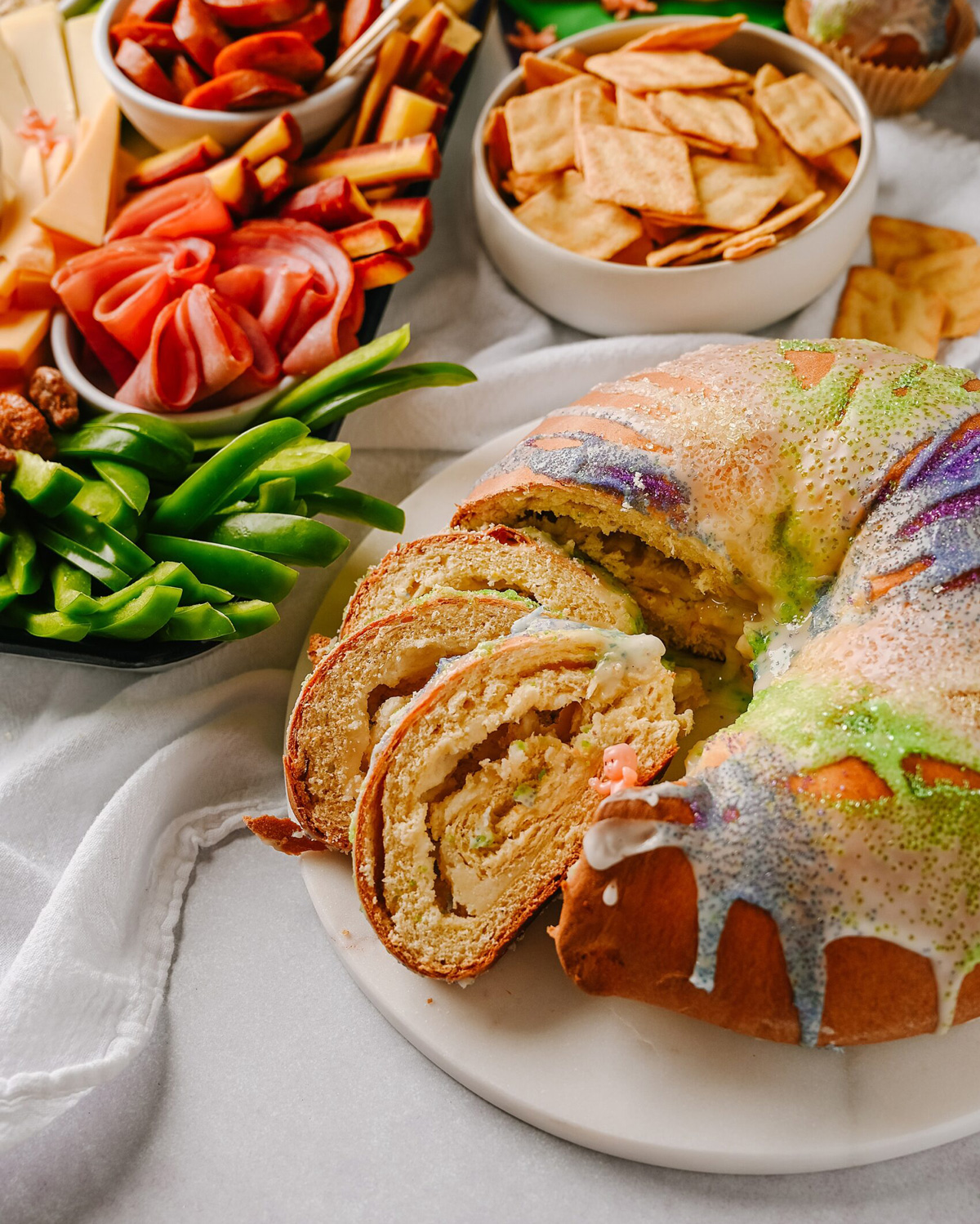 Andouille Sausage // Is found in so many Creole and Cajun recipes. It is a smoky pork sausage that is the base of so many famous Louisiana recipes. I cut mine on the bias and seared it until the sides were golden and crisp, like you do with kielbasa. 
Creole Mustard // Creole mustard is grainy, spicy, and an essential ingredient in remoulade sauce that is also a New Orleans staple. It's delicious to dip your Andouille into.
Praline Pecans // I'm of the humble opinion that there needs to be a sweet element on every cheeseboard. You can't visit a touristy Southern city without being hit in the nostrils with the delicious aroma of burnt sugar and roasted pecans. I worked next to a candy shop that made them while I was in college and think that for a few years I was ⅕ praline pecan. They are the perfect sweet element for this cheeseboard. 
Pancakes // When I was thinking about what to put on this board, the idea to add baby pancakes came to me in the middle of the night (ALWAYS THINKING ABOUT FOOD) and I'm so glad I remembered it when morning came around. I made silver dollar-sized pancakes as a nod to Shrove Tuesday. I used my favorite store-bought pancake mix, but you can always make homemade pancakes.
French Bread // Crusty French baguette because there is so much French influence in the food and culture of New Orleans, this had to be a vehicle for getting cheese to mouth.
Cornbread Crisps // Also a nod to the South where cornbread and biscuits are found on almost every table. And the yellow color was a plus too.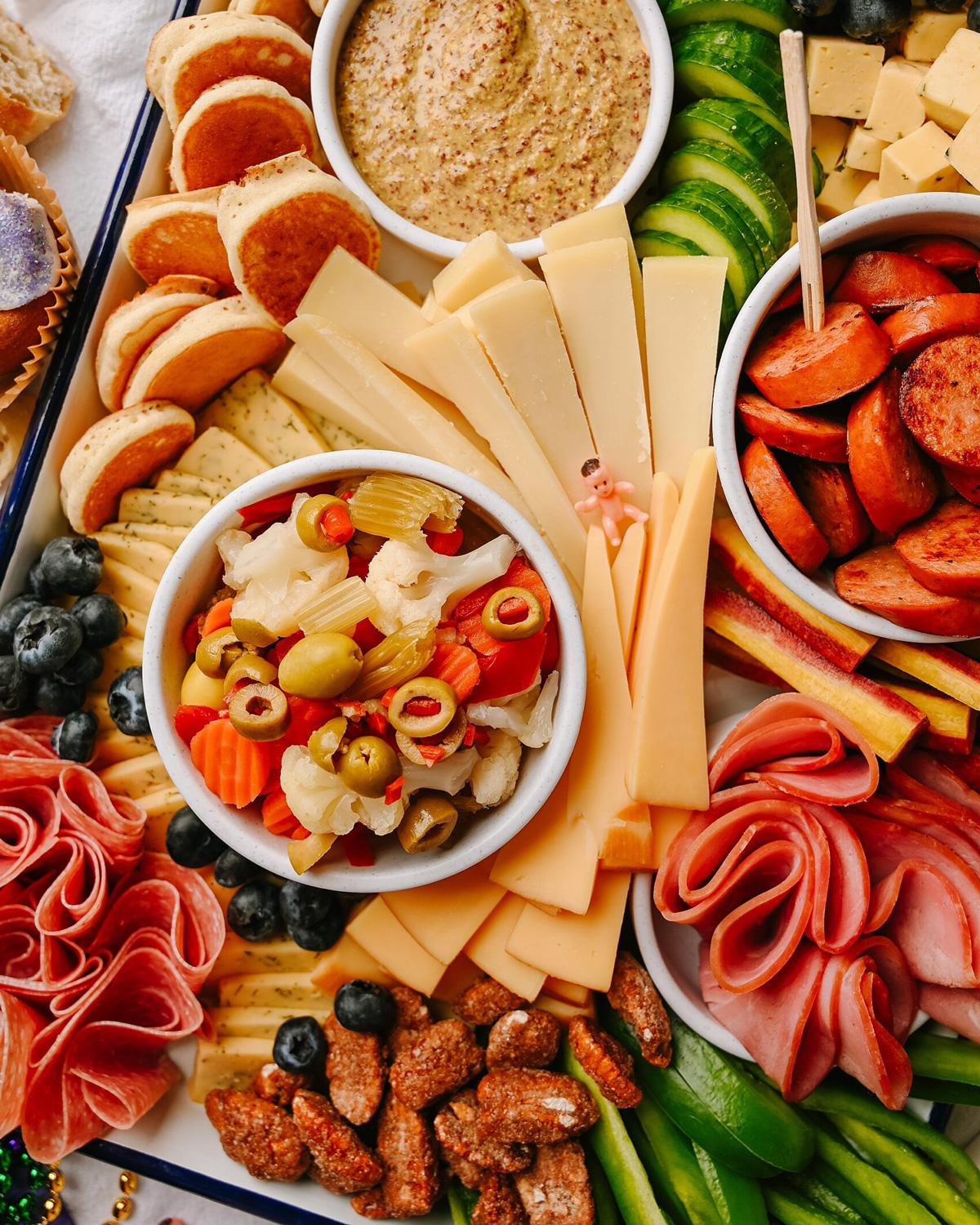 Muffaletta Ingredients // If you've ever gone to New Orleans, you have seen and heard of the famous muffaletta sandwich. There is an olive salad, lots of meats and cheeses, and is often served as an entire loaf bread. It's pressed, so when it's cut, it has really beautiful layers. I have a bowl of olive salad ingredients, ham, salami, and lots of cheese to choose from. With the French bread, you could make yourself a muffaletta-like sandwich.
The Rest // To round out my Mardi Gras cheeseboard, I picked fruits and vegetables that fell into my color palette. Purple and yellow carrots, yellow and green peppers, blueberries, and cucumbers.
The Roth Cheeses I Used for This Board //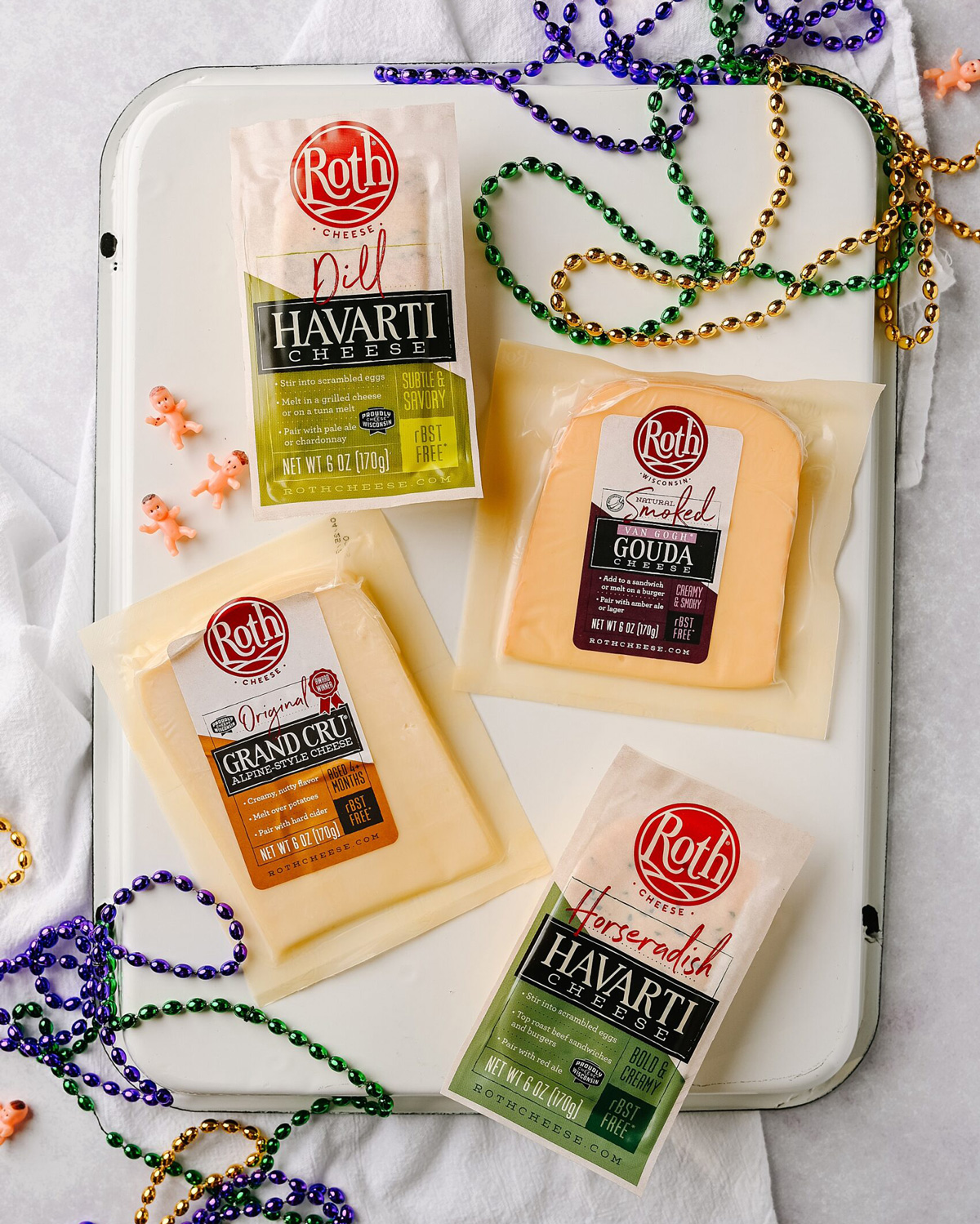 For full disclosure, I chose my cheeses based solely off of color. Thankfully, Roth Cheese never lets me down and I had cheese that is yellow AND yellow with flecks of green! (When you are committed to a theme, you really need to COMMIT!)
Natural Smoked Van Gogh®️ Gouda // This is one of my favorite cheeses in the entire Roth Cheese lineup. This cheese is creamy, smoky, and incredible. It is also made for a perfect bite – A piece of French bread, a teeny bit of mustard, a slice of smoked Gouda, and topped with pecan praline. Trust me, it's perfect!
Grand Cru®️ // Grand Cru® makes an appearance on every board I make now because it is my husband's favorite cheese. It also pairs perfectly with an icy cold beer, which goes great with a muffaletta.
Dill Havarti // I think that Dill is often overlooked as one of the best herbs. It's so fresh and light and I use it in salads all the time. Add it to some Havarti and it makes a really delicious cheese even more delicious. (This cheese is really good on a fried egg sandwich.)
Horseradish Havarti // I LOVE horseradish. I worked in a restaurant that had jars of really spicy horseradish and oyster crackers on each table. I would eat it and cry because it was so hot, and I loved every second of it. The creaminess of the Havarti cuts the spiciness of the horseradish and has just the right amount of kick. This Havarti also has chive and mustard seed in it. I need to experiment with this cheese more because I think that it would be amazing melted on so many things.
Some Extra Festive Things //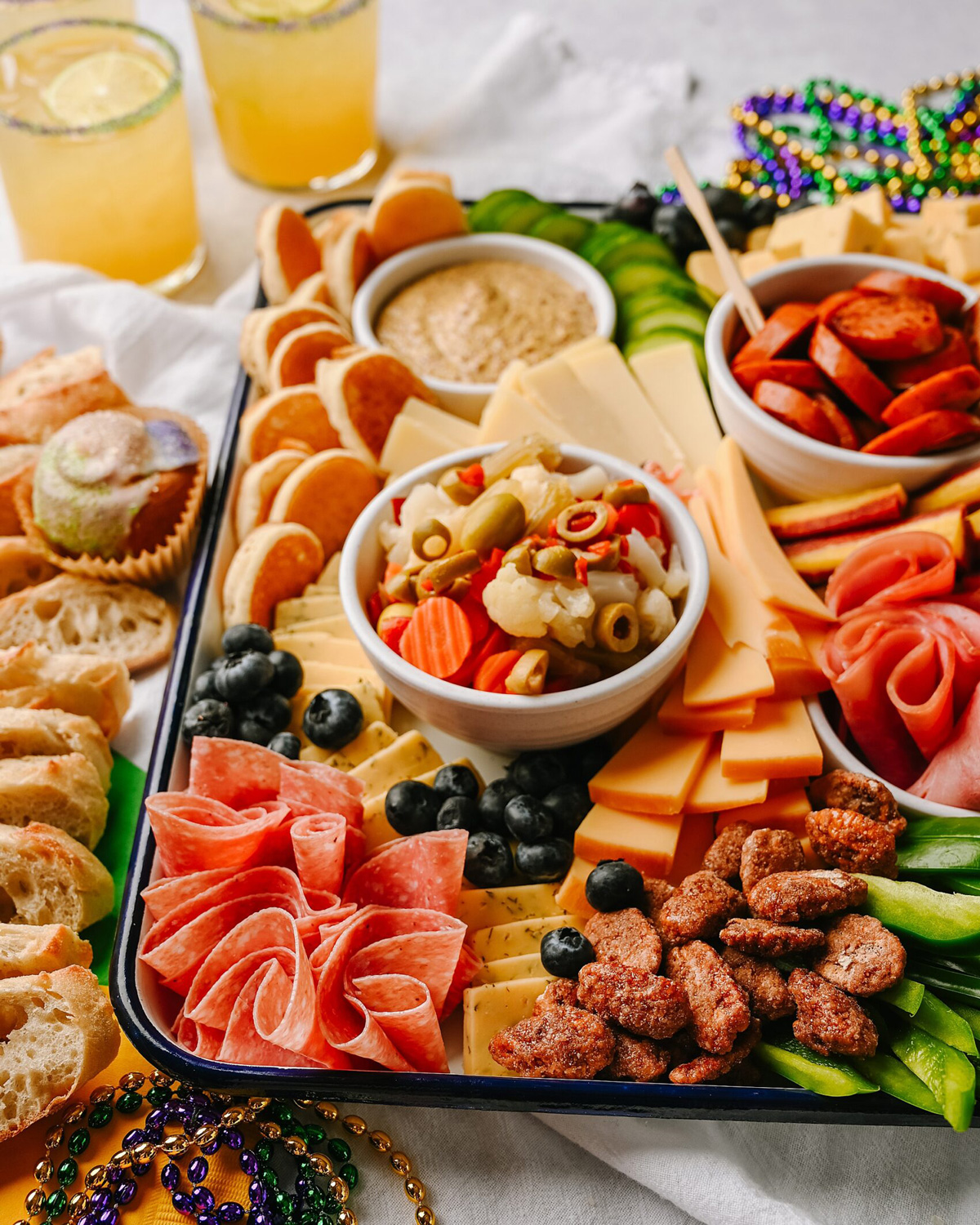 To make the table I served this on even festive, I bought some yellow, green, and purple napkins from a party store. I put a few of each color under the cheeseboard and it adds so much color and makes everything pop.
Mardi Gras beads and King Cake babies! I bought a big bag of 100 beads on Amazon and am set for life. I put strands all around the table and the cheeseboard to get us in the Mardi Gras mood. I also bought little plastic babies that are found in King Cakes and used them in cocktails and around the table to set the tone.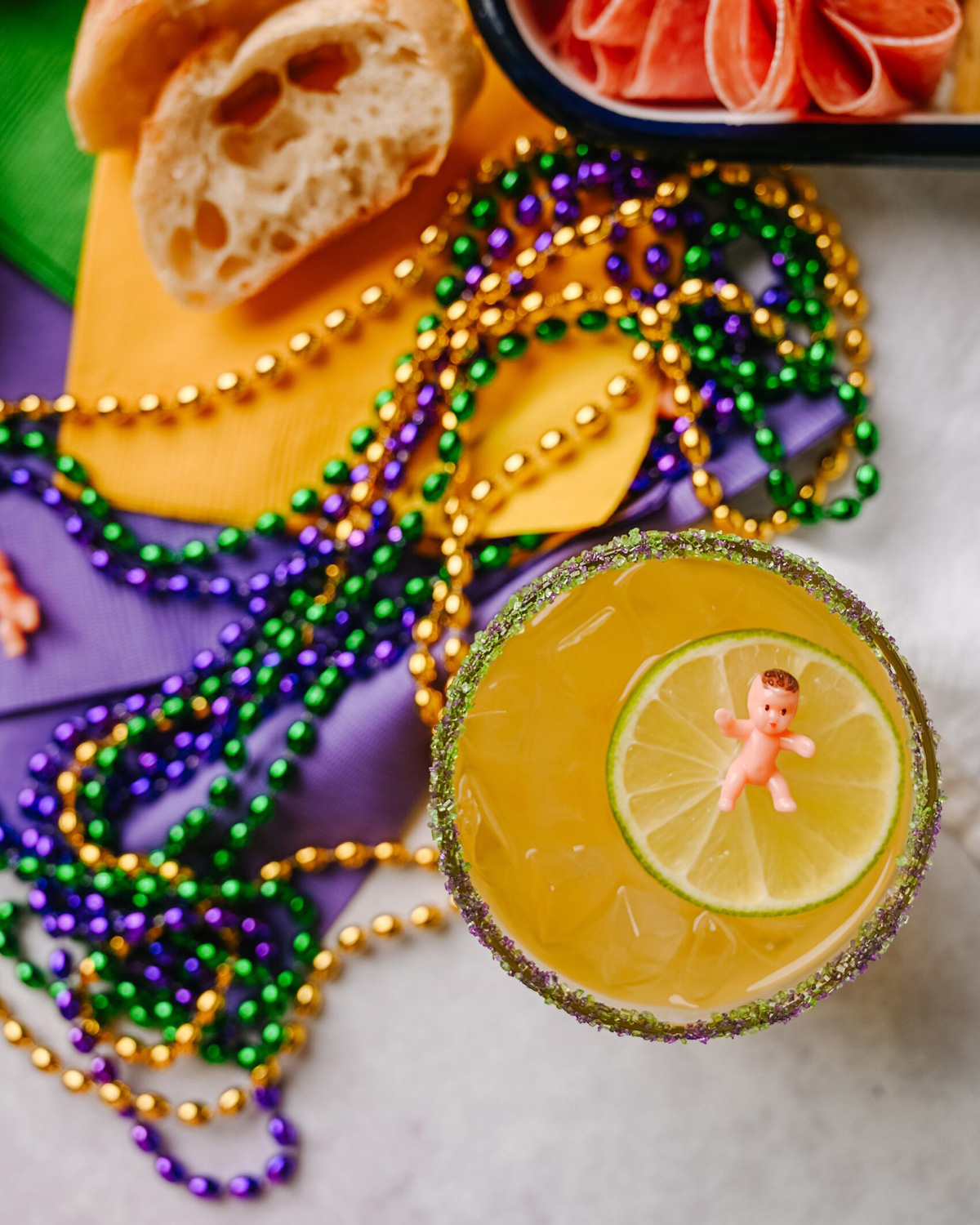 Lastly, I made a batch of King's Cup Cocktails. A really delicious coconut, lime, and pineapple drink with a green and purple sugar rim that is so good and really fits with my whole theme. 
I hope you loved this post as much as I loved creating it. I had the best time thinking of ideas and decorating and making something special for my family when we need a weeknight celebration.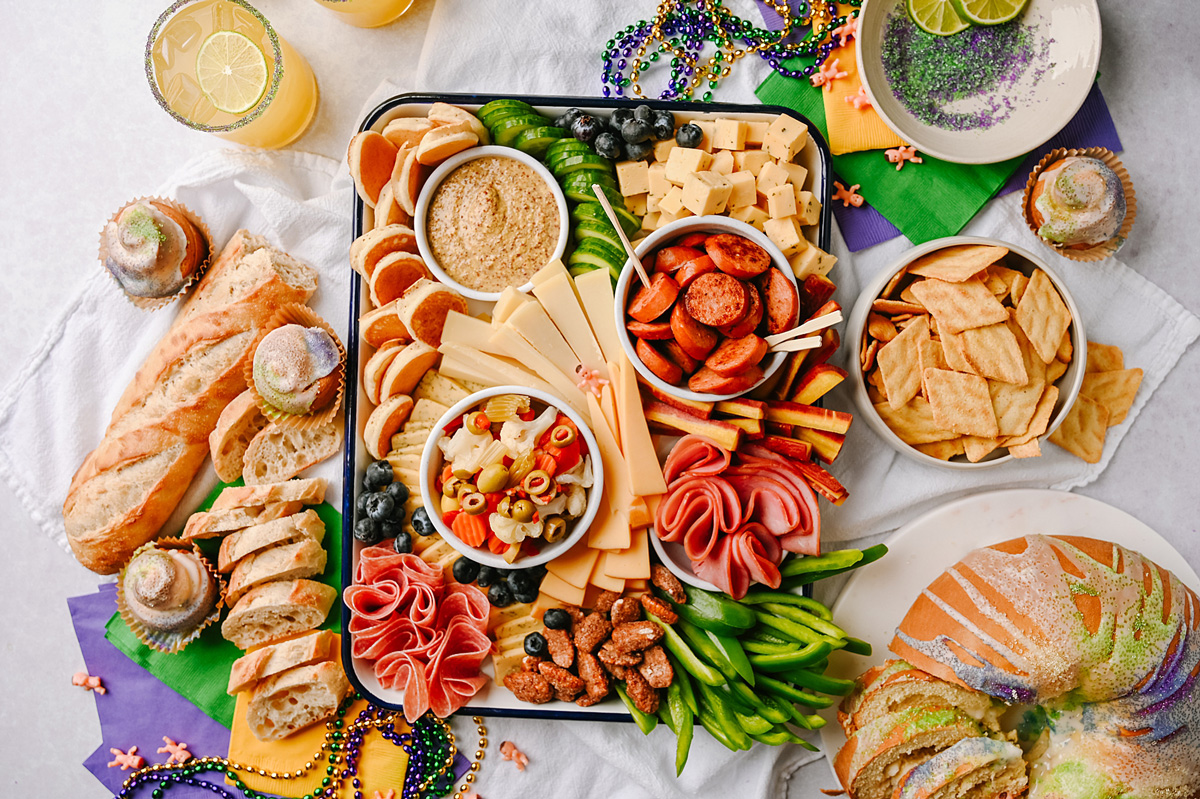 ---