Beer & Cheese Pairing Guide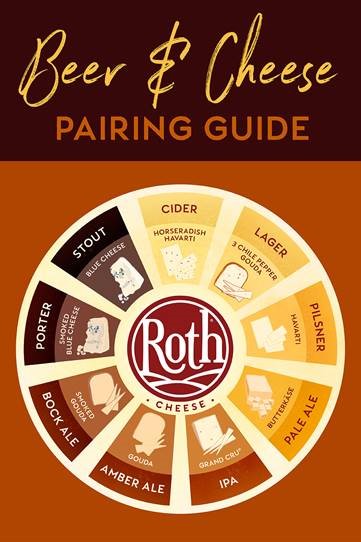 Us Wisconsinites pride ourselves on two things: CHEESE and BEER.
Our state's cheesemakers craft the world's best cheeses. In fact, our Grand Cru® Surchoix was named World Champion at the 2016 World Championship Cheese Contest. In addition to our ubiquitous cheesemongering, Wisconsin brews some pretty dang good beer. We named our pro baseball team the Brewers, after all!
What could be more appropriate than a beer and cheese pairing guide to supplement all that consumption? Wisconsinite or not, beer and cheese are a classic duo. Here's our guide for enjoying beer and Roth Cheese in the best way:
Much like wine, we need to start by considering the body of the beer versus the body of the cheese. For the ultimate match, the body of the cheese should match the body of the beer. For instance, a rich, creamy beer will pair nicely with a rich, creamy cheese — we suggest our Buttermilk Blue® paired with a dark porter or a stout.
But pairing isn't always about being matchy-matchy. There are also contrasting pairs…opposites attract, right? Let's say we have a spicy cheese. Adding a second strong flavor will overwhelm the heat. Instead, we want to balance it with a beer that will cool the palate without taking away from that wonderful spice. We suggest our Jalapeño Havarti with a mild lager or pilsner.
Finally, we need to consider the nuances of flavor. Beer and cheese come with diverse flavor profiles, so we suggest making a tasting game of it. Taste test different combinations to find specific notes in the cheese that match those specific notes in a beer. Our Grand Cru® has lovely, light floral notes with a mellow and nutty finish which compliment the earthy, bitter hops of an IPA.
Most importantly, make it fun! The only way to find your favorites is to try different pairs. You'll probably find some you don't like along with some killer ones you'll eat again and again. Those unsuspecting gems are what make it all worth it in the end.
What's your favorite beer and cheese pairing?