Helpful Holiday Cheeseboard Tips
By guest contributor: Bree Hester, Baked Bree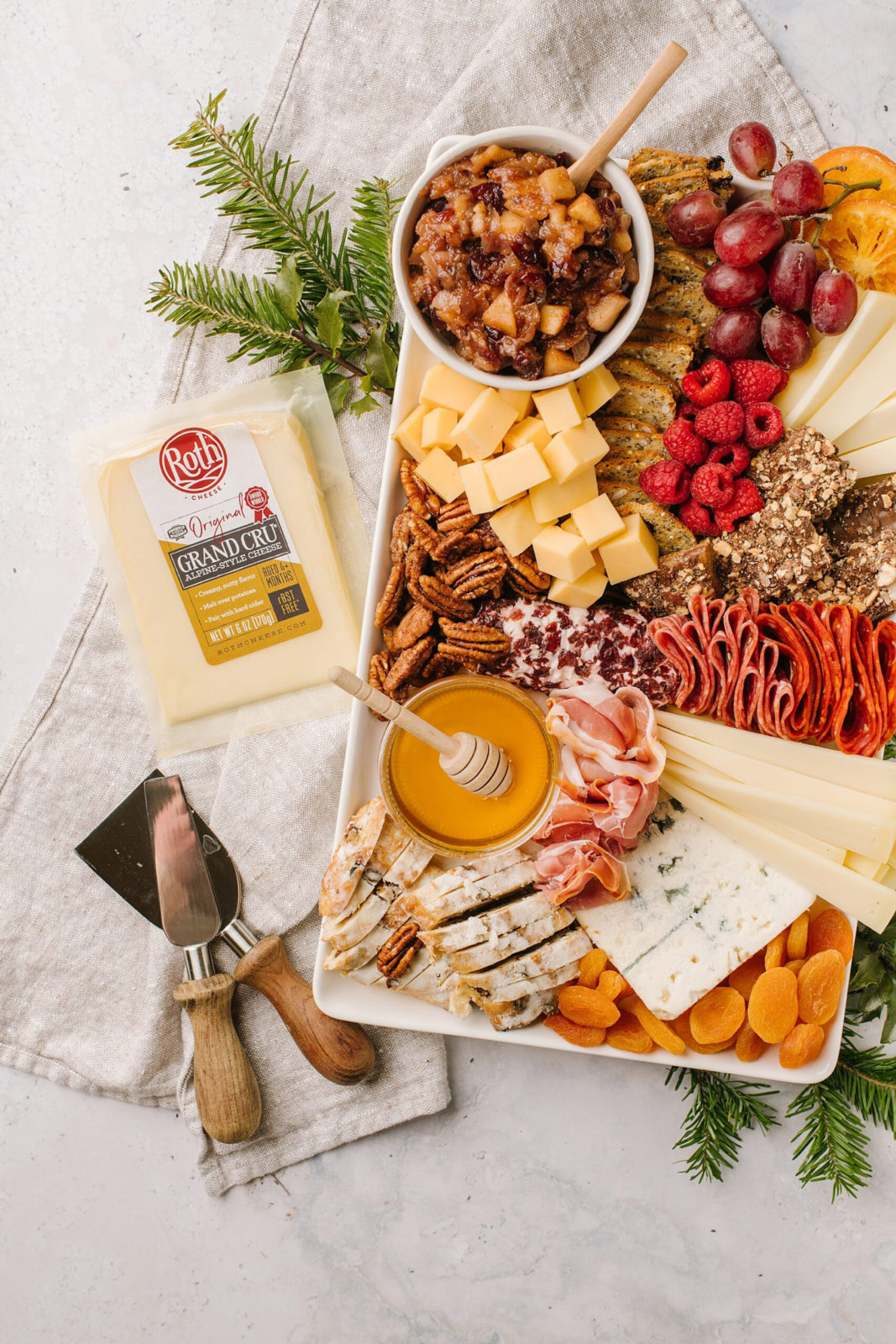 Our holidays this year might be smaller, but that doesn't mean they won't be full of traditions or as festive. Growing up, we had a cheeseboard as part of our Christmas morning breakfast. This was before cheese boards were part of our everyday vernacular. We had cheese and crackers, but not like the full spread.
We felt very fancy eating cheeses we picked out at the gourmet cheese shop, with little jars of mustards and jams, teeny tiny pickles, olives, and crusty bread while wearing our pajamas after opening our presents.
Now, we don't save the good cheese for just Christmas morning, we eat cheese boards with the good cheese on them all the time at home. We keep a well-stocked pantry so we can throw together a good cheese pairing at a moment's notice. And we do. Often.
One upside of 2020 is that we can buy excellent quality cheeses at our local grocery store any time we want.
A few years ago, I went to Wisconsin and met a few cheesemakers, and toured their facilities. I sampled their cheeses and saw firsthand the pride and love they put into their product. People just don't make cheese, they live and breathe cheese. 
It stayed with me and now I actively seek out Wisconsin cheeses, like Roth Grand Cru®, because I know that they will be made with milk that comes from family farms. More often than not, you can see the silo from the parking lot, they are that close. 
Roth Cheese is a brand that I look for in the cheese case because I know that I'm going to get a well-crafted and delicious cheese, made with all-natural ingredients and rBST-free milk, no matter which variety I choose. I also really like that all of the packages have pairing and cooking ideas on them.
I've made so many cheese boards that I think that I have cracked the code for making stellar ones every time that are just as pretty as they are tasty.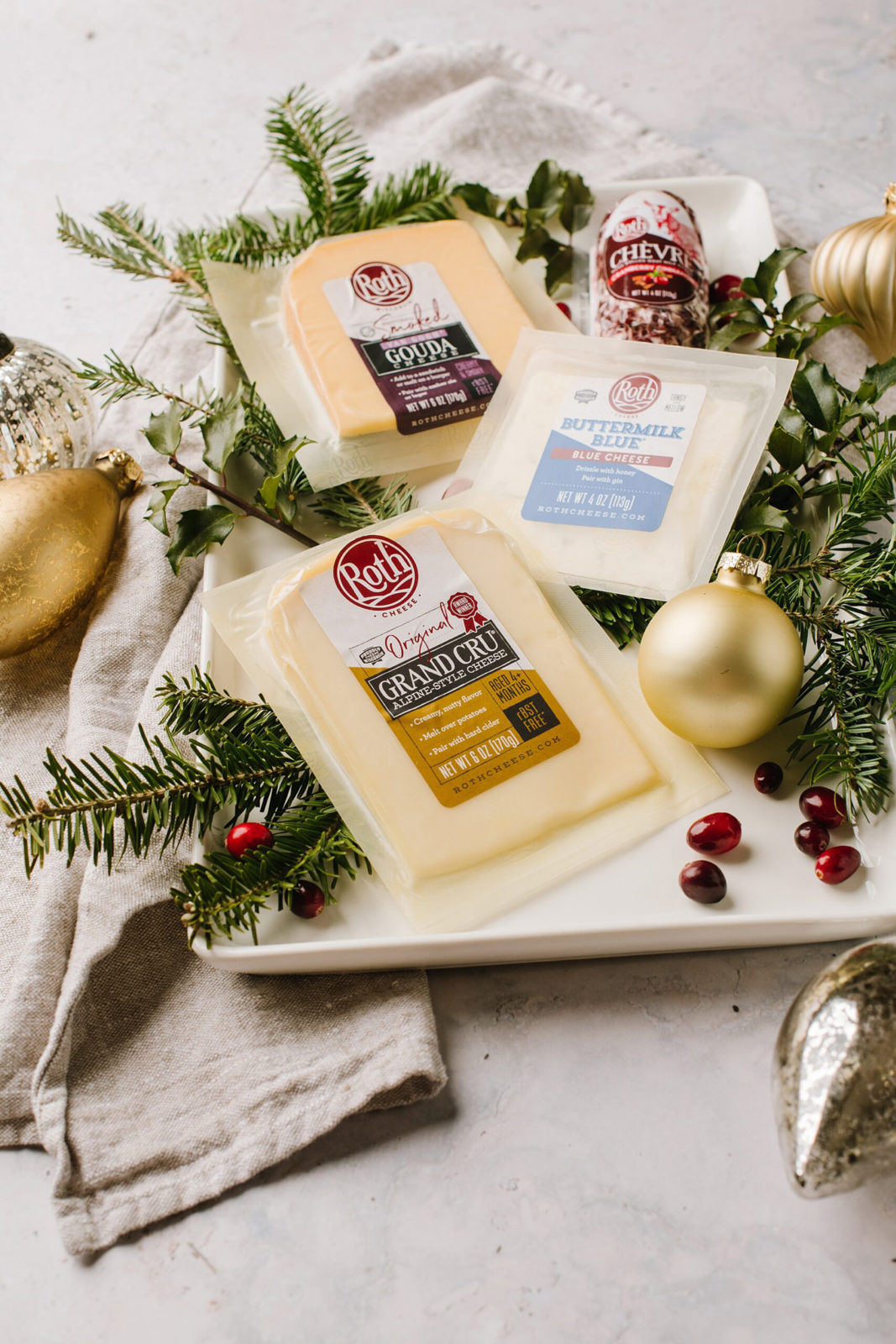 How to Choose Cheese For Your Board //
When I'm making a cheese board, I want a few different kinds of cheese. Different textures, different flavor profiles, different ages, different colors. I want there to be lots of different bite possibilities.
For this board, I have Grand Cru®, Buttermilk Blue®, Van Gogh Gouda, and Cranberry Cinnamon Chèvre.
Age // Grand Cru® is Roth's signature alpine-style cheese. It is similar to Gruyère, cultured in cooper vats and then aged for 4+ months. It is delicious for snacking, but also melts beautifully. We also use this for our New Year's Eve raclette because it's heaven melted over roasted potatoes.
Texture // Buttermilk Blue® is a creamy and mellow blue that is aged for two months. A lot of blue cheeses can be too strong for me, but this one is just right. 
Flavor // Van Gogh Gouda is slightly sweet and mellow. It also melts well and is delicious in mac and cheese.
Color // Cranberry Cinnamon Chèvre is a creamy goat's milk cheese rolled in dried cranberries and dusted with cinnamon.
You can find Grand Cru® and other Roth Cheeses at your local grocer. Use their store locator for the closest location to you.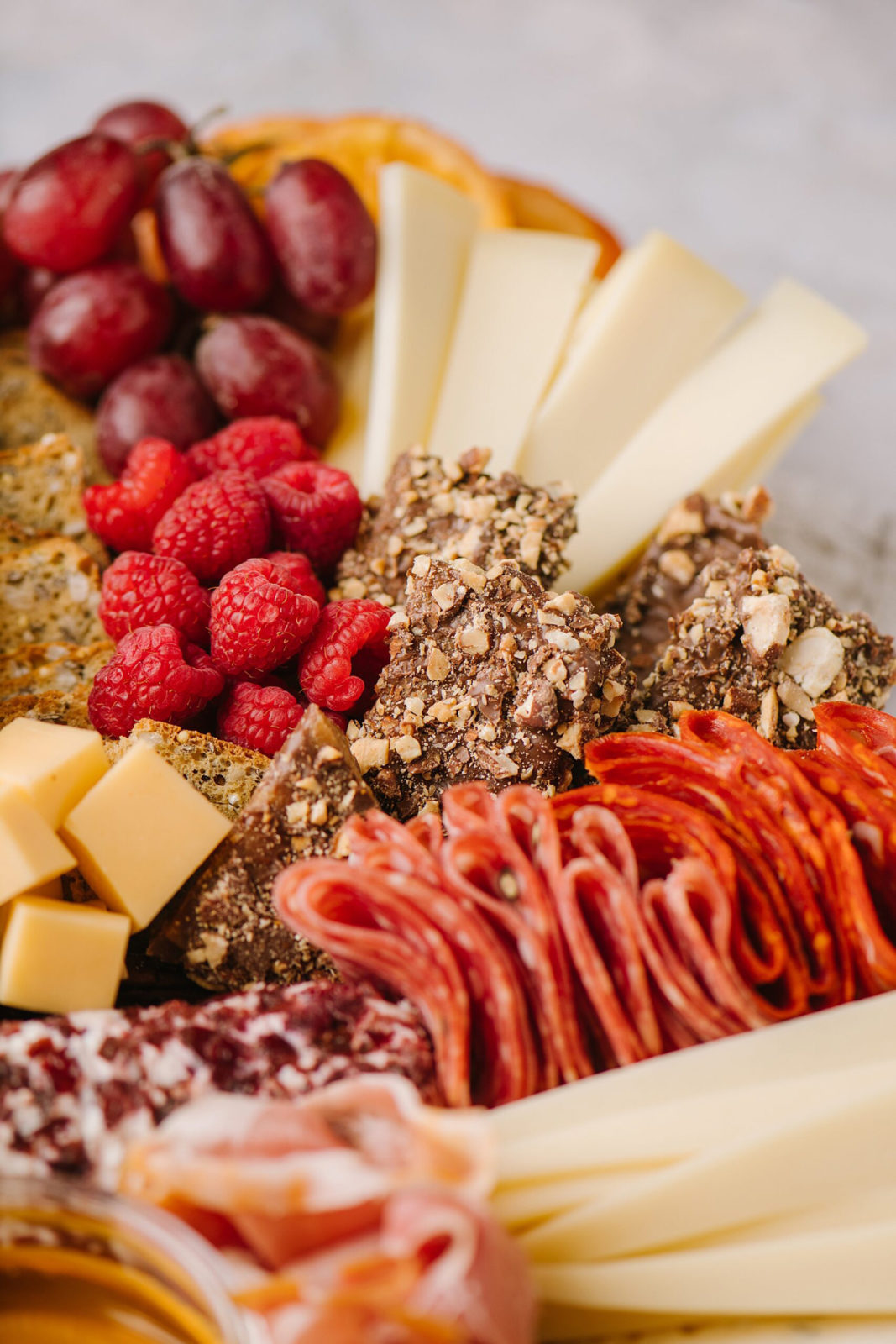 What to Put on Your Cheese Board //
Like with the cheeses you choose, you also need a variety with the other things on the board. Crunchy, sweet, salty, spicy. The way I like to think about it, combinations of things to make amazing bites. I also like to put on things that are seasonal or unexpected and fun, like the stollen on this board.
Meats // Salami, prosciutto, ham, any cured meat you like
Fresh Fruits // Apples, pears, grapes, peaches, berries, cherries, figs
Dried Fruits // Dried cranberries, apricots, figs, mango
Nuts // Almonds, candied pecans, walnuts, pistachios, cashews
Condiments // Jams and jellies, honey, mustard, chutney, tapenade, pepper spread
Delivery// Crackers, flatbreads, breadsticks, pretzels, crusty bread
The Unexpected // Chocolates, potato chips, caramel corn, pickled vegetables, seasonal things, cookies
I made a homemade Apple Cranberry Chutney and it will go perfectly with the Grand Cru® and the other cheeses on this board.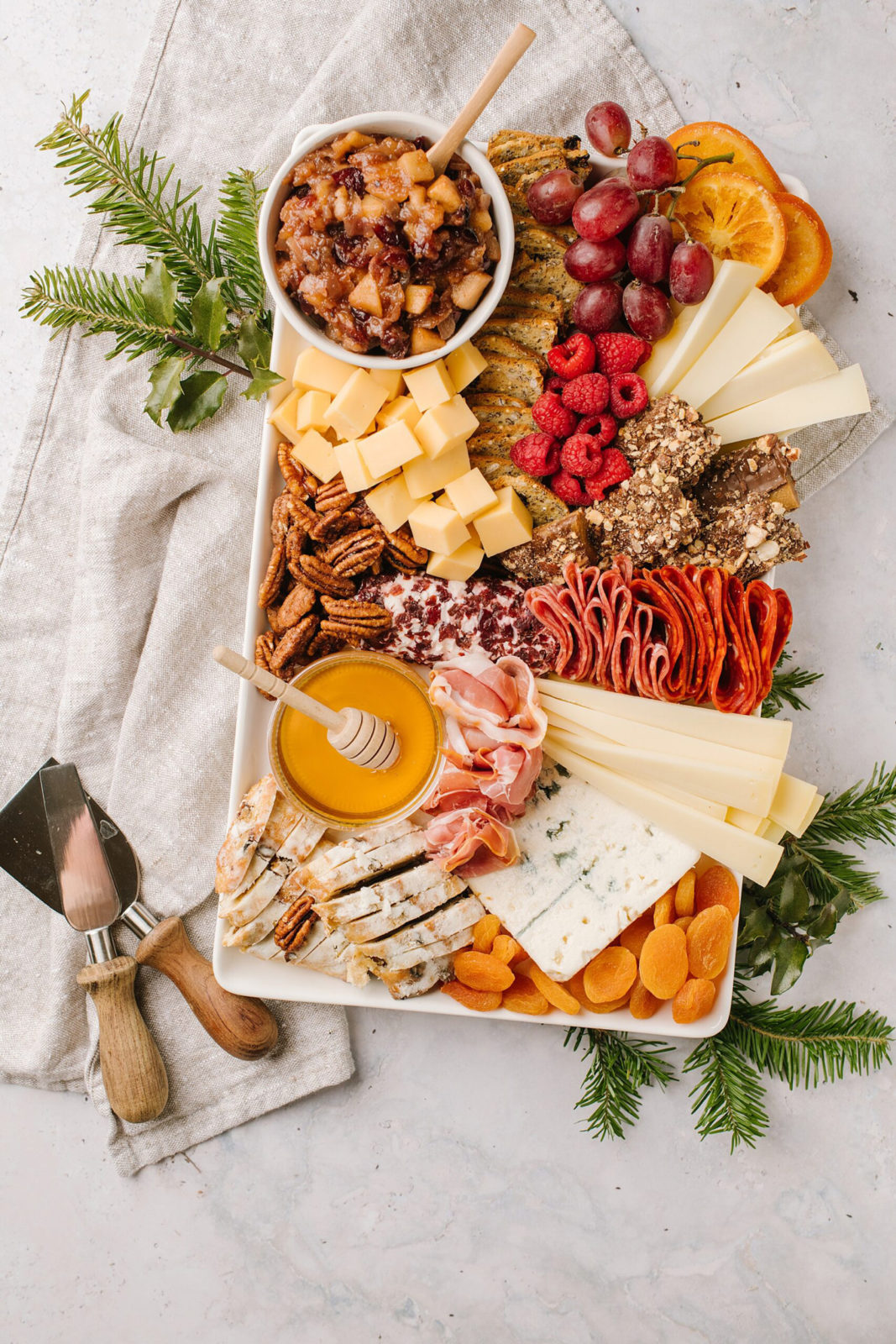 How to Put Together A Visually Appealing Cheese Board //
The beauty of a cheese board is, well, cheese. But also they are really beautiful on your table. There are some tricks for making them look Instagram-worthy.
Lay your cheeses out first // Your eyes are trained to see things in triangles and patterns. Cheese is often round and sliced into a triangle. I place the cheeses in a general triangle shape on the platter and point the edges towards each other. I also will pre-slice or cube some for ease of eating, but also visual interest.
Color // I pick a color palette and try to pick things that will compliment each other. This board has lots of warm colors – reds, oranges, and yellows. All the colors work together and don't compete with each other. You can also do the opposite – pick colors that are opposite on the color wheel. Purple and green, blue and orange, or red and green.
Make it look abundant // I like my boards to look overflowing. Use a smaller platter or container and pile things higher on it.
Fill all the space // I really like how a full platter looks. Where you can't see the surface that the food is sitting on. It looks like a rectangle of meats and cheeses sitting on a table and I'm here for that. Nuts, dried fruits, and berries are really good filler for this.
How can you arrange it in a different way // Instead of just taking a handful of crackers on putting them on a platter, maybe stack them or line them up or wave them around a bowl? Maybe fold meats into ribbons or pile them into little purses (this is really good for prosciutto)?
Think in odd numbers // Your brain tells your eyes to see things in patterns, and it also really likes odd numbers. So groupings of 3's and 5's draw your eye around your platter.
Don't overthink it and have fun // Even though I was styling this board to be shot for a post, it took me less than 10 minutes to put it together. I think that when you are working with foods that are naturally colorful and beautiful like cheese and fruit and chutneys, it is difficult to make it look anything less than gorgeous. Just have fun with it.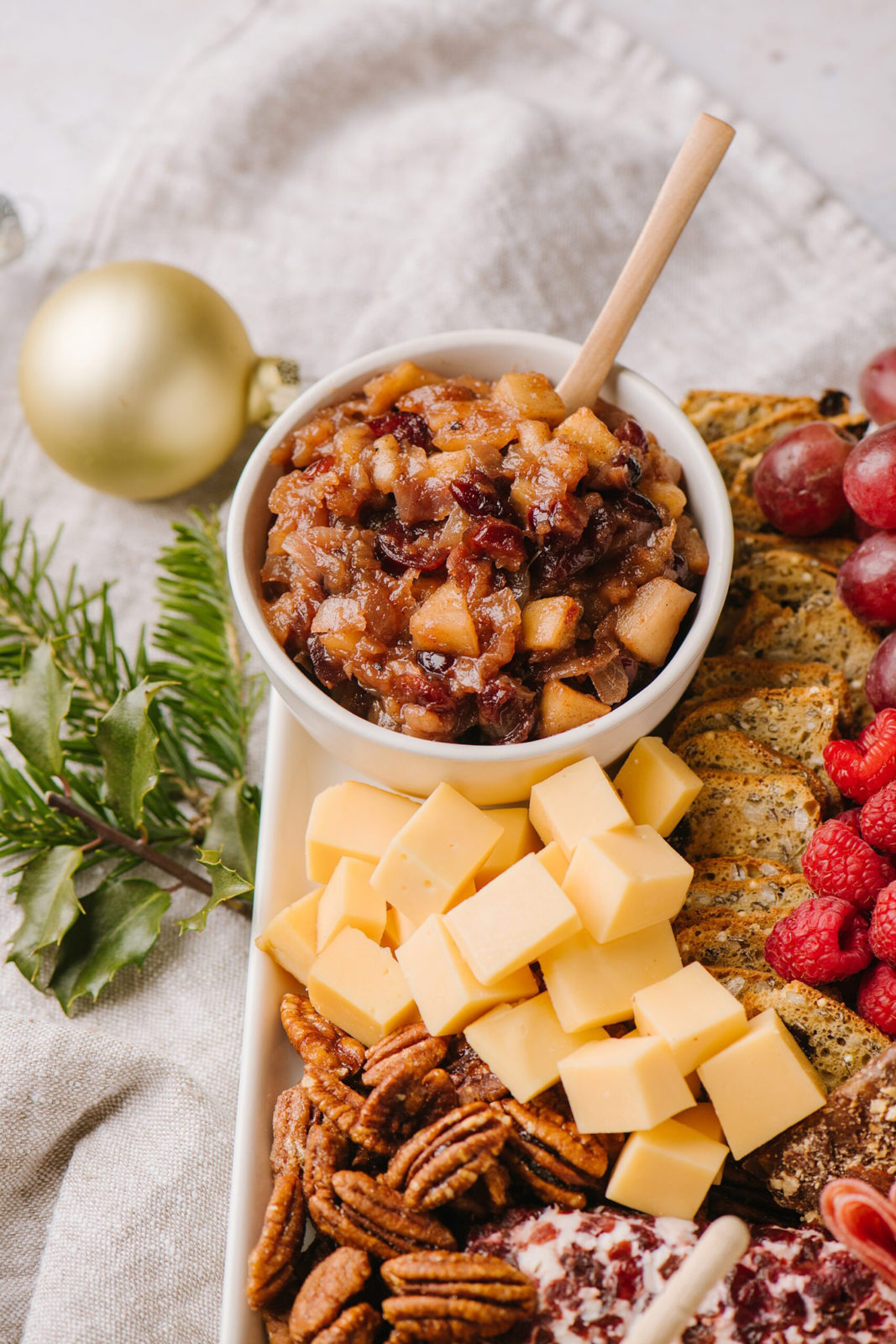 How to Make Apple Cranberry Chutney //
I made this holiday-spiced Apple Cranberry Chutney to go on my cheese board because I love how in an English pub when you order a cheese plate, it always has a chutney on it. And also because I was a little overzealous with my apple purchasing and found myself with an abundance of apples that needed to be used up.  
During the holidays, I do like to take the extra time to make special condiments to have on hand, whether for gift giving or for when I am going to make a cheese board or serve a pork roast or a roast chicken. It makes me feel very Nigella Lawson-esque.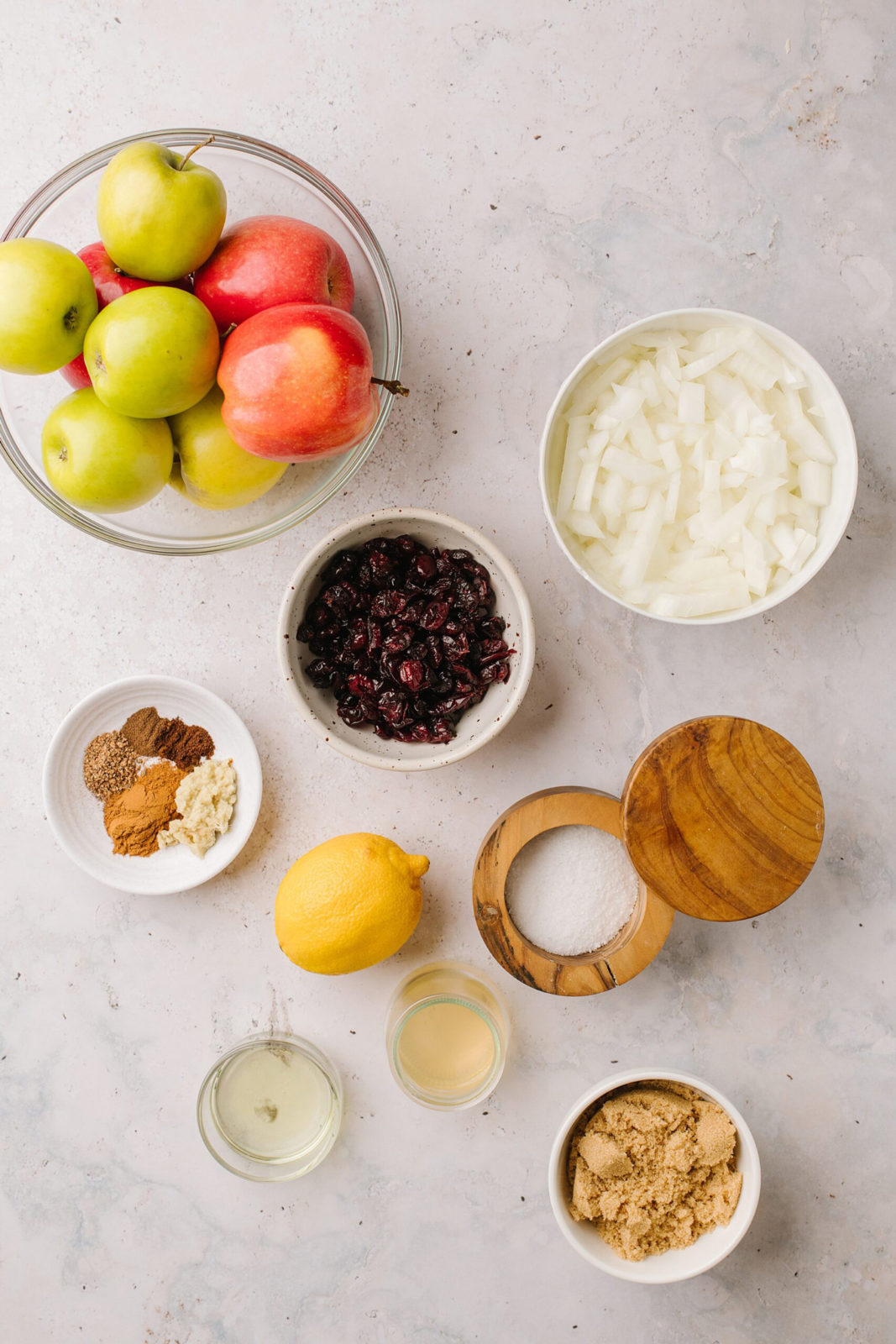 I created this apple and dried cranberry chutney recipe using things I already had on hand. Apples, cider, onions, fresh ginger, spices, brown sugar, apple cider vinegar, salt, lemon juice, and dried cranberries. 
If you have never had a chutney before, it is a savory condiment, like a jam. It's Indian in origin, and why you see it in English pubs. Did you know that the national food of England is chicken tikka masala? 
It's simple to make, pairs perfectly with cheese and meats, and when you are making it, you can't help but get into the holiday spirit. 
How to Make // The Steps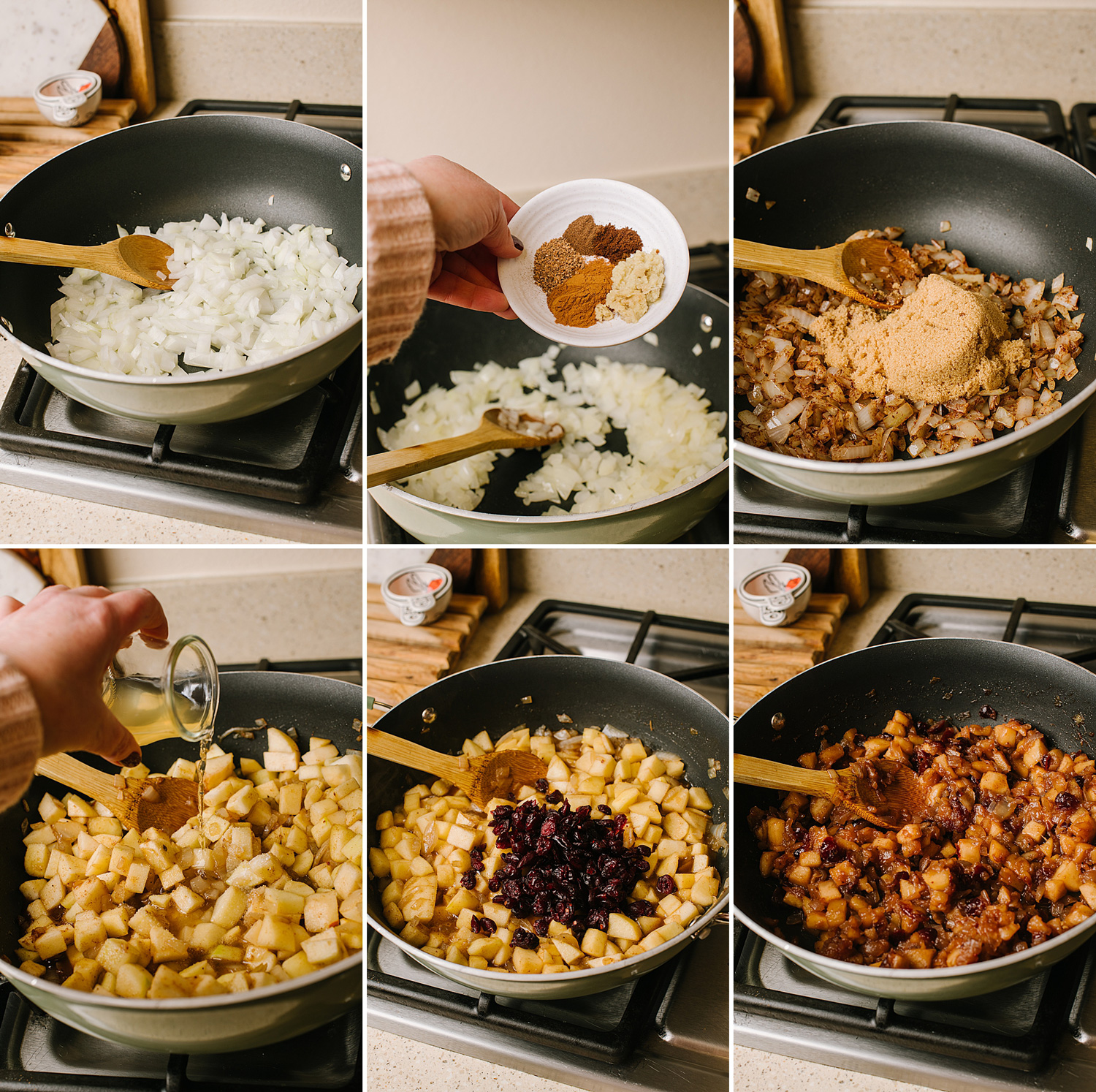 Heat oil in a Dutch oven or large saucepan over medium heat. Saute onions for one to two minutes, or until translucent. 
Add fresh ginger and spices, and cook for an additional minute. 
Add brown sugar, apples, cider, apple cider vinegar, salt, and lemon juice. 
Reduce heat to low, and let the apples cook down and begin to soften about 10 minutes. 
Use a masher and mash about half of the apples. Add the dried cranberries and continue to simmer for an additional 15 to 20 minutes, or until the mixture is thick and the liquid has evaporated.  
Let cool and put into a jar with a tight-fitting lid. Store in the refrigerator for up to 2 weeks or frozen for up to 2 months.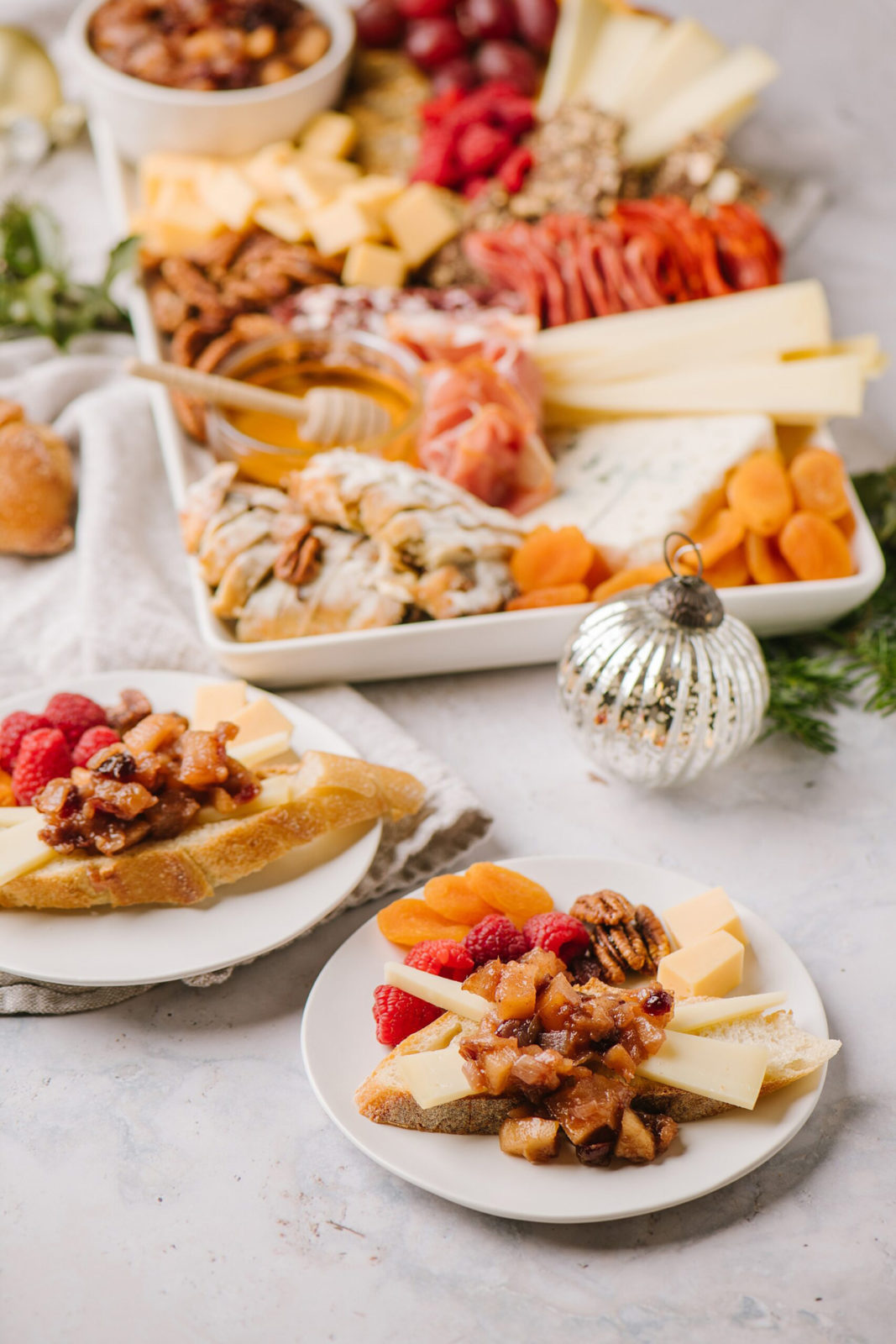 Get the full recipe: Apple Cranberry Chutney