Looking for a crowd-pleasing starter for your next gathering? Look no further than this warmup: Individual portions of rich onion soup topped with a slab of French bread topped off with a handful of toasty, bubbling Roth Grand Cru.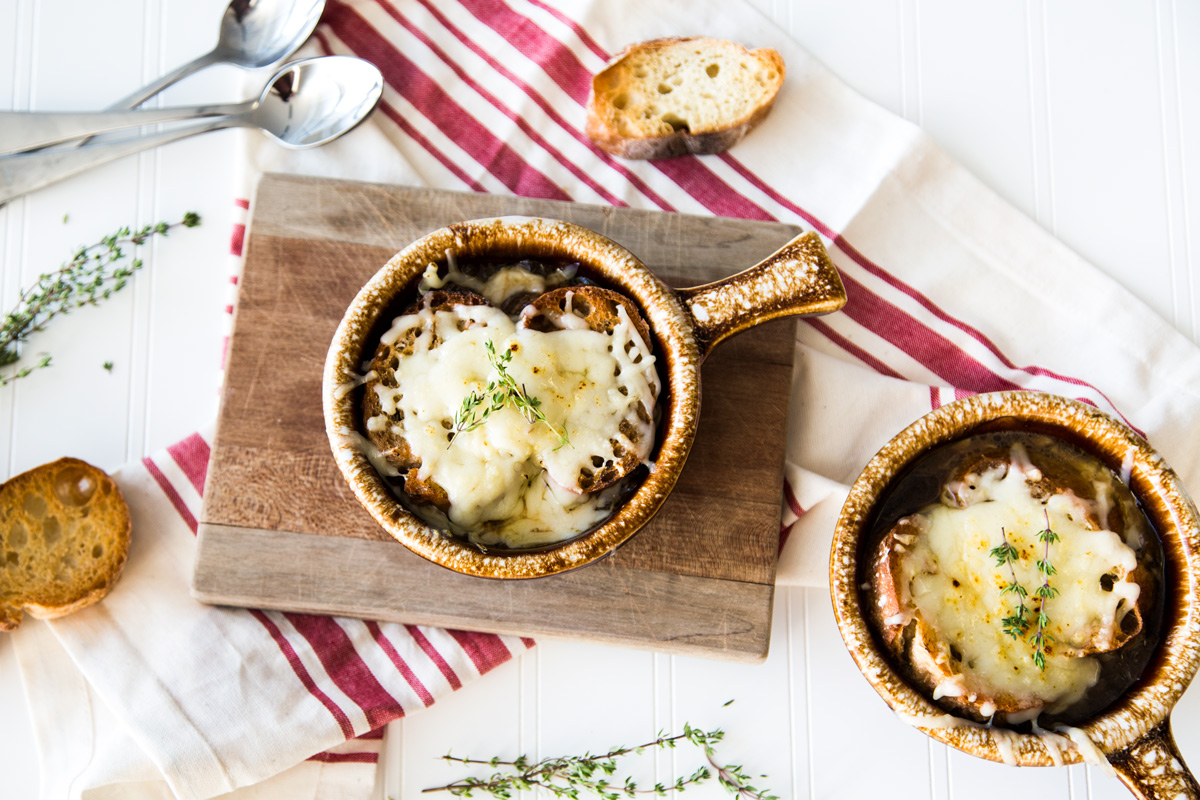 As you sit down with your guests, be sure to tell them about how Roth Grand Cru Surchoix won first place in the 2016 World Cheese Championship Contest—it's fair to call it the best cheese in the world.
Steakhouse Onion Soup with Grand Cru
Ingredients
3 pounds yellow onions, peeled and sliced ⅛ inch thick
½ cup butter
1½ teaspoons freshly ground black pepper
1 tablespoon dried thyme
1 bay leaf
1 cup brandy
3 quarts rich beef stock
Salt, to taste
12 ounces Roth Grand Cru Original, shredded
French bread, thickly sliced and toasted
Method
Melt butter in a large saucepan over medium heat. Add onions and toss well to coat. Increase heat to medium-high, stirring frequently until onions are nicely browned on the edges (approx. 10 minutes).
Reduce heat to medium-low and cook for an additional 15-20 minutes, stirring frequently until onions are soft and translucent.
Add pepper, thyme and bay leaf; stir. Continue cooking for an additional 5-10 minutes.
Heat beef stock in a large pot. Add onion mixture to hot stock. Add brandy and simmer for 1 hour. Season with salt, remove bay leaf and refrigerate overnight.
To serve:
Preheat broiler.
Reheat soup. Fill soup crocks or ovenproof bowls with approx. 1 cup soup.
Place toasted French bread in soup and cover with shredded Roth Grand Cru.
Place under broiler for approximately 5 minutes or until cheese is hot and bubbly. Serve immediately.